'Beautiful' looks at Carole King's role in creating one pop hit after another
September 16, 2016 - 11:28 am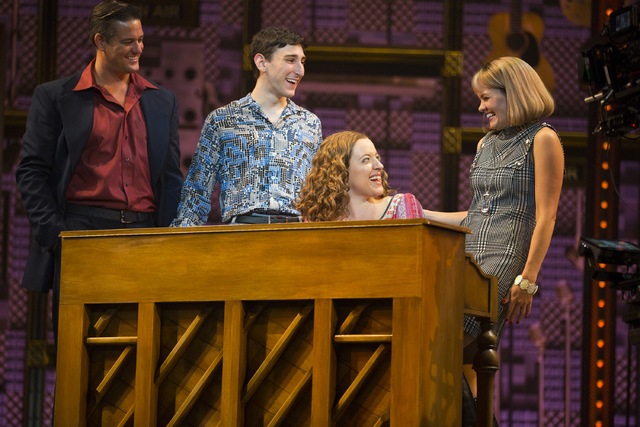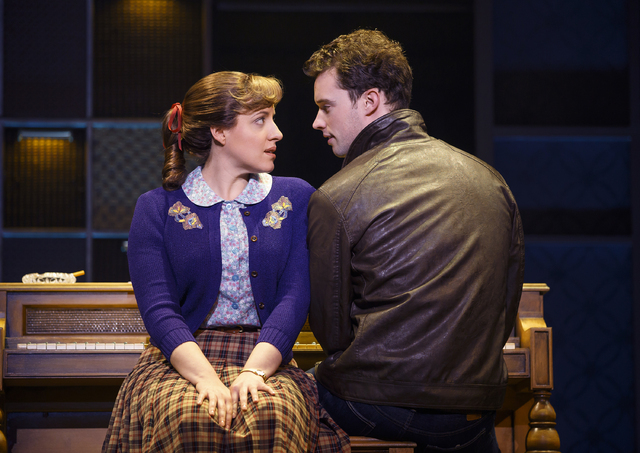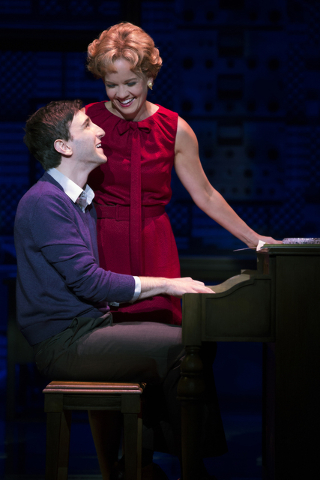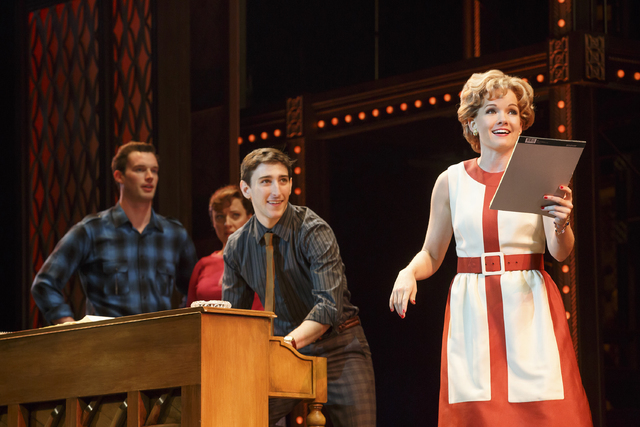 It's a musical lineup guaranteed to light up any classic jukebox.
For starters: "You've Lost That Lovin' Feeling," reportedly the 20th century's most-played song on radio and TV.
Add "On Broadway" and "Walking in the Rain." To say nothing of "Uptown" and "We Gotta Get Out of This Place."
They're all in "Beautiful — The Carole King Musical," which opens a 16-performance run Tuesday at The Smith Center's Reynolds Hall.
But Carole King didn't write any of those songs.
They're the work of songwriters Barry Mann and Cynthia Weil, who turn up as supporting characters in the musical, which charts King's journey to her 1971 breakthrough "Tapestry" — and singer-songwriter superstardom — from her years as a songwriter alongside then-husband Gerry Goffin, who died in 2014.
From a small office at New York City's Aldon Music, where Mann and Weil also worked, the Goffin-King team churned out such top pop hits as "Will You Love Me Tomorrow," "Up on the Roof," "Take Good Care of My Baby," "One Fine Day," "Go Away, Little Girl," "Pleasant Valley Sunday," "The Loco-Motion" and "A Natural Woman" — all of which also turn up in "Beautiful."
The show's road to Broadway began with King's former manager, who "wanted to create a show about our friendship, the competition and the crazy things we did," Weil recalls in a telephone interview from Southern California. "When we had the first reading," that show ended with King "going off to California and Barry and I getting married."
The response to that first reading: "What happened to 'Tapestry'?"
As a result, King's story took more of the spotlight — and, Mann chimes in, "we became known as Fred and Ethel," wryly referring to "I Love Lucy's" sidekick neighbors.
Initially, however, "Beautiful" began as a jukebox musical in the "Mamma Mia!" mold, according to writer Douglas McGrath, who earned a Tony nomination for the show's book. (McGrath, who's directed such big-screen literary adaptations as "Emma" and "Nicholas Nickleby," also has an Oscar nomination for the screenplay he co-wrote with Woody Allen: 1994's "Bullets Over Broadway.")
"There was a version of the show before I got involved," one that put the Goffin-King compositions "in a fictional story," McGrath notes in a telephone interview from his New York base. "But I was always interested in the true story … how those four people changed, and helped define," the era's popular music.
It's something the writer remembers well: listening to records (45s, of course) on the floor of his bedroom alongside his sister, and noting the names of Goffin and King credited on one of those records. " 'Who is the king of the coffin?' " McGrath recalls his sister's joking inquiry.
"It's astounding," he observes, "between the two songwriting teams, how many essential songs the four of them wrote."
The origin of all those hits was 1650 Broadway, "the low-rent building," Weil says, near New York's more famous Brill Building, where "the first songwriters who were really writing for the younger market" worked, Mann adds. "It was the period between old Tin Pan Alley and rock 'n' roll."
While toiling at Aldon Music, Don Kirshner (the future "Rock Concert" host who was the "Don" in Aldon Music) told his staff songwriters "who was about to record — and everyone would run to the piano and try to write a song for that artist," Mann explains.
"We all learned from each other," Weil adds, noting that she and Mann were friends, as well as competitors, with the Goffin-King team. "We were like a big dysfunctional family."
The musical explores just how dysfunctional that family could be. Especially in the case of Goffin and King, who married when he was 20 and she was just 17 — and pregnant.
The former Queens College classmates became partners at home and at work, until Goffin's infidelities undermined the marriage and, ironically, helped King find her own voice — in an era where a performer "could be natural, more like a girl you might know," McGrath says. "She has such a thoroughgoing knowledge of music, but she doesn't come off that way."
Instead, he adds, King seems "like your best friend who just put out an album."
Before writing "Beautiful," McGrath interviewed King, Mann, Weil and Goffin about their lives and relationships, at and away from work.
"It's interesting, if you love their music, to see what circumstances produced these songs," the writer says. "When you get to know them as four distinct individuals," and "the true circumstances" behind their songs, audiences "get a deeper understanding of the songs themselves. It's not merely a nostalgic experience. It's a new experience as well."
As a result, "Beautiful's" appeal extends beyond Carole King fans, who often are unaware of King's songwriting success.
"A lot of people thought her career started with 'Tapestry,' " Weil points out. "People didn't know she wrote other songs."
And for younger generations just discovering "for the first time, these extraordinary songs," the musical also has a powerful message, in McGrath's view.
"The story is about a teenage girl," he says — one whose life falls apart but discovers that, if you "work hard and push your talent, even when it all looks lost, there's something better ahead."
Read more from Carol Cling at reviewjournal.com. Contact her at ccling@reviewjournal.com and follow @CarolSCling on Twitter.
Preview
What: "Beautiful — The Carole King Musical"
When: 7:30 p.m. Tuesday-Thursday; also 7:30 p.m. Sept. 23, 2 and 7:30 p.m. Sept. 24-25, 7:30 p.m. Sept. 27-30, 2 and 7:30 p.m. Oct. 1-2
Where: Reynolds Hall, The Smith Center for the Performing Arts, 361 Symphony Park Ave.
Tickets: $29-$127 (702-749-2000, www.thesmithcenter.com)
For new lead actress, it's good to be King
The show and the role are the same — but the context has definitely changed for Julie Knitel, who's just taken over the title role in "Beautiful: The Carole King Musical."
Knitel knows the role well, having understudied it on Broadway for a year.
Now, however, she's center stage, playing King as "Beautiful's" national tour heads into its second year.
Knitel plans to "shake things up a little bit" with "a different interpretation of some of the songs" she'll sing — from King's singer-songwriter classics ("It's Too Late," "You've Got a Friend" and "So Far Away" among them) to earlier hits she wrote with then-husband Gerry Goffin, including "Will You Love Me Tomorrow," "The Loco-Motion" and "Up on the Roof."
As for her favorite, "it's very hard to pick," Knitel admits during a telephone interview from her first tour stop in San Francisco. "Every time I do the show, it's a different number."
During her time with the Broadway production, Knitel was surprised that "Beautiful" veterans who had "been there from day one" would walk around backstage, "singing along, humming along" with King's greatest hits. "It doesn't get old. The music gets better every time you hear it."
As for capturing King's "warm, effortlessly kind" personality, Knitel read her book and watched her in action on a PBS special to observe that "there's no pretense about her," she says. "That's just who she is and everyone loves her for it. I just try to embody that with a happy thought and a warm heart."
And more than a touch of her own personality.
"One of the best ways I've heard it put," Knitel says, "is, if Carole (King) is red and I am yellow, my Carole's orange."