Bellagio gallery's new exhibit shows how artists look at 'Town and Country'
September 22, 2016 - 1:57 pm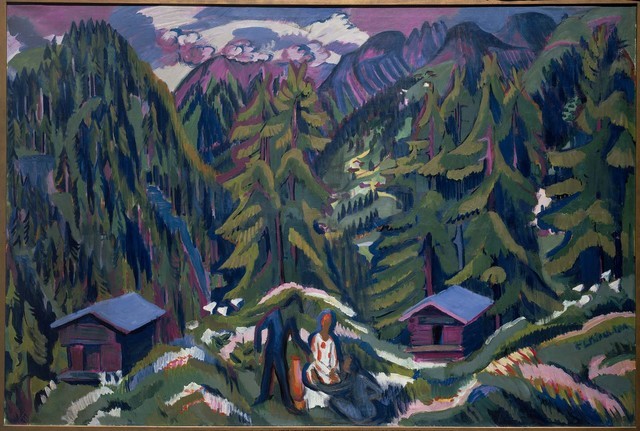 Every Strip showcase has its marquee names, from Celine Dion to Cirque du Soleil.
The same holds true at Bellagio's Gallery of Fine Art, where some all-time headliners are playing the room once again.
Headliners such as Monet and Picasso and van Gogh — just three of the artists featured in the gallery's latest exhibit, "Town and Country."
Subtitled "From Degas to Picasso," the show — organized in partnership with Boston's Museum of Fine Arts — spotlights 47 paintings, photographs and prints that explore growing urbanization in 19th- and 20th-century Europe and the U.S.
The exhibit comes to Las Vegas after five months in Nagoya, Japan, where it attracted more than 111,000 viewers, according to curator Claire C. Whitner, who began working on it in 2011.
The Industrial Revolution's impact — reflected in the growing divide between town and country — gives this exhibit "a little bit more sociological" slant than some previous shows, notes Tarissa Tiberti, the Bellagio gallery's executive director.
As a result, the artworks get viewers thinking about time and history, she adds. "It gives you context."
That context, Whitner explains, is capturing what daily life is like, not only for the aristocracy but for France's rising, middle-class bourgeoisie — and the "authentic people (of) the peasantry."
Advances in transportation — enabling city dwellers to escape to the country — and "thinking about the potential for (a) city to be beautiful" also influence the "Town and Country" artworks, she says.
The exhibit gives gallery visitors a different perspective on some of the artists, whose visions differ from their "greatest hits."
Edgar Degas, who's most closely identified with his dance-related works, is represented in "Town and Country" by the 1869 painting "At the Races in the Countryside," depicting a well-appointed carriage heading toward Paris' legendary Longchamps racetrack.
Vincent van Gogh's 1884 "Weaver," by contrast, offers a realistic portrait of the title textile worker at his hand-operated loom — a worker who's about to be displaced by increasing industrialization.
"You really understand his sympathies with the people of the countryside," Whitner says.
The artist felt for the weavers who were being pushed aside, Tiberti adds, citing letters he wrote to his family on the subject. "He felt very passionate about this image" — and what it represented.
As for Picasso's "Town and Country" contributions, neither the 1900 painting "Stuffed Shirts (Les Plastrons)" — in which a row of formally dressed men in a theater watching a female performer — or the 1905 print "The Circus" show the artist's signature Cubist elements.
After all, the artist was "barely 20" when he painted "Stuffed Shirts" on one of his first trips to Paris, Tiberti notes. "It was just before his 'Blue Period,' " and therefore doesn't reflect the artist he became.
Instead of "the iconic Picasso," Whitner observes, the featured works show the "young artist who comes to Paris" and begins sampling "the bohemian lifestyle and alluring nightlife" of the city. They also show the young artist "trying out different styles" more reminiscent of, say, Henri de Toulouse-Lautrec.
The latter's also on hand, visiting a familiar French music hall in "Folies-Bergere: Les Pudeurs de Monsieur Prudhomme" (1893), but also heading outdoors for 1897's "La Partie de Campagne."
Yet some of "Town and Country's" artworks deliver exactly what you'd expect: the soft, gentle atmosphere of Claude Monet's "Snow at Argenteuil" and "Charing Cross Bridge (overcast day), 1900" — or Pierre-Auguste Renoir's charming "Children on the Seashore, Guernsey," from 1883.
Organized in six themed areas, the exhibit devotes one to "Daumier and Urban Realism," six lithographs (from the 1850s and 1860s) that show couples strolling Paris' Champs-Elysees ("De trois heures a six heures," which translates as "From three hours to six hours") and drinkers extolling the virtues of absinthe versus beer.
"Daumier's wonderful," says Whitner (now senior curator of collections at Wellesley College's Davis Museum), not only for the "wickedness" of his humor but his ability to "find the truth of what it means to be in the city."
Later lithographs (such as Max Beckmann's "The Disillusioned" from the 1920s and Theophile-Alexandre Steinlen's 1908 "Misere et Splendeur") show the toll of urban living, while more graphic elements work their way into Ernst Ludwig Kirchner's modernist "Mountain Landscape From Clavadel" (1925-26).
Yet Alfred Stieglitz's 1894 photograph "A Wet Day on the Boulevard (Paris) reflects the same Impressionist style Monet captures in his paintings, Tiberti notes.
"I particularly love shows that have mixed media," adds Whitner, "because you see how these aesthetic movements arise from a particular time."
"Town and Country" represents the sixth collaboration between Bellagio's gallery and Boston's MFA since 2008, Tiberti says.
"They have such a wide selection to choose from," she notes, describing the Boston museum as "a great museum that's adamant about people being able to see the collection."
Yet some of the paintings featured in "Town and Country" don't usually leave the museum's confines, Whitner notes. (They'll be returning there after the Bellagio run ends Feb. 20.)
"These are ones that are beloved in Boston" — ones that "the MFA doesn't like to have travel," the curator says. "I had to make the case (as to) why they deserved to be in this exhibition."
Read more from Carol Cling at reviewjournal.com. Contact her at ccling@reviewjournal.com and follow @CarolSCling on Twitter.
Preview
What: "Town and Country: From Degas to Picasso"
When: 10 a.m. to 8 p.m. daily through Feb. 20
Where: Bellagio Gallery of Fine Art, 3600 Las Vegas Blvd. South
Tickets: $14-$16 (702-693-7871, 877-957-9777; bellagio.com/bgfa)