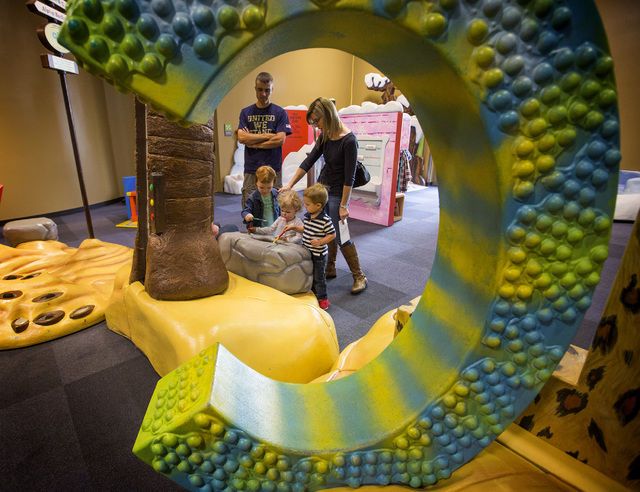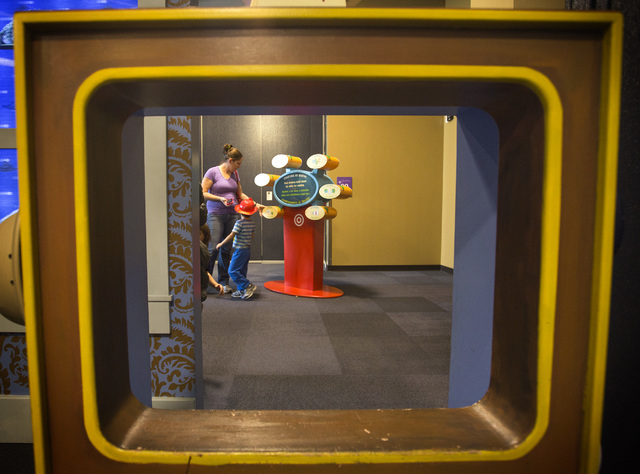 Most stories come to life inside your head.
Unless you're at the Discovery Children's Museum, where a visit to "Storyland" can take you to Peter Rabbit's burrow or through Mr. McGregor's Garden.
Or to a tropical island where letters climb trees, courtesy of a conveyor belt.
Or maybe to a make-believe snowbank that's a perfect spot to make a snow angel — without the cold and wet that accompanies the real thing.
Those are three of the imaginative destinations in store at "Storyland: A Trip Through Childhood Favorites," a touring exhibit that continues through Jan. 4 at Discovery.
A blend of interactive exhibits and imagination, the exhibit — which originated at the Minnesota Children's Museum — focuses on seven beloved, award-winning picture books.
Besides Beatrix Potter's "The Tale of Peter Rabbit," themed areas also explore Ezra Jack Keats' "The Snow Day" and Eric Hill's "Where's Spot?"
Rounding out the featured book nooks: Arthur Dorros' "Abuela," Laura Numeroff's "If You Give a Mouse a Cookie," David Wiesner's "Tuesday" and "Chicka Chicka Boom Boom" by Bill Martin Jr. and John Archambault.
Laminated versions of the original books (in both English and Spanish) are there for kids and adults to share; some little ones like to perch next to plush-toy versions of Spot or Peter Rabbit to read the books about them, says Laura Christian, Discovery's early childhood education manager.
But, during a recent "Storyland" tour, most of the young visitors seemed too busy settling into the books' make-believe worlds to concentrate on their literary sources.
"Look, it's Peter Rabbit!" one kid exclaims, dashing toward Peter's tree-trunk burrow.
Aiden Mendel — who's 2½ — is already inside, decked out in a little chef's apron. (Peter's ears and coat remain available for someone else to try on for size.)
Visiting from Southern California with his family, Aiden's "enjoying it very much," says his aunt Roxane, who reports that Aiden's mother keeps calling from downstairs to remind them that " 'you've been there two hours!' "
Not surprising, considering everything there is to do while visiting Peter Rabbit, from sneaking through Mr. McGregor's rabbit-sized garden to drawing a picture — and transforming it into an email postcard.
An invasion of 82 kindergartners (four classes' worth) from Wynn Elementary School shifts the exhibit room's energy level from lively to wired. It's their first field trip — and the books they've been studying are suddenly there, larger-than-life, before their excited eyes.
One of the students wraps himself in "Snowy Day" togs, layering multiple scarves atop double vests. Nearby, tinkling, kid-powered chimes suggest the sound of icicles.
Other classmates hop along with the frogs who take over a town in "Tuesday," providing "ribbit! ribbit!" sound effects as they search for the interactive answer to the question: "What time is frog o'clock?"
Elsewhere in "Tuesday" town, some kids don hats identifying them as firefighters or police officers. There's even a chance for them to "Be a TV Star" by reporting on the strange amphibian invasion.
"(It's) a wonderful, wonderful experience" for the students, says teacher Colleen Poole. "We've been studying the books — and bringing the books to life is just amazing for them."
Meanwhile, over in "Chicka Chicka Boom Boom's" tropical realm, kids load wooden tiles (featuring letters of the alphabet) onto a vertical conveyor belt, watching the letter tiles "climb" the tree before they go tumbling down a side chute.
Little visitors also can climb giant letters, getting up close and personal with C's crocodile-style texture. (Dioramas present some things that begin with the letter P, from paint and pizza and pasta to piano-playing peacocks, and H, which highlights hockey-playing and hula-hooping hippos.)
The "Abuela" exhibit enables young visitors to join a grandmother/granddaughter adventure in New York City by peeking through the Statue of Liberty's crown, among other activities. (On the reverse side of the Statue's image, grown-ups can press a button to trigger audio recordings of the word "Welcome" in multiple languages.)
Meantime, "If You Give a Mouse a Cookie's" exhibit area gives kids the chance to create their own cookie recipes with such wacky ingredients as "two tablespoons of trains" or "gallons of watermelons," then stir the make-believe concoctions with a giant spatula.
There's also a spot where kids can write "Mouse Mail" letters to the book's title rodent.
A few young correspondents "have asked if he's going to write back," Christian notes, but Discovery officials explain that "he's still learning," just as they are.
Which is precisely the point of "Storyland," she says.
Discovery's first touring exhibit to focus on early childhood education at its new Symphony Park location, "Storyland" addresses six key prereading skills, including knowing the alphabet, learning words, reading and telling stories — and, of course, loving books.
The museum has correlated components of "Storyland" to match Nevada standards for prekindergarten through fifth-grade students, Christian says.
"Young children love it," she says. "They can explore and play." And, after all, "play is their work."
Contact reporter Carol Cling at ccling@reviewjournal.com or 702-383-0272.
Preview
"Storyland: A Trip Through Childhood Favorites"
9 a.m.-4 p.m. Tuesdays through Fridays, 10 a.m. to 5 p.m. Saturdays, noon to 5 p.m. Sunday, through Jan. 4
Discovery Children's Museum, 360 Promenade Place
$12; children 1 and under and museum members free (702-382-5437)