Black-tie gala opens $470 million Smith Center
March 10, 2012 - 11:32 pm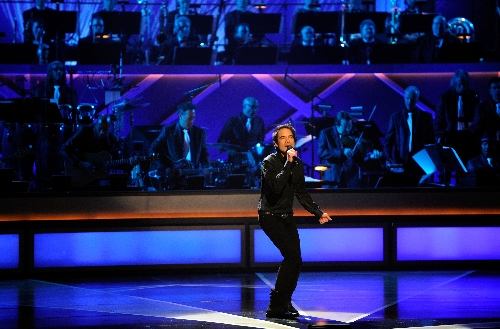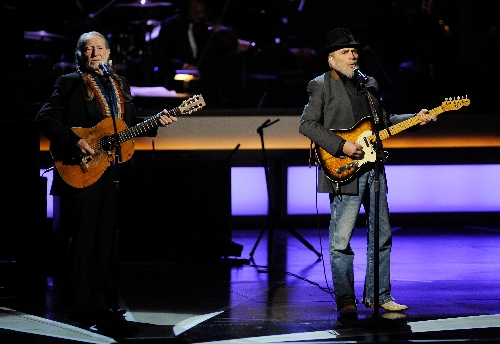 They spoke of that other Las Vegas, joked about it, but it seemed so far away.
Though it was a black-tie gala that aimed to be inclusive, it was, more importantly, a night to feel as grand and important as the new building it celebrated.
So even when unbilled rocker John Fogerty threw down "Center­field" and "Bad Moon Rising," the grand opening of The Smith Center for the Performing Arts was just not the place to let things get silly-Vegas carried away.
They showed up for Saturday's gala in a sea of black ties and at least one cowboy hat, to the $470 million downtown performing arts center with its classic design that looked like it could have gone up at the same time as Hoover Dam.
Indeed, the first images seen in Reynolds Hall skipped right over the commercial Strip of Las Vegas. Helicopter footage on a movie screen zoomed straight to Hoover Dam instead, as an original orchestral composition, "From Dust to Dreams," suggested the new building was carved from the same spirit as the dam, but simply took an extra 70-plus years to arrive.
But just as Hoover Dam stood as a monument to its generation, The Smith Center will stand as "a proud monument to our generation," Don Snyder, the board chairman who guided the project to completion, told the audience from the stage.
"Making a new performing arts center rise from the desert is more complicated than a Wynn whim," joked host Neil Patrick Harris early in a performance being filmed for future PBS broadcast.
Harris also had a joke to illustrate how the very name suggests a building that can be for everyone. "Smith just happens to be the name that appears on 68 percent of the registries in Las Vegas hotels."
But Fred Smith, who led the private funding campaign with an initial $50 million donation (which later grew to nearly $200 million) from the Donald W. Reynolds Foundation, had a moment onstage to clarify which Smith we were talking about. He joked that he was originally confused by the proposal, because he thought a performing arts center was "a beer joint where Willie Nelson was playing."
Although it was champagne that was swept from silver trays in the lobby, Willie Nelson did play. He brought Merle Haggard to sing "Pancho and Lefty" with him, and then Emmylou Harris joined in on the Gram Parsons ode "Ooh Las Vegas."
The classic country singers came after a younger-generation star, Martina McBride, covered "Tumbling Dice," and Train's Pat Monahan enlisted the orchestra for Elton John's "Take Me to the Pilot."
No one seemed to be having more fun than Carole King, who got a few people out of their seats singing "You've Got a Friend," with Mavis Staples, and "(You Make Me Feel Like) A Natural Woman" as Jennifer Hudson and McBride gathered around the piano.
It was a night of Broadway performances and some dance too, with a couple from Twyla Tharpe's "Sinatra Dance with Me."
The show ended with Hudson, with orchestra and a choir singing, "Take care of this house, be always on call, for this house is the home of us all," from the musical "1600 Pennsylvania Avenue."
Before the 2½-hour show began, some stars walked a red carpet set up behind ballerinas posing like statues in the evening breeze.
Broadway star Brian Stokes Mitchell said he was glad The Smith Center chose an art deco, classic look.
"New buildings are usually very modern in their looks," he said.
Violinist Joshua Bell has seen the commercial side of Las Vegas entertainment by performing with Frankie Moreno, but admitted, "I'm at home in this kind of venue."
Merle Haggard said the new room felt like Bass Hall in Fort Worth, Texas, designed by the same architect. And he liked both a lot better than the worst place he's ever played, which was in Belfast, Ireland, in front of 6,000 people who couldn't hear and weren't happy about it.
No such complaints inside Reynolds Hall on Saturday.
Contact reporter Mike Weatherford at
mweatherford@reviewjournal.com or 702-383-0288.