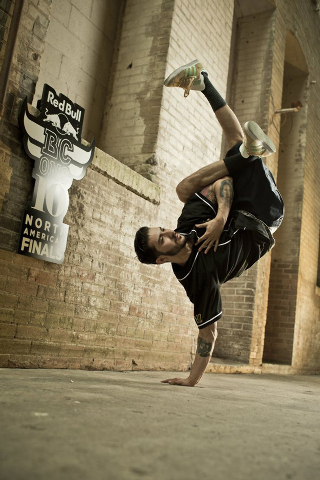 Parking his car at the Luxor and seeing the giant sign for the dance show "Jabbawockeez" on the side of the pyramid, Abenamar "B-boy Ben" Honrubia is taken back that he is a headliner on the Strip.
He never dreamed this could be his life.
"I used to grow up seeing the signs for Las Vegas' shows," he said. "It's surreal. Every time I see the signs, it's like a pat on the back. It makes me feel special and proud to do what I do."
The Henderson resident has spent more than 15 years break dancing, which has not only turned into a career and a show on the Strip but also resulted in his winning numerous competitions.
His latest conquest was taking second place at the 17th Annual Red Bull BC One Latin American Final Aug. 17 in Texas, where he squared off against 16 other competitors.
Honrubia was born and raised in the valley. He was 14 when he discovered break dancing.
"I was always athletic and really into hip-hop culture," he said.
He slowly immersed himself in B-boy culture with classmates at school.
"I loved that I could use my athleticism and also be artistic and creative," he said. "When it's just you in the middle of the circle, you're inspired to get crazy and just let go."
Break dancing became his life.
"I just did school and break dancing pretty much," he said. "I would practice until 1 or 2 a.m."
After graduating from high school, he started touring and competing.
He joined groups such as the Knucklehead Zoo and was featured in documentaries such as "Planet B-Boy."
"When I was young, I never saw this as a career," he said. "My short-term goals were just to get better. I never foresaw the future."
Things really took off when his team Super Cr3w — which was a combination of people from three dance groups in Las Vegas — ended up on season two of "Randy Jackson Presents: America's Best Dance Crew."
"It was nerve-racking," he said. "You didn't want to mess up, because you'd look stupid on television."
The team spent tiresome hours conceptualizing and practicing different routines.
"Watching the show, you don't see all the hard work that goes into it," he said. "You spend 12 hours a day working on it, and then you perform your heart out."
But the hard work paid off as the group was named the season's winner.
"It was pretty unreal," he said. "We had a goal to win, and we did it."
From there, Honrubia landed in "Jabbawockeez" when it opened in 2010.
He remembered his first performance.
"It is weird dancing with a mask on," he said. "I remember I had a solo dance. I got off the stage and could barely breathe."
But he has gotten used to it after time.
Honrubia still maintains a rigorous training session, doing cardio and weight training in the morning, then practicing with his crew members before each show.
"I have to work out before practice," he said. "I'm not like I was when I was 18 and could just get up and go. I got to get my body ready."
Because of constantly performing and working out, Honrubia felt confident going into his current competition.
Honrubia sees a bright future for himself.
"I want to compete as long as I can," he said.
Along with dancing, he wants to give back to the community and invest in youths who are interested in dance.
"I never knew it could be a career," he said. "I want to tell them it's possible to make a living with their dreams."
He wants youths to know that he, too, was just a kid in a garage practicing moves and tricks to impress friends.
"Believe in yourself," he said. "Consistency is the key to success."
For more information, visit knuckleheadzoo.com.
Contact Henderson/Anthem View reporter Michael Lyle at mlyle@viewnews.com or 702-387-5201.