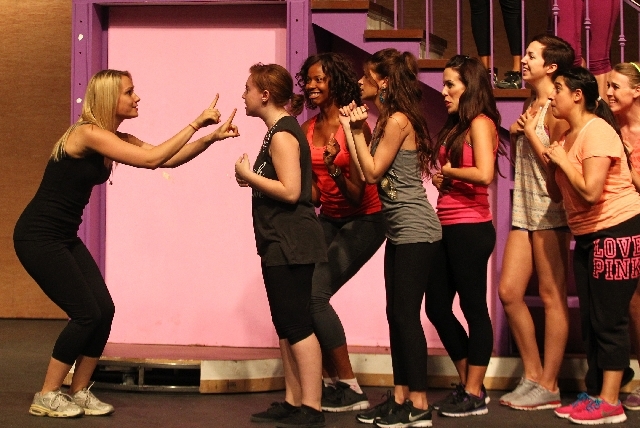 Theater
SUPER SUMMER TOASTS
MILLIONTH PATRON
Every audience member has an important role to play at Super Summer Theatre.
But one audience member at Thursday's presentation of "Legally Blonde" will step into the spotlight — as SST's millionth audience member.
Recognition of the 500,000th patron, in the early '90s, was "kind of a flop," recalls Adrienne O'Donoghue , who's chairing SST's "Thanks a Million" committee. "In our mind, it was a big deal, but we never got the message across."
This time, however, it'll be different.
SST officials chose Thursday as the date for the celebration.
Foothills High School's marching band will be on hand for the occasion, and a trumpet fanfare will greet the arrival of guests 999,991 through 1,000,000.
The winning millionth patron will win several prizes, from a Southern California trip to a commemorative T-shirt, and an audience toast "to the next 38 years" will round out the celebration, O'Donoghue says.
Even if you miss the "Thanks a Million" bash, there's plenty of time to enjoy "Legally Blonde the Musical," at 8:05 p.m. Friday, Saturday, Wednesday and Thursday, with final performances Aug. 23 and 24 at Spring Mountain Ranch State Park, 10 miles west of Charleston Boulevard and I-215.
For tickets ($12-$20), call 702-594-7529 or visit www.ShowTix4u.com or www.UNLVtickets.com.
Family fun
TRAIN HITS THE TRAIL
AT SPRINGS PRESERVE
There's no track, but the Springs Preserve's resident railroad doesn't need one as it rolls along the Exploration Loop Trail.
A 20-minute, narrated ride on the 2.2-mile trail offers an excursion through 110 acres of native habitats and historical and archaeological sites. From your passenger seat, you'll see birds and wildlife — and hear how the preserve's artesian springs quenched the thirst of Native American tribes, explorers and pioneers.
The train runs daily at the Springs Preserve, 333 S. Valley View Blvd. Train rides are $3 for members and $5 for nonmembers with paid general admission, which is $4.95-$9.95 for Nevada residents and $10.95-$1895 for nonresidents. (Children under 12 must be accompanied by an adult.)
For more information, call 702-822-7700 or go online to www.springspreserve.org.
Youth theater
SUMMERLIN LIBRARY
WELCOMES 'DOLLY'
One of Broadway's favorite characters comes to Summerlin as "Hello, Dolly!" checks into the Summerlin Library and Performing Arts Center, 1771 Inner Circle Drive, for a two-weekend run.
Based on Thornton Wilder's "The Matchmaker," and set at the turn of the 20th century, "Hello, Dolly!" features a score by Broadway favorite Jerry Herman ("Mame," "La Cage aux Folles") that includes such theater classics as "Before the Parade Passes By" and, of course, the title tune.
The show, which won 10 Tony Awards for its 1964 debut, follows the adventures of widowed matchmaker Dolly Gallagher Levi, who helps arrange perfect matches for others, but can't quite arrange one for herself — with crabby "half-a-millionaire" Horace Vandergelder.
"Hello, Dolly!" is presented by Broadway Bound program at Studio One's Summerlin Dance Academy and features cast members from 5 to 18 years old.
The show will be performed at 7 p.m. Friday, 1 and 7 p.m. Saturday and 1 p.m. Sunday; additional performances are 7 p.m. Aug. 22-23 and 1 and 7 p.m. Aug. 24.
Tickets are $15 and may be purchased by calling 702-838-5131 or visiting www.broadwayboundlv.com.
Documentary
WINCHESTER HOSTS
'GO GRANDRIDERS'
An award-winning documentary — the first Taiwanese documentary theatrically released in the U.S. — makes a Vegas visit Saturday afternoon with a free screening at the Winchester Cultural Center.
"Go Grandriders" follows a group of 80-somethings on what may be the most daring adventure of their lives: a 13-day motorcucle tour around the island of Taiwan.
Of the 17 "Grandriders" (average age: 81), two are cancer survivors, four need hearing aids, five have high blood pressure and eight have heart disease. (And everybody has joint problems.)
Along the way, they face everything from harrowing escapes to exhilaration as they visit nursing homes, inspiring fellow octogenarians with the message that "Elders are not only capable but energetic," as the Grandriders captain says. "No one is too old to realize their dreams."
The free screening of "Go Grandriders," made possible by the American Chinese Foundation, will begin at 2 p.m. Saturday at the Winchester center, 3130 McLeod Drive; for more information, call 702-455-7340.
— By CAROL CLING