Broadway in the Hood sets Smith Center residency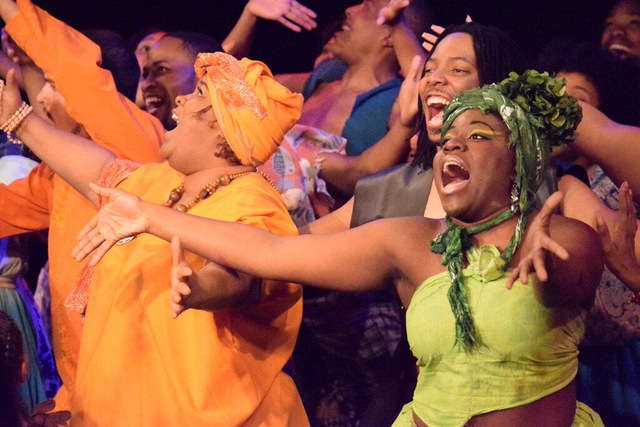 The Smith Center for the Performing Arts finally has a resident theater troupe in the house — make that houses — as Las Vegas-based A Source of Joy Theatricals brings a five-production Broadway in the Hood series to the Troesh Studio Theater, Cabaret Jazz and Reynolds Hall.
Until now, most theatrical productions at The Smith Center have been outside tours, the notable exception being a world premiere re-imagining of Shakespeare's "The Tempest" from Las Vegas' own Teller. (The Tony-winning musical "Kinky Boots" also launched its national tour from The Smith Center.)
The Broadway in the Hood residency kicks off Sept. 18-20 with a reprise of the musical "Once on This Island," which was presented at the Troesh in March, featuring performers from the group's educational and training program.
Four other Broadway in the Hood productions are scheduled through May 2016 at the center, according to Torrey Russell, founder and director of the Las Vegas-based, nationwide nonprofit program, which focuses on young performers 8 to 20 years old from impoverished communities. Russell started the group in 2010.
Smith Center officials, especially vice president Paul Beard, "have been supportive since day one of Broadway in the Hood," said Russell, who described the upcoming arrangement as "absolutely amazing."
The March "Island" production was successful and "they were itching to have us back," according to Russell. It also attracted audiences who "had never even heard" of Broadway in the Hood, which first presented the musical at the West Las Vegas Library's theater.
"The most exciting thing is to have the opportunity for our young people to go into The Smith Center," Russell said, noting the troupe also performed during the center's 2014 Nevada Sesquicentennial concert there. "It is rare today to find a theatre where the patrons and staff are dedicated to reaching out to the community and to a young organization such as ours."
Smith Center president Myron Martin "was pleased when Broadway in the Hood participated in our Sesquicentennial concert event," he said in a news release, "and I now look forward to once again welcoming Torrey and his group to our stages. We can't wait to see what they bring to life with their productions."
Read more from Carol Cling at bestoflasvegas.com. Contact her at ccling@reviewjournal.com.