Carrie Underwood serves up some justice in feel-good show at T-Mobile Arena
November 27, 2016 - 9:33 pm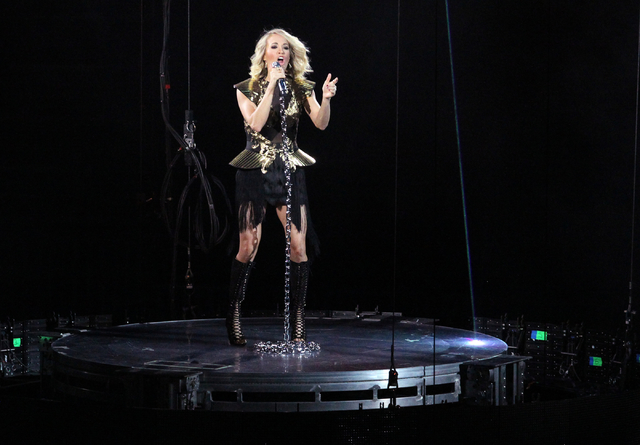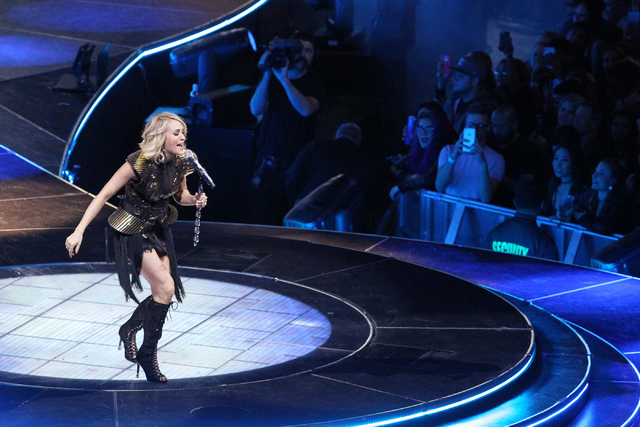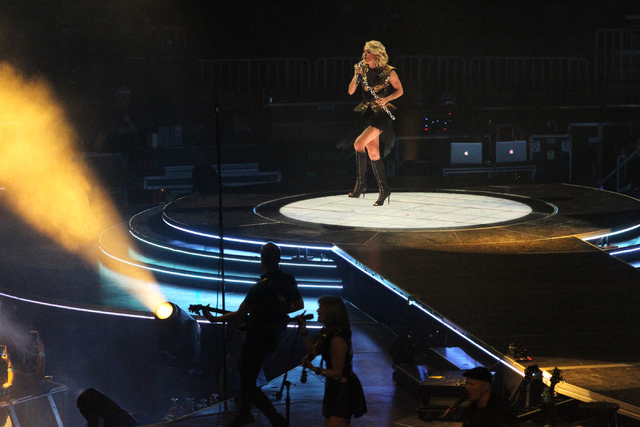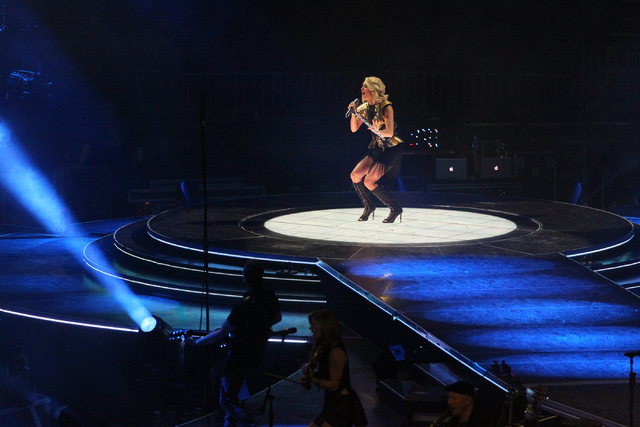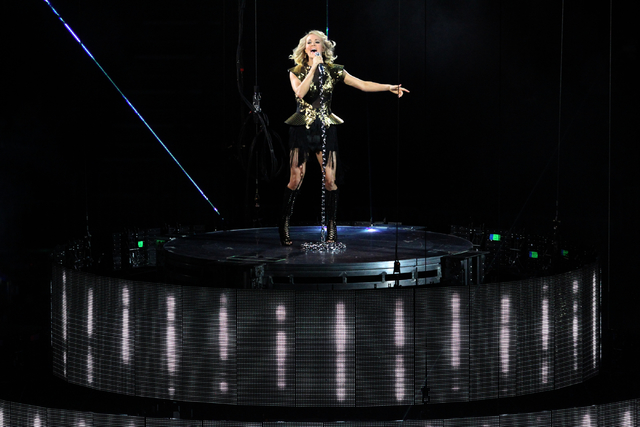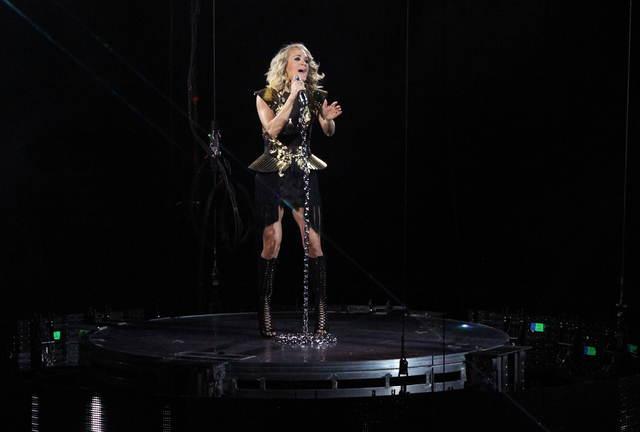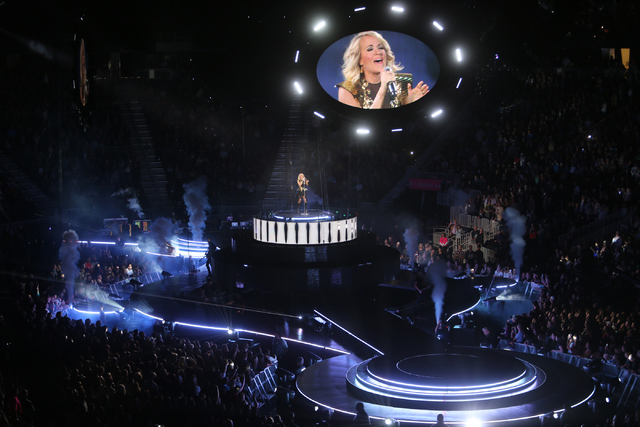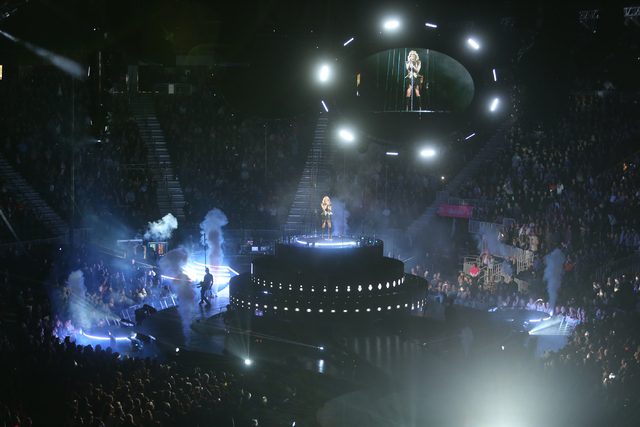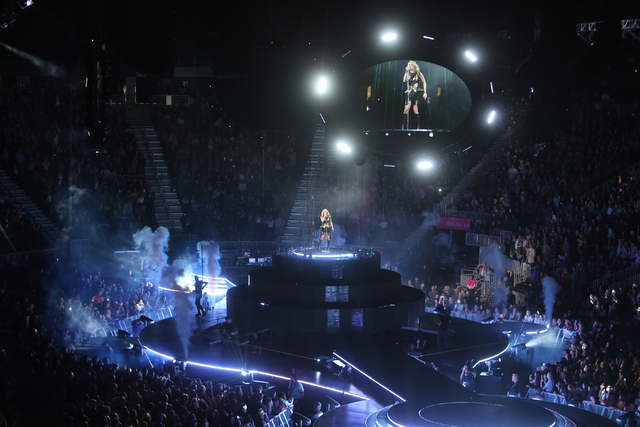 She sang of shattering glass in a voice capable of doing the same.
The song was about a force of nature, a home-crumbling tornado, and Carrie Underwood delivered it as if the thing was gusting from her lungs as opposed to a lightning-scorched Oklahoma sky.
The tune revolves around a girl who doesn't warn her abusive, sleeping father when a twister is about to strike, seeking refuge in the cellar while dad gets "Blown Away."
Coming midway through Underwood's 22-song, 110-minute set Saturday at T-Mobile Arena, it kicked off a three-tune suite where no-good dudes get their comeuppance, often violently, their dark ways illuminated by the sparkle of Underwood's bejeweled microphone.
After "Blown Away" came "Two Black Cadillacs," a brooding, mid-tempo tale of revenge set at the funeral of a philanderer, and then "Dirty Laundry," a hip-swishing kiss-off to a two-timer whose lipstick-smudged shirt collar doubles as the modern day equivalent of Hester Prynne's scarlet "A."
Seriously, a Hershey Bar hurled into the burning depths of hell has a better of chance of survival than a cheater in a Carrie Underwood tune.
These songs help underscore why Underwood, a former "American Idol" winner, has been the most enduring of her brethren from that show, few of whom have been able to maintain their success after a hit record or two, if they were lucky enough to earn that. Underwood's appeal is similar to that of an old Western or a Saturday morning superhero cartoon: In her full-throated repertoire, justice always get served, the bad guy gets his and good mostly triumphs in triumphant-sounding songs.
Call it karmic country.
It's all aimed at providing a measure of certainty in an uncertain world, kind of like country music comfort food, meant to fill you up and make you feel warm inside.
No, this isn't haute cuisine — less Joël Robuchon than Colonel Sanders, musically speaking — but you don't have to be a gourmand to get it, either.
Performing in the round, flanked by a 10-piece band that included three guitarists for maximum riffage and a fiddler who played with his legs splayed and wielded his bow like a broadsword from time to time, Underwood bear hugged numerous arena rock conceits, performing astride a spark-shooting jukebox, strutting down a flame-enhanced catwalk, singing atop a trio of video-screen enhanced risers high above the crowd, elevated in sync with her voice.
There was a nod to country traditionalism, with Underwood performing a powerhouse rendition of Dolly Parton's "I Will Always Love You," her largely unadorned voice shaded only by strains of acoustic guitar, as well a lively take on Alabama's "Mountain Music," where she was joined by openers Easton Corbin and The Swon Brothers for a raucous hoedown.
And then there was honky-tonk stomper "Choctaw County Affair," during which Underwood engaged in a blaring harmonica duel.
These looser moments contrasted with what was, for the most part, a very precise, carefully choreographed performance from a star who leaves little to chance.
Above all else, Underwood is a technician. Her voice is the star of the show. As for the woman behind it?
Well, she mostly remains a mystery, a talented blank slate upon which anything can be projected by the numerous songwriters who craft her catalog, having little in common with the protagonists who inhabit her tunes (the email solicitations of self-professed Nigerian royalty are more believable than the notion of Underwood engaging in wanton drunken bed hopping or bloody retribution).
Underwood did part the veil of celebrity that shrouds her identity at times, namely on "What I Never Knew I Always Wanted," a chest-heaving ballad about becoming a mother and wife where images of her son and husband were displayed on the video screens above the stage.
But for the most part, Underwood's the star of what amounts to a fiddle-powered, musical version of a day time soap opera.
It's all an elaborate stage play, to be sure, but so what?
At least there's always a happy ending, and at venues like this, the popcorn is in abundant supply.
Read more from Jason Bracelin at reviewjournal.com. Contact him at jbracelin@reviewjournal.com and follow @JasonBracelin on Twitter.
REVIEW
Who: Carrie Underwood
When: Saturday
Where: T-Mobile Arena
Grade: B
Motherhood informs Carrie Underwood's latest record 'Storyteller'