Catch NFL action at Carnevale Gallery
February 5, 2016 - 1:51 pm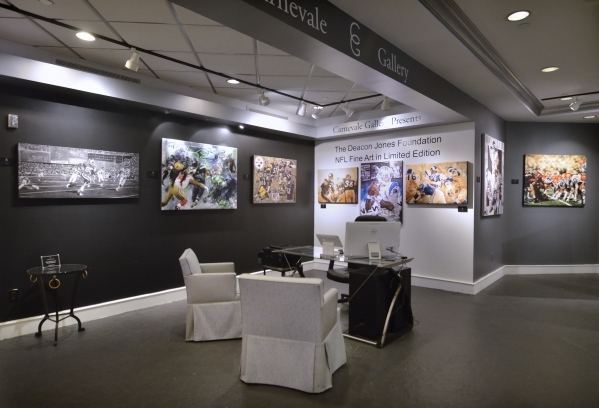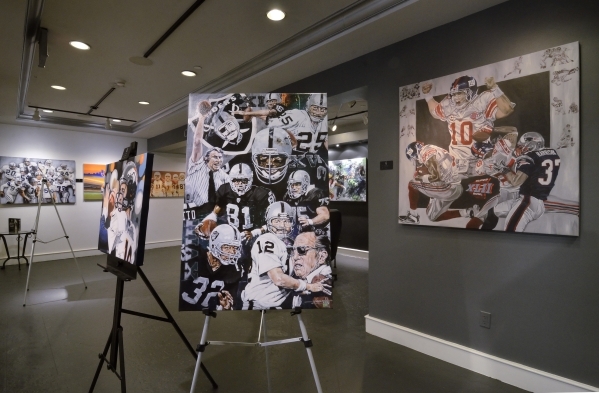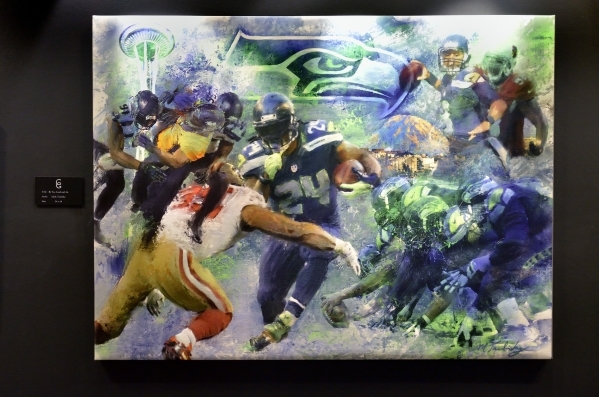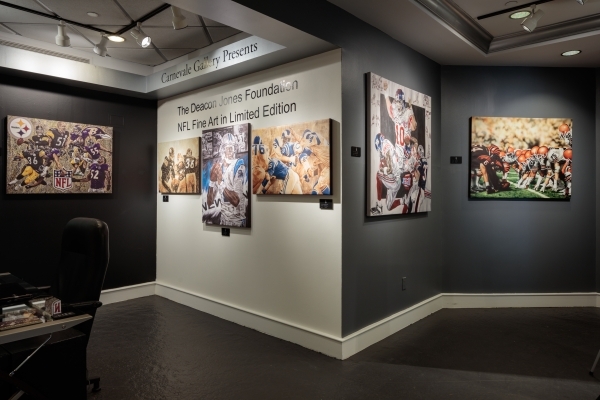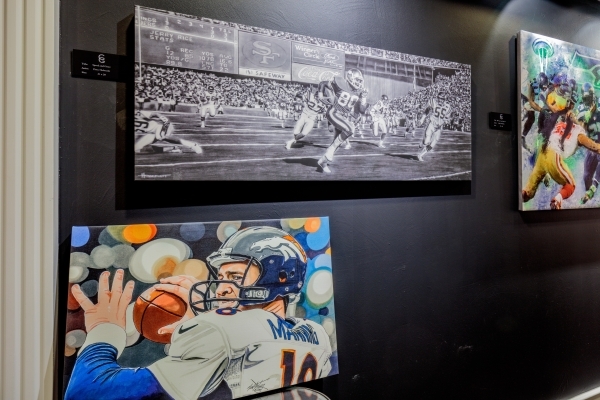 Peyton Manning and Cam Newton won't hit the field until Sunday, when they lead the Denver Broncos and Carolina Panthers, respectively, into the 50th-anniversary Super Bowl.
But you can see them right now — at least on canvas — at the new Carnevale Gallery.
Through Super Bowl Sunday, the gallery — in Caesars Palace's Appian Way shopping arcade — showcases Manning, Newton and fellow NFL heroes, past and present, as captured by a variety of sports artists.
Against an orange-colored sky, Ben Teeter's "In a Huddle" depicts Denver's Rocky Mountain skyline — and the team's logo — along with a midfield huddle featuring Manning and fellow Broncos.
David Courson's "Double Threat" captures Carolina's Newton in action, while another Courson canvas, "Super Bowl XLII," hearkens back to the New York Giants' 2008 upset of the favored New England Patriots.
Venturing back even further in NFL history, Dave Hobrecht's "Speed and Grace" focuses on San Francisco 49ers wide receiver Jerry Rice racing for a touchdown during his record-breaking, Hall of Fame career in the 1980s and '90s.
And down the coast in Los Angeles, the original Rams' "Fearsome Foursome" of the '60s and '70s — alias Roosevelt Grier, David "Deacon" Jones, Lamar Lundy and Merlin Olsen — lives on in artist Jason Robichau's action portrait.
But the presence of Deacon Jones — the NFL Hall of Famer, known as the "Secretary of Defense," who popularized the quarterback sack, appeared in TV shows from "The Odd Couple" to "The Brady Bunch" and sang with a group that became War — isn't confined to the gallery wall.
The NFL canvases are part of a collection licensed by the Deacon Jones Foundation, which reproduces the original paintings as limited-edition fine art digital prints known as giclees.
Jones died in 2013 at age 74.
But his widow, Elizabeth — who moved to Las Vegas from Southern California a year and a half ago, bringing the foundation with her — got the "bright idea" to sell fine-art reproductions of NFL paintings in December of 2014.
After all, she and her husband had seen "really gorgeous NFL art" in owners' boxes and NFL headquarters.
But most football fans "don't get to see some of that gorgeous art," she explains.
So Jones contacted the NFL commissioner's office, arranging for the foundation to license the reproductions.
At first, she asked the few sports artists she knew to license their originals — until other artists "started calling me," according to Jones. "They all want to participate in this program. It validates what they do."
Throughout, she says, "I was really careful — and I still am — to have a variety" of styles represented in the collection, from impressionistic paintings to photo-realistic canvases. "I don't want everything to look alike."
And while the paintings are all for sale online, the debut Carnevale Gallery exhibit shows them in a new light, she notes.
"As gorgeous as it looks on the website," Jones observes, "seeing it in person is a whole different ballgame."
It's also a whole different ballgame for curator Tony Carnevale, who's operated local galleries for others but finally decided to start one himself.
Following the NFL exhibit, Carnevale will switch gears with images by Chinese fashion photographer Zhang Jingna and Germany's Christopher Franke, a former member of Tangerine Dream, whose TV compositions range from "Babylon 5" to "The Amazing Race."
When Carnevale first met Jones, he asked her, " 'Where are you displaying this work?' "
And when Jones told him, " 'I'm not,' " Carnevale knew he had found his gallery's inaugural exhibit. (NFL images not on display may still be perused, and ordered, through the gallery's website, www.carnevalegallery.com.)
Only 125 giclee prints of each painting are available for sale; Carnevale quotes a price of $1,500 to an inquisitive visitor who stops by one recent evening.
"If you love it, collect it now," he advises her.
Instead, she promises to return later in her Caesars Palace stay.
"I don't believe in be-backs, I believe in greenbacks," Carnevale quips following her departure.
The first NFL giclee Carnevale sold: Courson's "Super Bowl XLII," was purchased by the victorious New York Giants' executive chef, who was sporting his own Super Bowl ring.
A portion of each giclee's sales price benefits the Deacon Jones Foundation, founded to help young people, and their communities, through "a comprehensive program that includes education, mentoring, corporate internship and community service."
Ironically, Jones himself "could not draw a straight line," his widow says with a laugh.
But the Deacon Jones Foundation recently funded an after-school art program at Mojave High School in North Las Vegas, purchasing more than $2,000 in supplies — and awarding three initial scholarships.
"It's amazing, the talent they have and their enthusiasm," Jones says of the participants. "The more money we raise, the more programs we can fund."
And that, ultimately, is the goal.
"The thing these kids have talked about — they have not ever had this opportunity for self-expression before," Jones notes. "And they're so grateful for it. They're so into it. They love what they're getting out of it emotionally."
Read more stories from Carol Cling at reviewjournal.com. Contact her at ccling@reviewjournal.com and follow @CarolSCling on Twitter.