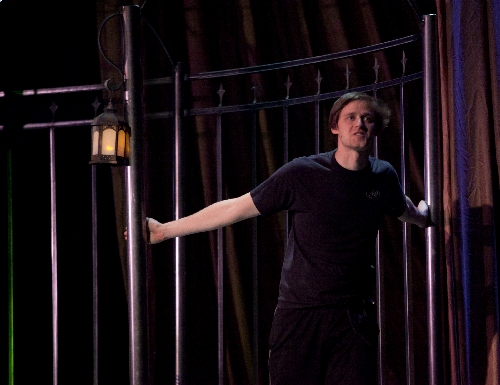 There's so much intelligence involved in Nevada Conservatory Theatre's "Romeo and Juliet" that it's painful to point out it isn't very good.
The kids of the feuding Montagues and Capulets are hot for some rumbling. But, under Paul Barnes' direction, the young men come across so delicate that they don't seem to have the passion for serious fighting.
Barnes legitimately highlights the adolescent comedy in the play's first half, but here the infantile behavior neutralizes the anger. When Juliet's nurse calls out for Romeo and the boys start swing dancing while sing-songing his name in a prepubescent manner, you roll your eyes wondering if Barnes really thinks this is how cads get down and dirty.
The feud sprouts an explosive love between our title characters. Likable actor John Maltese gives us a few temper tantrums when he can't get his way, while Vanecia J offers occasional vulnerability clouded by robotic line readings. You certainly don't get the impression that the pair's desire to touch one another is a life-or-death matter.
Illogic abounds. Romeo's kinsman, Mercutio, plants himself inside the nurse's dress; the nurse doesn't react. When Mercutio appears slightly injured, Romeo and friend Benvolio keep laughing at the man's histrionics. Yet Mercutio's shirt is covered in blood. Are these men dim-witted? Lord Capulet drags his daughter across the stage by her hair, and Romeo shoves the kindly friar onto the floor. Although the characters are out of control, there's nothing in the script that hints they are physically abusive.
There's one person onstage I was afraid of: Portia McLaurin as Tybalt, the only human being I thought capable of killing and kidding.
The first act's final sequence suggests what might have been. Maltese has Romeo so genuinely overwhelmed with grief at Mercutio's death that his killing of Tybalt seems inevitable. The first act's curtain tableau eloquently suggests the romance and horror to come. Union actor Michael Fitzpatrick as the comforting (but ineffective) Friar Lawrence effortlessly communicates his intense desire to help the two lovers.
But this careful, clean production needs some sloppy emotions. Are love and hate really so antiseptic?
Anthony Del Valle can be reached at vegastheaterchat@aol.com. You can write him c/o Las Vegas Review-Journal, P.O. Box 70, Las Vegas, NV 89125.
Review
What: "Romeo and Juliet"
When: 8 p.m. Thursday-Sunday, 2 p.m. Sunday
Where: Judy Bayley Theatre, University of Nevada, Las Vegas, 4505 S. Maryland Parkway
Tickets: $20-$30 (895-2787; pac.unlv.edu)
Grade: C-