Chekhov's 'The Seagull' glides into UNLV
January 27, 2012 - 2:02 am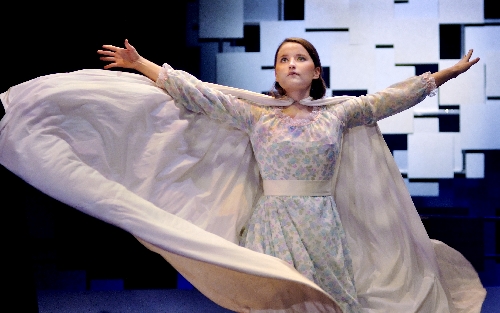 "With love to lead the way, I found more clouds of gray than any Russian play could guarantee."
— George and Ira Gershwin's "But Not For Me"
Everybody happy?
Then try this:
"Wherever there is degeneration and apathy, there is also sexual perversion, cold depravity, miscarriage, premature old age, grumbling youth, there is a decline in the arts, indifference to science and injustice in all its forms."
How about now?
That's Anton Chekhov, circa 1889, in a personal correspondence.
Those Russian playwrights. Such sunshine-spreaders.
You can treat yourself to a dose of the Chekhovian mind-set beginning tonight when Nevada Conservatory Theatre unveils its production of his drama "The Seagull" on the Judy Bayley Theatre stage at the University of Nevada, Las Vegas.
Plot? Described as a combination of comedy and cruelty, it centers around four characters in two-turns-of-a-century-ago Russia: fading actress Irina, her playwright son Konstantin, Nina, the ingenue, and a writer, Trigorin. When Irina arrives at her country estate with Trigorin, who is her young lover, romantic and artistic conflicts ensue and jealousies break out everywhere.
Critics pegged "The Seagull" as a play about people so self-absorbed and obsessed over what they have and don't have that they're oblivious to comprehending the plight of anyone but themselves.
Charming crowd.
While also considered one of Russia's greatest short-story writers, Chekhov wrote four major plays — the other three are "Uncle Vanya," "Three Sisters" and "The Cherry Orchard" — but "The Seagull" is lauded as his top drama achievement. (Chekhov was also a physician who once described his dual passions this way: "Medicine is my lawful wife and literature is my mistress.")
"The Seagull" is noted for characters who do not speak directly to the issues they are confronting but dodge them, speaking in subtext, which of course makes it intriguing, but also a puzzle to some theatergoers.
Famously, the play's opening night in 1896 in St. Petersburg, Russia, was deemed a disaster. Portraying Nina, actress Vera Komissarzhevskaya was reportedly so frightened by the audience's hostility toward the piece that she lost her voice. Seated in the audience, the playwright himself fled, spending the last two acts backstage.
However, fate eventually favored Chekhov two years later, when legendary Russian director Constantin Stanislavski helmed it for a 1898 production for his Moscow Art Theatre. That interpretation was a triumph that one critic, apparently a fan of hyperbole, called "one of the greatest events in the history of Russian theater and one of the greatest new developments in the history of world drama."
Take that, cranky premiere night theatergoers.
As for the disposition of Nevada Conservatory Theatre's premiere night theatergoers, well, let's hear from the playwright himself, via another personal letter he penned in 1900:
"One usually dislikes a play while writing it, but afterward it grows on one. Let others judge and make decisions."
Break a leg, Anton.
Contact reporter Steve Bornfeld at sbornfeld@ reviewjournal.com or 702-383-0256.
Preview
"The Seagull"
8 p.m. today, Saturday, Thursday, Feb. 3-4; 2 p.m. Sunday and Feb. 5
Judy Bayley Theatre, University of Nevada, Las Vegas, 4505 S. Maryland Parkway
$20, $25, $30 (895-2787; pac.unlv.edu)