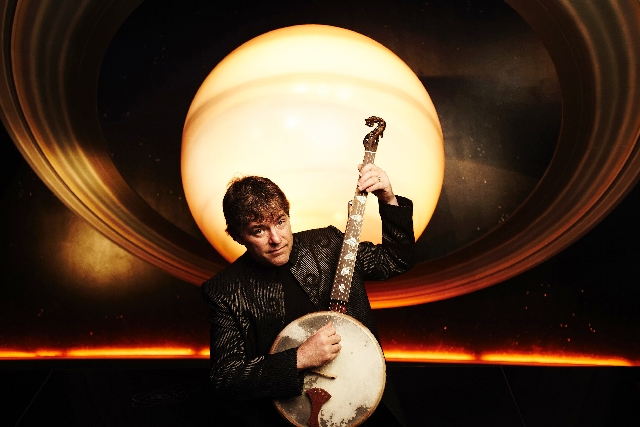 They both let their fingers do the talking — Chick Corea at the keyboard, Bela Fleck on the banjo.
So it makes sense that the keyboard legend and the banjo virtuoso — who perform together tonight at The Smith Center's Reynolds Hall — would prefer to address their collaboration, and their mutual admiration society, via email.
It's the second time Corea and Fleck have toured together; their road trip came in the wake of their debut collaboration in 2007, "The Enchantment," which won a Latin Grammy Award for best instrumental album.
"We got one offer, kind of out of the blue," to perform together again this year, Fleck emails, and "it sounded good to both of us. Then we figured we might as well do a few dates, since we'd be relearning the music. Pretty soon we had nine shows, and it seemed like a great amount for us to do."
And now, he continues, "there are already a few shows popping up for us in 2014, and this is a wonderful development, in my opinion!"
Corea notes, "we both enjoy taking a break from our own projects to play duet."
And though they'll be playing music from "The Enchantment," there's "always enough improvisation to make it seem like each night is a whole new program," Corea writes.
Because "it's been years since we've played" the "Enchantment" collaborations, Corea and Fleck began the tour preparation by relearning them, Fleck notes. "One nice thing is that when we do play those tunes, they'll be very different every night."
In addition to their "Enchantment" collaborations, the piano/banjo duo will play "a few tunes from each of our older stuff," along with some new things, according to Fleck.
The range of musical styles covered in the concert — from jazz to bluegrass, pop to rock, flamenco to gospel — reflects the musical diversity, and virtuosity, of both headliners.
Corea — a 20-time Grammy winner, prolific composer and National Endowment of the Arts Jazz Master — has covered all the musical bases since his 1966 debut. In addition to his renown as an acoustic jazz pianist, he also achieved star status as an innovative electric keyboardist with Return to Forever and the Elektric Band.
Fleck's only got 14 Grammys to call his own (out of 30 nominations), but he's been nominated in more categories than anyone in Grammy history.
That seems appropriate, considering the multiple musical directions, from bluegrass to bebop, he's followed since his 1980 solo debut, "Crossing the Tracks," which included Corea's composition "Spain."
That's also most appropriate, because — as Fleck recalls — he's "been a fan of Chick's ever since the early '70s, when I heard the tune 'Spain,' from Return to Forever's 'Light as a Feather' album."
Fleck "was thrilled when (Corea) invited me to do a duet tour with him several years back," he recalls.
But their initial collaboration took place even earlier, when Corea "played on a few tracks of my album 'Tales From the Acoustic Planet' in 1995. This led to him sitting in with the Flecktones a few times, and finally our duo album and tour."
For Fleck, playing with one of his musical heroes "is both easy and intimidating," he writes.
"He is so solid that he makes it very easy to lock in. I do have to bring my humility to the party, because he is so advanced in so many areas where I am not," Fleck admits. "So I have to be OK with the places where I don't feel equal. I learn so much from the experience of playing with him, and he is very supportive."
Playing together, the two musicians have developed a "natural rapport that makes anything we try out fun and musical," Corea writes. "We just keep adding music games and songs to our playlist and things sort of 'evolve.' "
In addition, "I get inspired hearing Bela create and come up with always new ways to address a piece of music, old or new," Corea writes. "There's an inspiring quality that enhances my own conception and widens my field of play."
Collaborating with Corea, Fleck says he's "learned to trust spontaneity much more," he writes, because "that is one of Chick's real strengths. And just being able to share the stage with him has given me more confidence as a musician. If he likes what I do enough to want to work together again, I must be OK!"
More than OK, in Corea's view.
"Bela is a wonder," he writes. "A man with limitless imagination which he pours through that funny instrument of his," Corea jokes, augmenting the latter comment with a familiar emoticon: 🙂
In short, "I love his creativity," Corea writes. "It's a FUN duet."
And speaking of that "funny instrument," Fleck has shown Corea "some of the idiomatic banjo patterns, and he takes them and flies to the stratosphere with them. I think I bring some different things out in him, and that makes me feel good," he writes.
As to the secret of their collaborative success, Fleck ticks off several factors: "Mutual respect, a shared enjoyment of improv, a strong rhythmic component in both of our musical concepts, musical curiosity and an enjoyment of adventurous musical situations," factors that "make us very natural collaborators."
But to Corea, "there is no 'secret,' " he writes. "We just enjoy making music together and always look forward to the next performance and the adventure of 'what will happen tonight?' "
It's an adventure shared by both performers and audiences, he adds.
"Music is a way to express and share with others the joy one gets from creating," Corea writes. "I like to do a LOT of this. It makes me feel good and it seems to make others feel good too. A winning situation."
Contact reporter Carol Cling at ccling@
reviewjournal.com or 702-383-0272.
Preview
Chick Corea and Bela Fleck
7:30 p.m. today
Reynolds Hall, The Smith Center for the Performing Arts, 361 Symphony Park Ave.
$26-$79 (749-2000, www.thesmithcenter.com)