Comedy musical 'Idaho!' debuts at Smith Center with an eye toward Broadway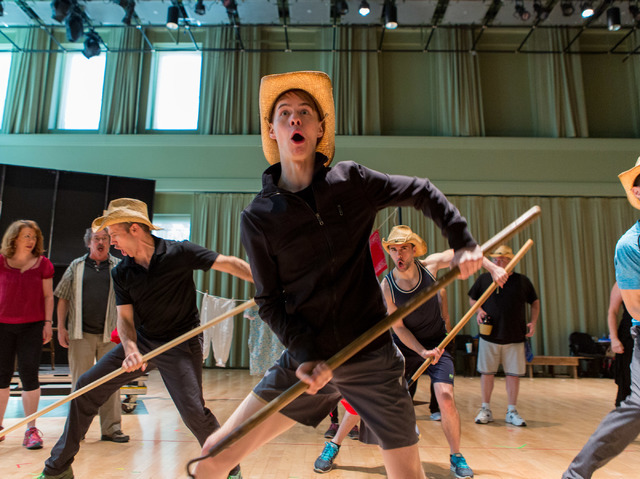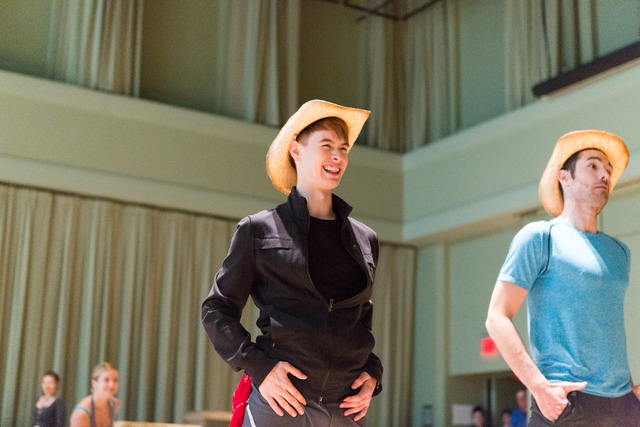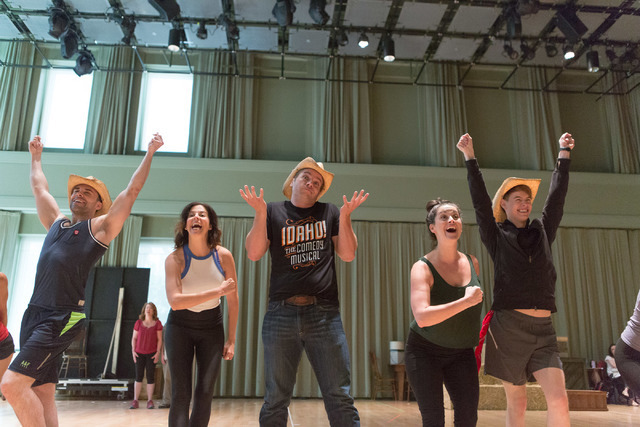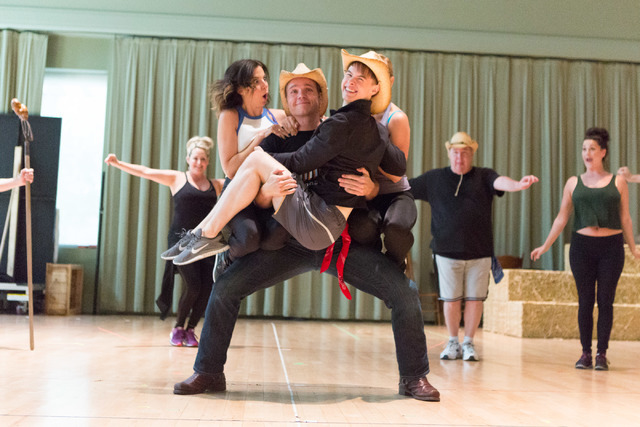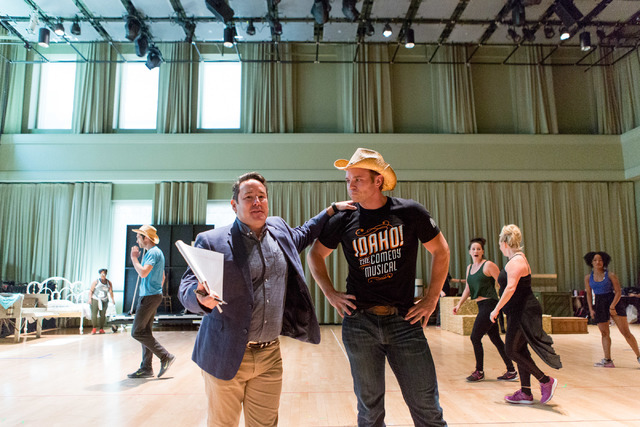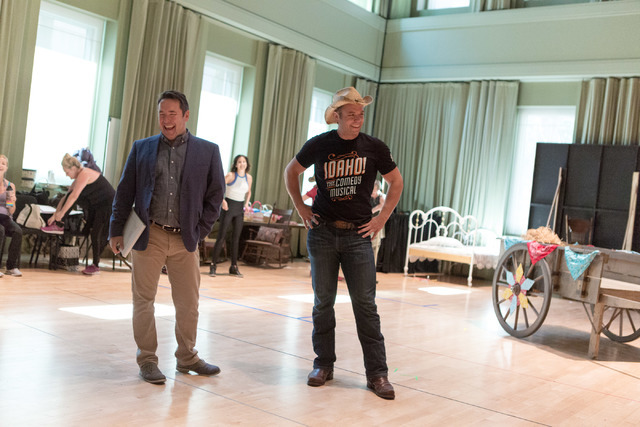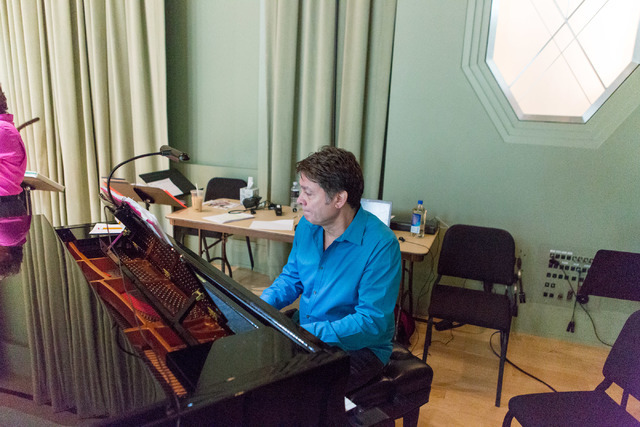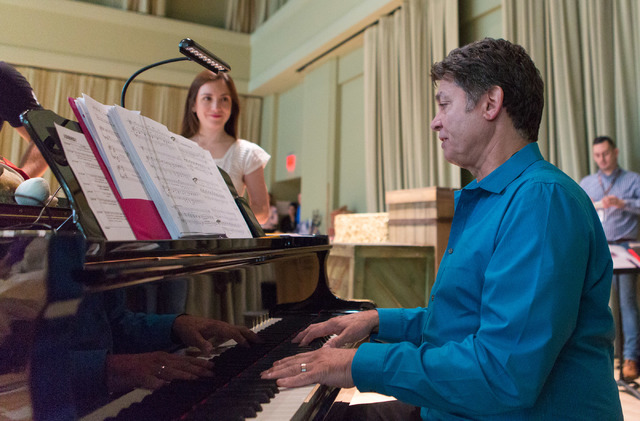 If we were in "Oklahoma!" — the landmark 1943 musical that introduced the songwriting team of Rodgers and Hammerstein to Broadway, and the world — a big-voiced cowboy would be singing a heartfelt tribute to a particularly beautiful morning, where there's a bright golden haze on the meadow and the corn is as high as an elephant's eye.
But we're not in "Oklahoma!" anymore.
We're in "Idaho!" — a place, according to the brawny baritone in the cowboy hat, "where the taters poke their heads from the ground, wipe the dirt from their eyes and say 'Heck, it's a helluva day!' "
Or, more precisely, we're at The Smith Center — where the new musical "Idaho! The Comedy Musical" has staked its claim to a $1.2 million production that, if everyone has their druthers, will lead directly to Broadway.
"Idaho!" opens Wednesday in the center's Reynolds Hall for three previews — each including an audience question-and-answer session that will help creators tweak the show prior to July 9's gala opening; tickets to the latter include a post-show Symphony Park bash, dubbed the Ida-Ho-Down, where audiences can mingle with cast and creators.
The musical's Smith Center run continues through July 17.
Although "Idaho!" has played other venues — from New York City's New York Musical Festival to an upstate New York playhouse — the upcoming Smith Center run represents a chance "to see if the show can fill a Broadway-size" theater like Reynolds Hall, according to director Matt Lenz.
"It's important for me to see it with a big audience," adds Buddy Sheffield, the former "In Living Color" writer (remember "Men on Film"?) who came up with the show's script and score — the latter in collaboration with "Idaho!" co-composer, musical director and friend Keith Thompson, who's conducted Strip versions of musicals ranging from "Hairspray" and "Mamma Mia!" to "Jersey Boys," now winding down its long run at Paris Las Vegas.
"It's huge for us" to stage "Idaho!" at The Smith Center, Lenz says.
In previous productions, "there's a lot of that 'how clever can you be with very little,' " he notes.
This "Idaho!" incarnation won't have such Broadway bells and whistles as automated sets, but it will be "a fully realized" production, Lenz explains. There's a cast of 16; Thompson will lead the 16-member onstage orchestra.
And though the sets — designed by another Las Vegas resident, "American Idol" Emmy winner Andy Walmsley — aren't automated, they do move. The chorus even sings about it.
During a recent rehearsal in The Smith Center's Troesh Studio Theater, "Idaho!" cast members march across the stage — choreographer Michele Lynch leading the way — while delivering these recap-the-action lyrics: "The set's rearranging and Doc is off changing and Cassie is feeling unwell. Since it's only Act 1, can it still turn out fun? Or have things gone straight to hell?"
Set in the turn-of-the-20th-century Gem State (Idaho joined the union in 1890), "Idaho!" pokes affectionate fun at "Oklahoma!" — and several other musicals — as it follows the fortunes of, among others, mail-order bride Cassie Purdy (portrayed by Jessica Fontana, whose credits includes Broadway's "Cinderella").
Cassie arrives in Idaho to marry the wealthy Jed Strunk, played by "MADtv" veteran Paul Vogt. (Vogt succeeded Harvey Fierstein as Edna Turnblad in Luxor's long-gone production of "Hairspray" — which was produced by Myron Martin, now president of The Smith Center.)
Strunk may have the money to buy every spud around, but he has little of their taste or appeal — as he reveals when chomping into a potato pancake he describes as "Perfection … like when a bug flies in your mouth while you're riding. I mean in a good way." No wonder Cassie instead falls for the stalwart Whip Masters (Nathaniel Hackmann, who's also played his role's inspiration: Curly in "Oklahoma!").
Whip's hardly the only "Idaho!" character modeled on an "Oklahoma!" original, however. Jed's just a hop from "Oklahoma!" villain Jud Fry, while flirtatious Ado Annie's obviously the inspiration for hot-to-trot Ida Dunham (Broadway veteran Alex Ellis). And homespun Aunt Eller becomes Aunt Pearlie, alias Jen Perry, who spent two years in Mandalay Bay's "Mamma Mia!"
Perry's taking a break from her current Broadway gig, the Tony-winning "Kinky Boots," to reprise the role of Pearlie, which she originated.
"It's a project near and dear to me," Perry says of "Idaho!" (Good thing "Kinky Boots" director Jerry Mitchell gave his approval for her participating in this production; then again, he's got his own Vegas ties, from Planet Hollywood's "Peepshow" to the 2014 launch of "Kinky Boots' " national tour at The Smith Center.)
"This is the chance we've been waiting for," Perry says of the new musical's Smith Center run, "for people to see it on a large scale."
In the beginning, "Idaho!" took root when Sheffield was en route to Los Angeles.
"I had always been a fan of 'Dames at Sea' and 'Little Mary Sunshine' — spoofs of other genres," he explains, citing popular parodies of Busby Berkeley backstage musicals and Nelson Eddy-Jeannette McDonald operettas, respectively. "I always thought 'Oklahoma!' was very ripe for a spoof."
Driving to Los Angeles "through miles and miles and miles of nothing," Sheffield "was making up funny songs about Idaho," Thompson says in a separate interview, "and it started incubating in his mind. It was 10 years before we started working on it."
When they did, "Idaho!" emerged, with music "that sounds like Rodgers and Hammerstein," Thompson observes, "and the script sounds like Mel Brooks."
The show "wouldn't be anywhere without" Thompson, Sheffield adds, because "I don't know one note from another. … I make up the words and the melody and I sing it to Keith. And he goes from there."
After initial Las Vegas readings, "Idaho!" hit the road to the 2008 New York Music Festival, where it won best show and Lenz won best director.
"In the beginning, it was just all about the comedy," Sheffield says. "Now the show has a lot more heart."
The creative team keeps "refining and refining," Lenz adds. "The story gets stronger and stronger."
But it's the comedy that initially attracted Martin to the project.
After encountering "Idaho!" at a New York City reading two years ago, Martin "walked out … saying, 'The Smith Center has to do this,' " he recalls, in part because "it was really funny — and funny is hard. This one was genuinely funny, laugh-out-loud funny."
The "comedy musical," as "Idaho!" is billed, also provides The Smith Center with another chance — following the 2014 world premiere of Teller's adaptation of Shakespeare's "The Tempest" — to produce an original work with potential for a life beyond Las Vegas.
Martin is "very keen on this being as Vegas as possible," notes Walmsley. "I think Vegas has a really bad reputation in New York, especially when it comes to shows. Wouldn't it be awesome if it went there?"
To get "Idaho!" there, Martin explains, "the next step is getting a group of producers and investors to like it as much as I did" — to the tune of about $12 million, which is what he estimates a Broadway production would cost.
A few weeks ago, "before the cast arrived, my stomach was in knots," Martin confesses. "This is a big undertaking. … But after a week, seeing these actors, I feel great — and relieved."
Or, as Sheffield says, "Broadway has sent a lot of shows to Las Vegas. It's time Las Vegas sent one the other way."
Read more from Carol Cling at reviewjournal.com. Contact her at ccling@reviewjournal.com and follow @CarolSCling on Twitter.
Preview
What: "Idaho!"
When: 7:30 p.m. Wednesday and July 7; also 7:30 p.m. July 8-9, July 12-17, 2 p.m. July 10 and 17
Where: Reynolds Hall, The Smith Center for the Performing Arts, 361 Symphony Park Ave.
Tickets: $39-$89; $39-$129 July 9, including opening night Ida-Ho-Down party (702-749-2000, thesmithcenter.com)