Cosmopolitan features artwork made of plastic room keys
September 10, 2017 - 10:41 am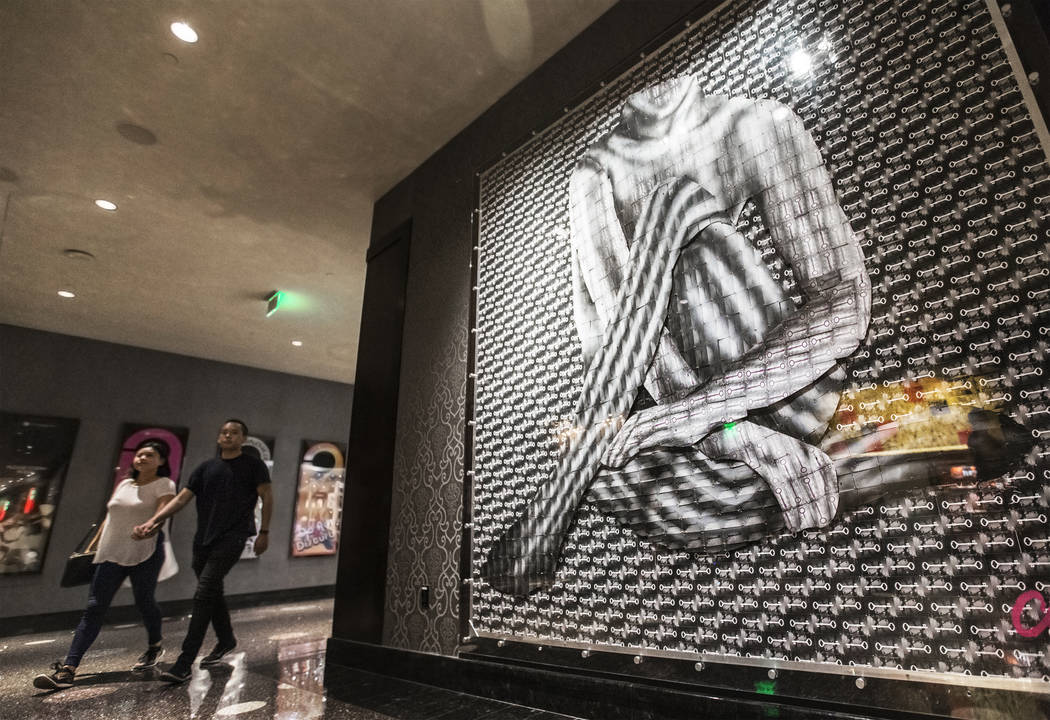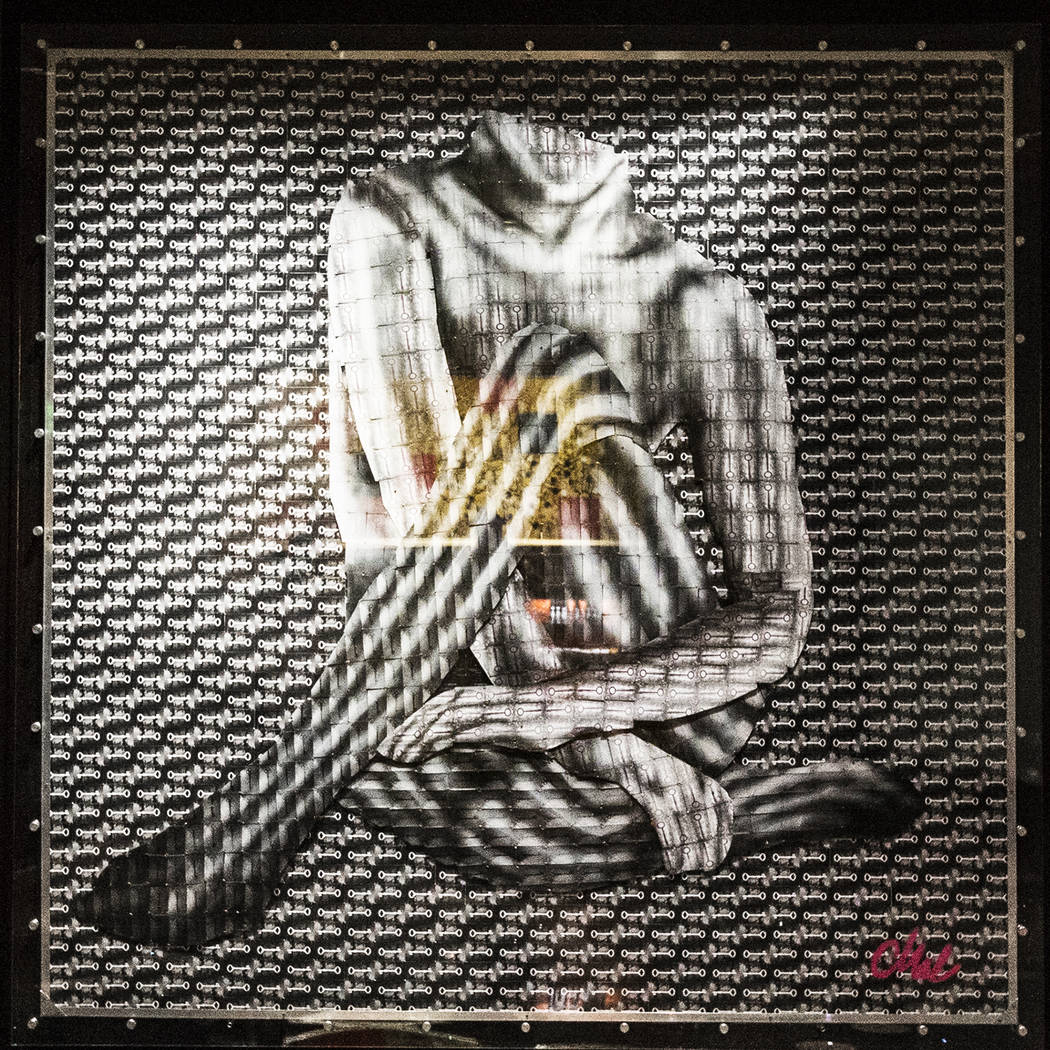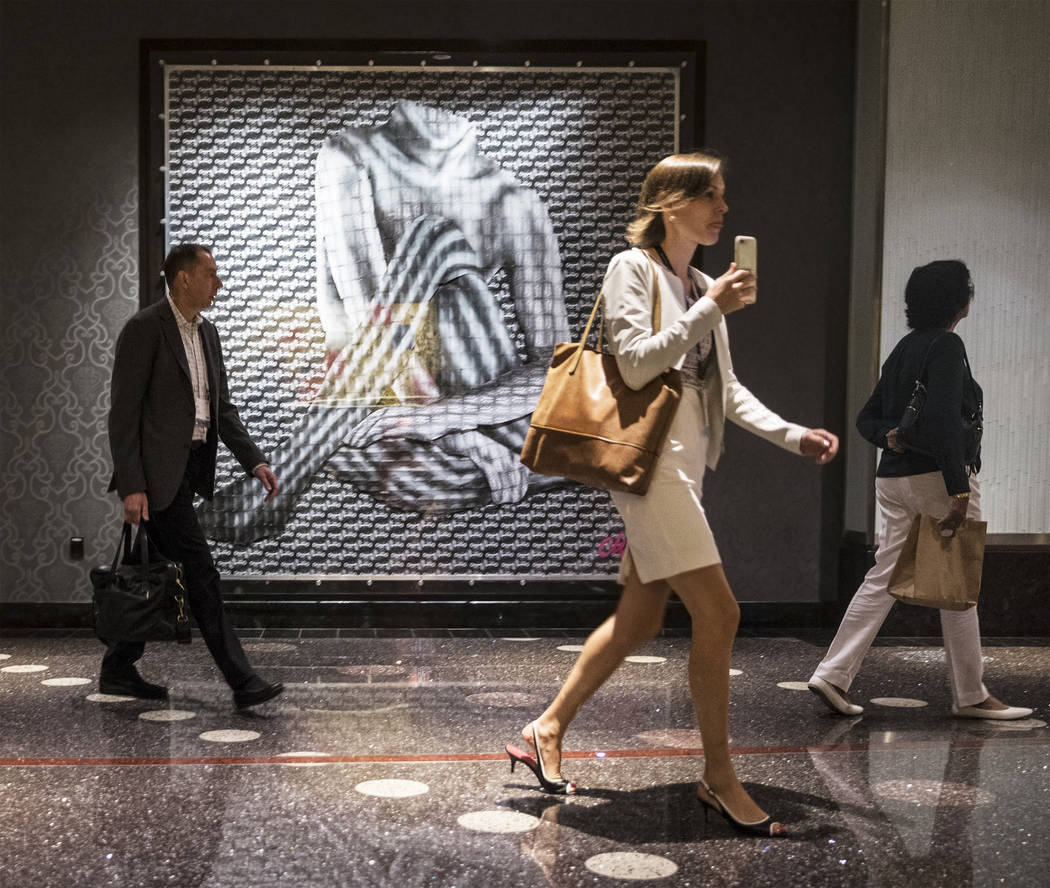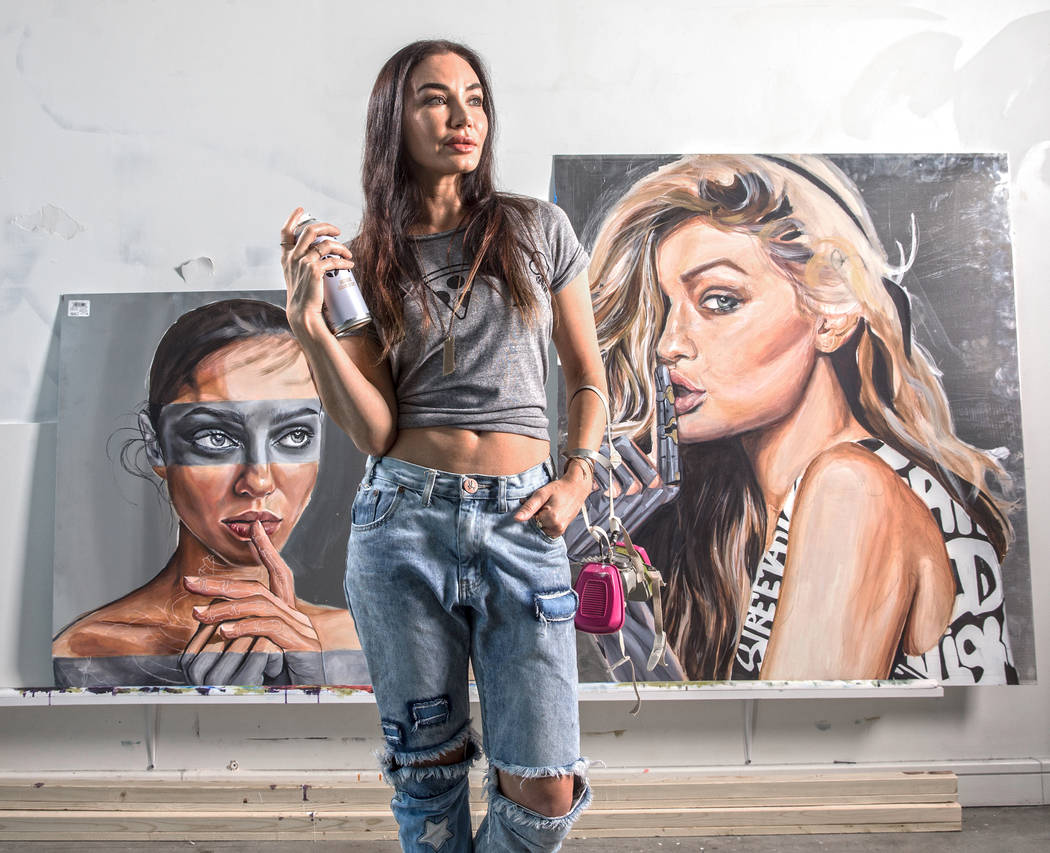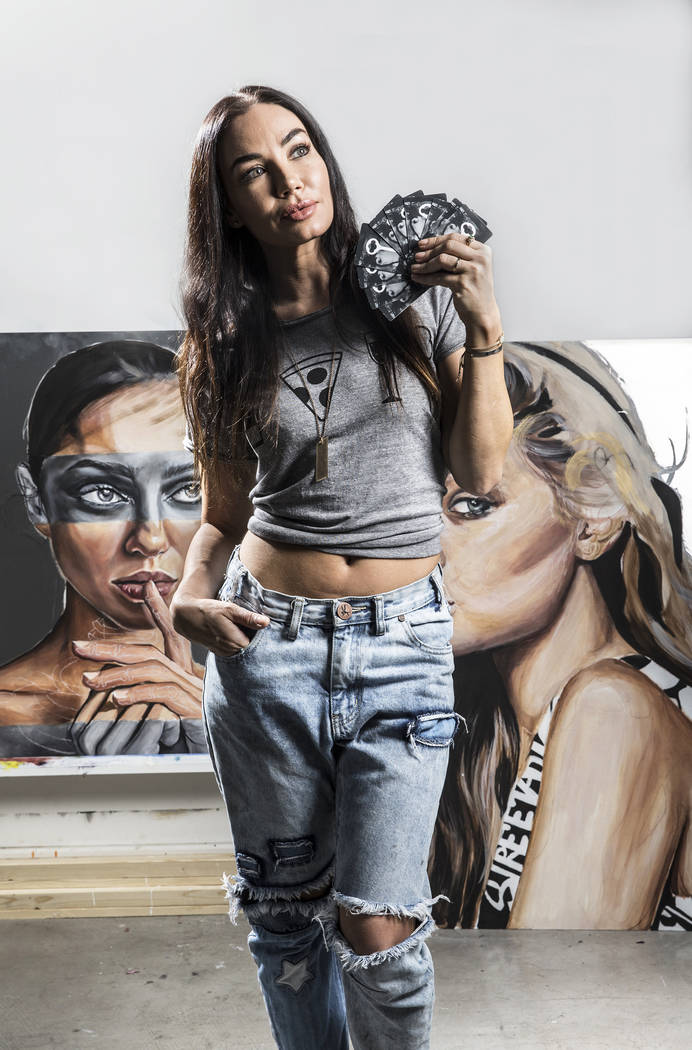 Plastic room keys aren't exactly a surprising sight in a Strip resort.
Unless, of course, they're hanging on a wall.
That's exactly the case at The Cosmopolitan of Las Vegas, where a second-level hallway — next to the Boulevard Tower's Monogram gift store — is now home to an art installation created from plastic room keys.
From a distance, the 9-by-9-foot image looks like a painting of a seated woman, created in blacks and grays.
Up close, however, the artist's medium becomes clearer: more than 3,000 room keys, arrayed in multidimensional rows and suspended from hundreds of feet of copper wire.
Before Las Vegas artist Mallory Dawn completed the installation, she thought the Cosmopolitan piece would be the first in a series at hotels around the world.
After finishing the Cosmopolitan version, however, she's not so sure.
"This will likely be a one-off," she predicts. "It will not happen again."
Not after the six weeks it took Dawn to create the piece in a warehouse — an un-air-conditioned warehouse near McCarran International Airport — during Las Vegas' traditional triple-digit summer temperatures.
"You can't do murals, because in the summer the paint dries on the brush" before the brush reaches the canvas, she explains. And "I couldn't use any resins," because resins need to cure at a specific temperature" — lower than the temperatures in Las Vegas. "I was really limited to what materials would work in the heat."
Working with the plastic room keys, "there was a lot of trial and error," she says. "It took every minute of every day," including hand-punching holes in each card so she could string them together with copper wire.
After Dawn completed her piece, it took several more weeks for Cosmopolitan officials to construct a protective cover for the "very public, very open space" Dawn's installation calls home, according to Tom Evans, the casino's chief marketing officer.
"Having all the keys hand-stitched, we knew how delicate it is," Evans says, adding that the cover ensures "what's created in Vegas stays in Vegas."
Although Dawn has created a mural and curated other artworks at the hotel's corporate office, along with visuals for casino shops and restaurants, officials were "looking for opportunities for her to do something" at The Cosmopolitan, Evans notes.
So the artist and her employers began walking the property, looking for a place to showcase her art.
Dawn had been "working with patterns — and what patterns mean for culture, how they connect people with their culture," she recalls. So she suggested, " 'I would love to do a piece with key cards, maybe semi-three-dimensional.' "
With more than 600 artworks in the corporate collection, "you would think we've seen and done everything," Evans says. "But not key cards." The response? "Wow, is that relevant. It's unique and will stand out in its way."
It was also extremely convenient, considering that the Cosmopolitan was planning to switch key card designs — and therefore had plenty of old-style cards sitting in a warehouse, just waiting for Dawn to transform them into an artwork she jokingly calls "I Guess This Got Finished."
But seriously, her installation does have an official title: "The Identity of Indiscernibles," referring to the philosophical principle that no two things exactly resemble each other.
"Even if the objects look the same, their properties make them different," according to the artist. It's an apt description for an artwork featuring three different key card designs. (Initially, Dawn planned to use key cards from different hotels; she's been collecting them for some time and has about a thousand, including those her friends have sent her).
Cosmopolitan officials "really gave me a lot of freedom" to create the installation, she says. "Unlike a mural, where people see you progressing, you can't show anybody" the work-in-progress process of creation, she notes. And now that Dawn's work is on display, "it feels good to invoke curiosity in people."
Contact Carol Cling at ccling@reviewjournal.com or 702-383-0272. Follow @CarolSCling on Twitter.
An artistic home in Vegas
We've all heard (and, perhaps, lived) variations of this Las Vegas story: someone comes for a visit and never leaves.
It happened to artist Mallory Dawn, who was living in New York when she came to Las Vegas for a bachelorette party.
That was nine years ago and Dawn, 33, "thought Las Vegas was going to be a pit stop," she says in an interview at her downtown loft, where painted faces (some resembling hers) stare from multiple canvases.
Initially, Dawn intended to become an artist; her brother's an architect. "He played with Legos," she recalls, "and I stared at the clouds and told him what I saw."
In art school, however, she switched to project development and design, which she pursued until she asked herself, "Why would I continue to design for someone else?"
Dawn says she "gave up a lot of security" to follow her own artistic path, reasoning that, otherwise, she would "wish you were doing this every second you're awake," she says. "Once you see, you can't unsee."
And that includes her future in Las Vegas.
"All my friends who stayed in New York are dumb," Dawn says. And not just because it's "less expensive."
When she moved here, "when the recession was happening, people needed community," according to the artist. "Vegas is a huge opportunity for anybody who's ready to work."
And that definitely describes her. To illustrate, she mentions a recent restaurant excursion, when a fellow diner commented on a painting by saying, " 'I could do that.' "
Dawn's response: " 'But you didn't.' And that's art. Focus on creating something. That's what differentiates" the artist and the viewer, she says. "Just doing it."