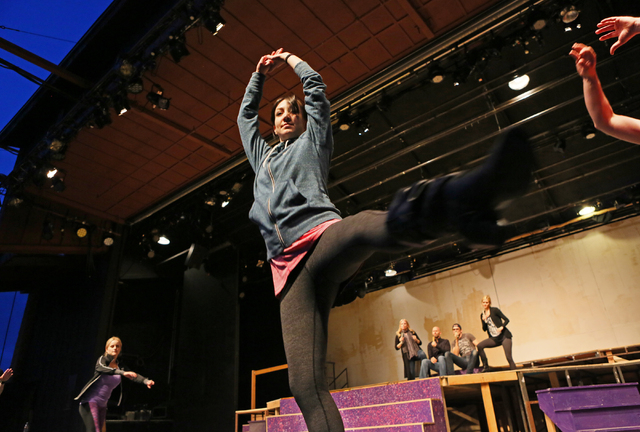 Super Summer Theatre begins its 40th season of shows under the stars this year and organizers are ready to celebrate.
"This being our 40th year, we wanted to put a little bang in our lineup," says Jerry Brooks, chairman of the Nevada State Cultural Arts Board, which oversees Super Summer Theatre. "I think we have that."
The 2015 season of musicals includes "Chitty Chitty Bang Bang," "Bye Bye Birdie," "Tarzan The Stage Musical Based on the Disney Film" and "Lend Me a Tenor."
But to kick things off, Super Summer Theatre will present "Keepin' It Country" Friday and Saturday at Spring Mountain Ranch State Park. Friday's performance will include a gourmet picnic dinner and VIP package. VIP tickets are $140 for a hosted bar, dinner and special reserve seating (call 702-882-6886 for details); $40 tickets will get dinner and the show.
The dinner prices include a donation to Super Summer Theatre's Thanks a Million campaign, which supports maintenance and capital improvements.
Show-only tickets of $10 in advance and $20 at the gate will be available, too.
Brooks says each night of the season, more than 1,000 people pack into the open-air theater to see productions that have included "Spamalot" and "Shrek: The Musical."
Each season, community theater directors propose ideas for what shows they would like to see at Spring Mountain Ranch State Park. After giving their visions for the productions, Nevada State Cultural Arts Board members decide what would be a good fit.
Among the considerations are whether the show has been seen in Las Vegas before (or recently) and can people drive to nearby cities to see similar productions.
"We look at what's touring around the country, too," Brooks says.
Until a few years ago, Super Summer Theatre would present three shows. Now, the lineup has expanded to five shows with a brief season opener and an additional September show.
Actor turned director Steve Huntsman is at the helm of "Keepin' It Country."
"I started working as a performer in 1999," he says. "But I made my directorial debut in 2008."
Since then, he has put on "Damn Yankees" and "The Music Man" at Super Summer Theatre. Not wanting to abandon his acting roots, Huntsman says, when possible, he tries to take on one minor acting role each season.
"I love being onstage," he says.
"Keepin' It Country" was developed by Huntsman and his wife along with another couple who wanted to do a tribute to past and present country singers.
When the idea was originally conceptualized, Huntsman was a performer. Now that he is directing, he has taken a step back from the acting.
Directing two productions, especially one as elaborate as "Tarzan," means Huntsman won't be acting this season.
Huntsman says the fun show includes a cross section of country music, square dancing and an eight-piece band with two fiddlers.
But Huntsman work with Super Summer Theatre won't end this weekend. He's also directing "Tarzan," which opens in August.
"It's been fun taking this animated Disney film, which I loved, and turning it into a musical," he says.
He has seen the production before onstage.
"I think they were so focused on the technical aspects of the production, they lost some of the artistry," he says.
When he proposed the idea to the Super Summer Theatre board, he didn't expect it to be approved because of the intricate set pieces and stunts.
"I was flabbergasted when they said yes," he says.
Casting just finished. To be in the production, performers had to go beyond acting and singing and be willing to learn acrobatic moves, too. Casting was a little bit of a challenge, Huntsman says.
He adds that they will adjust the stage for sequences where cast members are swinging from vines.
In its 40 years, Super Summer Theatre has done more than stage new shows. It acquired a warehouse, Brooks says.
Before getting the 7,400-square-foot space, directors would rent out school gymnasiums and warehouse space to hold rehearsals.
"But school gyms wanted you to be out by a certain time," he says. "And warehouses wanted you to sign longer than a month lease."
The new space lets directors practice at times that work best for the cast and crew.
"Some performers on the Strip like to do some of the shows in their spare time," Brooks says. "But that means they can rehearse only at odd hours. This facility allows them to do that."
The warehouse Super Summer Theatre has leased for the next five years is divided into three studios. With this setup, he says, the cast of one show can start rehearsing vocals in one warehouse section then move into the next studio when it's ready to start choreography.
The biggest component in the warehouse is a replica stage of the Spring Mountain Ranch theater. Brooks says this lets directors and actors get a better sense of what the stage will be like before moving rehearsals to the state park.
Beyond rehearsal space, Brooks adds they have offered musical and acting workshops, something they are considering expanding in the future.
As board members anticipate this season, they're also thinking about 2016.
"It takes us a year to prepare for the next season," Brooks says. "We already have our lineup for the next season."
Contact reporter Michael Lyle at mlyle@reviewjournal.com or 702-387-5201. Follow @mjlyle on Twitter.
PREVIEW
What: "Keepin' It Country"
When: 7:30 p.m. Friday and Saturday
Where: Spring Mountain Ranch State Park, 10 miles west of Charleston Boulevard and the 215 Beltway
Admission: $10-$40 (www.ShowTix4U.com; 702-989-8987)