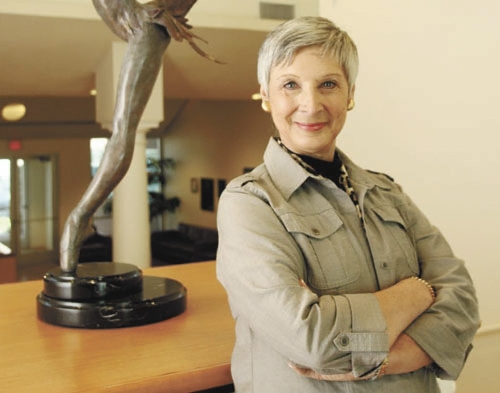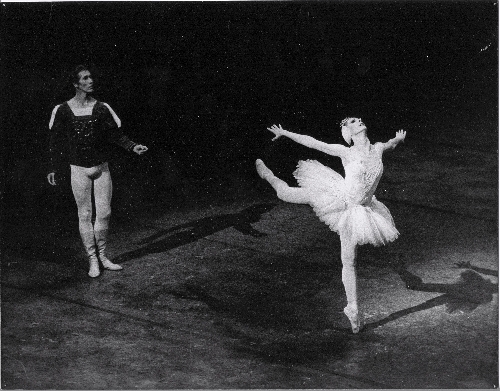 Cynthia Gregory's performance in the dual role of Odette/Odile in the American Ballet Theater's 1967 production of "Swan Lake" is universally considered a classic.
So, it seems appropriate to ask the legendary ballerina what she thinks of a certain Oscar-nominated film whose plot revolves around a production of the Tchaikovsky piece.
Her answer is prefaced with something that sounds like a dismissive "Grrr." Director/writer Darren Aronofsky's "Black Swan," she answers, "doesn't portray the ballet the way it really is, but I guess there's artistic license."
"I just don't think it shows what I try to show, which is the joy of dancing," rather than a dancer descending into an "abyss of madness," Gregory continues.
"You walk in here," she adds, alluding to the Summerlin headquarters of Nevada Ballet Theatre, "and it doesn't feel like that at all."
Gregory, 64, is artistic adviser and coach with NBT. She's a funny and charming woman who, having already reached the heights of her art, still exhibits the enthusiasm of a young ballerina-to-be who's just tied on her first pair of pointe shoes.
Here, Gregory is surrounded by a few family members, many friends and, no doubt, a sizable corps of admirers, among them, James Canfield, NBT's artistic director.
"I was an admirer of hers as a ballet student," Canfield says. "I've watched her onstage over the years. When I heard that she was in town and that she was actually going
to have an association with us, I was thrilled."
Gregory possesses "essential information" by virtue of the pieces she has danced and the people with whom she's worked, Canfield says. "She's a huge gift for all of us."
Gregory began dancing at age 5, while growing up in Los Angeles. By 7, she was on the cover of Dance Magazine ("I'm the little black swan," she notes).
What did Gregory find so appealing about ballet? "I think it was the music," she says. "We always had Tchaikovsky or Beethoven or Bach playing in my house, and it moved me so much, even as a little girl."
Gregory also discovered that she loved "being able to tell a story with my dancing. And, then, I got hooked on performing. I think I know I looked better onstage than when I rehearsed. I was a performer, so I would come alive on stage with all those people watching."
At 14, Gregory was awarded a scholarship to study with the San Francisco Ballet. "We were used as apprentices in some of the performances," she recalls, "so I got to be in rehearsal with professional dancers."
And, as she'd watch them, "I thought, 'I would really like to do that. I think that's what I'm going to do.' "
About a month after her 18th birthday, Gregory moved to New York City and quickly landed a position with American Ballet Theatre. She spent 26 years with ABT, dancing both classical and contemporary pieces and becoming world-famous.
Margot Mink Colbert, assistant chairwoman of the University of Nevada, Las Vegas' dance department and the department's director of ballet, recalls that "the impression we all had was that she was a really real person and that she could do anything."
Gregory's "technical facility was kind of uncanny," Colbert says, and "she was kind of all-American, and maybe (she) made it all right to be an all-American ballerina."
After ending her performing career at the age of 46, Gregory wrote a book, did a bit of choreography and spent several years with an organization that helps dancers transition out of ballet and into other careers.
In September, she joined NBT as artistic adviser and coach, working with dancers to fine-tune their art. NBT dancers Mary LaCroix and Jeremy Bannon-Neches are working with Gregory in preparation for George Balanchine's "Donizetti Variations," which NBT will present March 4-6. LaCroix says that, "because she's a legend in the ballet world," the first 10 or 15 minutes spent working with Gregory did create "a little bit of the star-struck factor."
But, LaCroix says, "she's really down to earth. She's really awesome."
Gregory "focuses a lot on the artist's quality of putting herself in the audience's shoes: What is the audience going to take from this?" LaCroix says. "Her big thing is always reaching further and reaching out to the audience and making them feel something."
Gregory "really likes to focus on the character you're portraying," Bannon-Neches says, "and she's done so many different roles that she knows the little nuances.
"You can really feel the experience when she coaches us."
As a coach, "I'm more or less fine-tuning," Gregory says, "and what I try to instill in the dancers is to try to find themselves in their dancing, to dig deep down inside and find out what they want to portray to the audience.
"I was so fortunate to work with all of the great choreographers and coaches and ballet masters of the 20th century when I was dancing, and I wanted to pass on what they gave to me: To be a real person onstage and not just a body, not just an instrument of athleticism."
In addition to her work with NBT, Gregory and friend Martha Flemming are preparing to unveil "pas de deux" , a line of wedding, prom and bridesmaids' gowns designed by Gregory. In a way, the venture represents Gregory's return to the family business: Her parents were in the garment business, with mom designing while dad "ran the business and did the cutting and so on."
Looking back, which was Gregory's favorite ballet?
"Swan Lake," she answers. "I think that was really my best. I just loved to do that dual role, and the music is so incredible."
None of which is tainted by that Oscar-nominated movie (in which, Gregory notes, Natalie Portman "did a really beautiful job.").
She laughs. "My son said, 'It was entertainment, Mom.' He said, 'Don't think of it as a ballet movie. Think of it as just sort of a thriller, a psychological drama that doesn't have anything to do with ballet.' "
"I said, 'But, yes, it did!' " Gregory says in feigned anger.
On the other hand, Gregory did like the director's previous film, "The Wrestler," and maybe, she offers, "wrestling people wouldn't like that, either."
Contact reporter John Przybys at jprzybys@ reviewjournal.com or 702-383-0280.