Dance studio expands despite economy, opening cafe on premises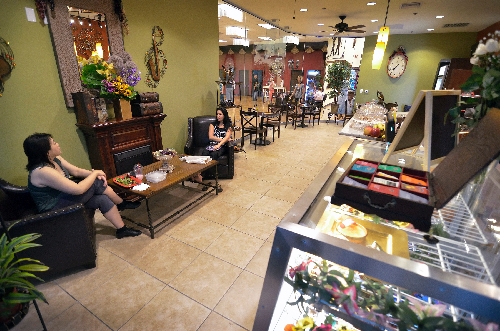 At a time when many businesses are just getting back on their financial feet, Vartan Zakhariants' business, VZ Dance Studios at 7207 W. Sahara Ave., No. 130, is hopping.
Not only did he expand its size three months ago, more than doubling its footprint, he also opened Café Olé there in June. One does not need to be a student to enjoy the cafe, which has its own entrance.
Cindy Mishlove is one of his students. She said she liked the addition of the cafe, which offers sandwiches and pastries. Even on its opening day, there was a constant flow of patrons for the new addition. Mishlove agreed that when you hear the words "dance studio," you don't automatically associate it with a cafe.
"Everything here is different," she said. "It's such a friendly atmosphere. They cater to everything you need for dance, for fitness, and then (afterward), we get to hang out together."
But in 2008, when Zakhariants, a Summerlin-area resident, launched the studio at a different location, he found himself frantic to keep the business afloat.
"We opened our doors and like, literally, the next day was the crash, and it was, 'Oh my gosh.' We had to change our climate," he said. "We concentrated more on small packages. We marketed ourselves as stress relief, things that you could do. … You could come in and dance for $12. And we offered —- I came up with —- this group class pass, where you have 70 group classes for a whole month."
One of Zakhariants' marketing ideas was to offer the first month for $5 for an entire month of dance lessons, no matter how many classes one took. After the first month, the rate switched to $75. He lost a few students. People were coming in every day to dance, and many made friends with those they met through the classes.
"There was socializing; it became a club," Zakhariants said.
Another tactic was expanding the studio's programs to address more than dance. There were yoga classes, de-stress classes, fitness classes and Zumba classes. Then he added a kids' program. He had one room, and enrollment exploded to more than 100 children.
"We were literally teaching lessons in the reception area because there were so many people," he said.
The studio moved to its current digs —- where it enjoys a nearly 1,800-square-foot floating dance floor —- about a year ago. Two months ago, Zakhariants expanded into the adjacent storefront to add another dance floor space, bringing the business to 5,800 square feet.
As soon as one steps inside, the classy, high-end looks – pillars, stone accent walls, giant framed mirrors, wrought iron accents and even a lamppost – lend to the atmosphere.
"It's an absolutely beautiful studio," ballroom student Kaye Alston said. "He has some excellent teachers that are very knowledgeable, and it's just a comfortable place to come to and dance. The stone work, the iron work, very beautiful. It makes it very comfortable."
This Saturday night, Zakhariants brought in Sasha Farber from "Dancing With the Stars" to lead free samba and cha-cha lessons. About three dozen people took to the dance floor, carefully following Farber's moves in the giant mirrors. At one point, he prompted the students to merely watch him do the steps in slow motion.
"It's cha cha cha, one, two, three, cha cha cha, one two, three. Then, one and two, three and four," Farber said. "So many times, you forgot to breathe."
Rosa Price and her teenage daughter, Taira LaFrance, were there.
"If I dance, she comes and dances with me," Price said. "She's only 14, and I want her to get a little culture. I come from Puerto Rico, so (dancing) is in the blood. I want to impart some of that to her."
In June, Zakhariants opened the cafe within the dance studio. It occupies the front corner, and its large glass wall affords an unobstructed view of the dance floor, an appreciated plus for parents. The cafe offers pastries, soups, salads and sandwiches such as herb chicken and arugula panini and veggie panini. Barista Breanne Allen serves up specialty coffees.
Were did the idea for incorporating a cafe come from?
"We used to be next to Paymon's, and every single day, we would go there for lunch, just a soup and sandwich or coffee," Zakhariants said. "… And once we moved here, there was really nothing around here. So I thought, why not just open up my own little cafe and restaurant, where we could sit and enjoy a lunch and have a really good cup of coffee. I mean, (it's) real professional; we have our own barista."
He said the studio was the business park's anchor and that his business brings in more than 2,000 people a month. That may increase with the opening of Café Olé offering the area a new option for eating.
The expansion and upgrades came with a steep price —- $300,000 —- but Zakhariants said it was worth it.
While VZ Dance Studios still offers a wide variety of classes, Zakhariants said ballroom dancing is the biggest draw.
"It's immensely popular, especially with 'Dancing With the Stars,' " he said. "For a long time, (it was seen as) something that only the elite did because it was so expensive. But with 'Dancing With the Stars,' you bring it into mainstream (consciousness). Now it's a little bit more socially accepted. … People are not scared, I guess you would call it, to venture into a dance studio or to a salsa group class and just try it out."
For more information about VZ Dance Studios, visit vzbalv.com or call
685-8989.
Contact Summerlin/Summerlin South View reporter Jan Hogan at jhogan@viewnews.com or 387-2949.
VZ Dance Studios
For more information about VZ Dance Studios, 7207 W. Sahara Ave., No. 130, visit vzbalv.com or call 685-8989.