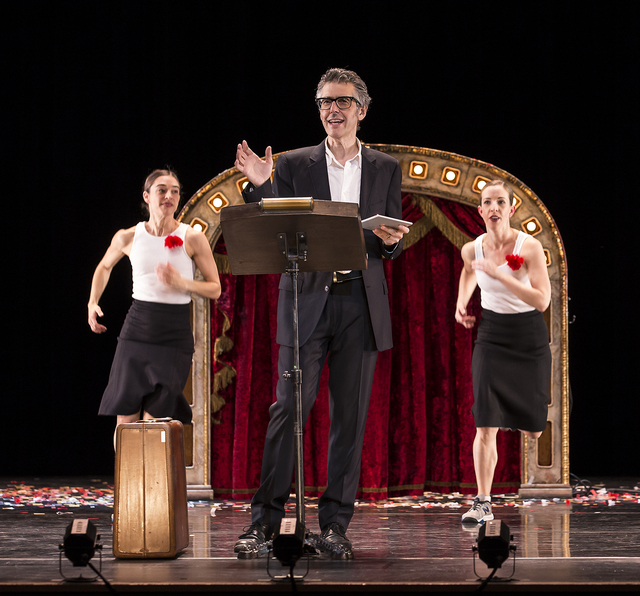 OK, so you can't put dancers on the radio. (Well, you could, but what would be the point?)
But a little thing like that isn't stopping the radio guy from getting onstage with the dancers. Or, somewhat to his surprise, enjoying the entire process.
The radio guy, in this case, is the inimitable Ira Glass, host and chief tale-spinner of "This American Life," which delivers a weekly dose of (mostly) true stories to more than 2 million listeners via more than 500 public radio stations.
Saturday, Glass returns to The Smith Center — but not unaccompanied, as he was when he made his Reynolds Hall debut in April 2013.
This time around, he's joining two friends — two dancer friends — for "Three Acts, Two Dancers, One Radio Host."
During the 90-minute show, Glass will tell stories and Monica Bill Barnes (who also directs the show) and Anna Bass will dance.
Sometimes everyone's onstage at once. Sometimes Barnes and Bass dance without Glass. And sometimes Glass has a solo in the spotlight.
"It's exactly like the style of the radio show," Glass explains during a telephone interview. "Except with dancers."
The show's first act explores "the job of being in show business," he says. "The second act is about love." The third focuses on "losing what you love."
The collaboration has been a hit since February 2013, when they performed a number at a Carnegie Hall benefit put together by Glass' cousin, composer Philip Glass.
That success inspired them to try a full-length project, which they've since performed almost 30 times.
"It all gets to be a bit of a wonderful blur," Barnes admits during a phone chat.
The trio is booked through 2015, proving that — as unlikely as it seems — "Three Acts, Two Dancers, One Radio Host" has become a definite draw.
"When you say it's going to be a dance show, people don't think 'Oh, fun!' " Glass acknowledges. "But it kills! It's really good!"
As a rule, it's really hard to get people who aren't already used to seeing a lot of dance to even consider watching it, Barnes says.
Adds Bass: "Dance can be a really hard sell — especially modern dance. It can be really scary sounding."
But, as Barnes points out, "there's one thing Ira does so naturally — he finds a way to make people feel they can relate."
Glass definitely related to the dancers when he first saw Barnes' modern dance troupe, Monica Bill Barnes &Co., perform.
"I thought they were great," he recalls. "There was something about what they were doing — they were out for fun, but documenting real (emotions). They seemed like kindred spirits."
So they decided to see if radio and dance could mix onstage.
"He was so game," Barnes says of Glass, noting that she "didn't have a clear plan of attack," other than " 'I think it would be worth trying.' "
Barnes and Bass, who have worked together for a dozen years, began by reviewing past "This American Life" broadcasts.
"Luckily, everything Ira's done on the radio show, you can access online," Barnes says, "so we didn't need to have everyone in the room."
She said that allowed her freedom to choose stories — and test-drive different segments in dance.
Developing the project, "I felt I had a better grasp for what didn't work" than what did, Barnes says.
Glass says, "They had a bunch of dances they thought could go with words, and I had a bunch of stories" he thought would work with dances.
"The more we worked the show," Barnes says, "the more it started to make sense to us."
After 2½ months, Bass says she was wildly surprised at how well the collaboration worked.
"We're all really interested in the grittiness of people and this American life," so the show's material reflected "both humor and tragedy."
Still, when the show first hit the stage, Bass likened the prevailing mood to " 'This will be a great weekend — and who knows if we'll ever do it again.' "
That was in April 2013.
Since the initial performances, the trio has tightened and finessed a lot, Bass says, arriving at what she calls the perfect version of the show last fall.
"There are certain places in the show where I can ad lib," Glass says, but "it's basically a set show."
That presents a definite challenge for someone who's never had experience in a touring show with props and lighting cues, Glass says. "I actually feel like I've learned a lot about performing."
One lesson Glass has learned: "It's weirdly zen to try, every single time, to get back to a place of complete sincerity and make the performance a live, real thing."
Especially when he admits to a certain sense of despair during the afternoon run-throughs that precede every show.
"(After) trudging through" (the rehearsal), it seems the saddest, dullest" thing, Glass says. "Then, during the performance, it's superfun when there's an audience there."
Barnes credits Glass for entering a world that, for him, was totally unfamiliar.
"He's such a wonderful performer," she says, noting that as a speaker, he brings a sense of spontaneity and humor to the show.
Glass said it used to be the performing part of his job was the part he liked the least; he always viewed that as the most onerous part. (His favorite parts of doing the radio show: interviewing and editing.)
But touring with "Three Acts, Two Dancers, One Radio Host" has "been so much fun," Glass says. "I like being part of the team."
Contact reporter Carol Cling at ccling@reviewjournal.com or 702-383-0272. Follow @CarolSCling on Twitter.
Preview
What: "Ira Glass — Three Acts, Two Dancers, One Radio Host"
When: 7:30 p.m. Jan. 17
Where: Reynolds Hall, The Smith Center for the Performing Arts, 361 Symphony Park Ave.
Tickets: $29-$99 (702-749-2000, www.thesmithcenter.com)