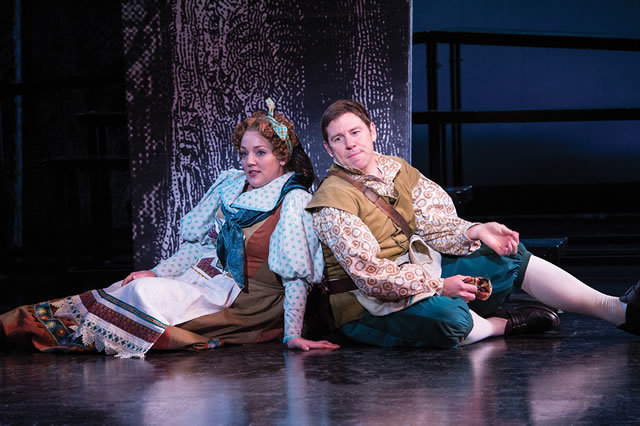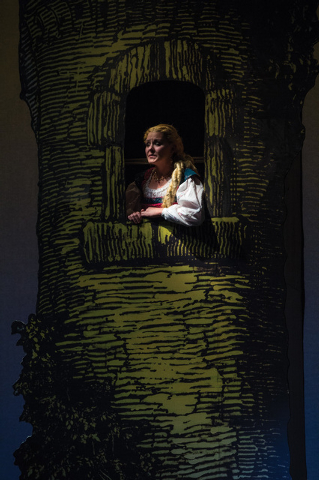 Be careful what you wish for. (You all know why.)
Unless, of course, you wish for a wish-come-true production of "Into the Woods."
In that case, all you need to do is venture forth to Cedar City, where the Utah Shakespeare Festival is — at long last — staging a Tony-winning Stephen Sondheim musical that isn't "A Funny Thing Happened on the Way to the Forum."
One of Sondheim's most accessible shows, "Into the Woods" is at least as playful as it is profound, delivering a full measure of fractured fairy-tale delight before it gets down to business: what comes after the happily-ever-after.
In exploring this sometimes treacherous territory, Sondheim and playwright James Lapine, who directed the original production, gather a gaggle of storybook characters — from the perennially passive Cinderella (a graceful Tina Scariano) to hapless Jack of beanstalk fame (sunny James Sanders) — and interweave them with irrepressible, irresistible wit. Consider the candor with which the Wolf (a slinky, insinuating Peter Saide) ponders chomping Little Red Riding Hood (the fiercely chirpy Deanna Ott): "There's no possible way to describe what you feel, when you're talking to your meal."
But there's another tale sharing the musical's once-upon-a-time spotlight, about a childless baker (the achingly earnest Brian Vaughn) and his unfailingly practical wife (Melinda Pfundstein, ably conveying the dreams beneath the drudgery).
Their efforts to reverse a curse and expand their family reveal their lives to be every bit as fantastical as those of their more familiar counterparts.
And where there's a curse, there must be a witch (the fiendishly gleeful Misty Cotton) — but she has her reasons for doing whatever she's done. Which makes her just like everyone else.
Director Jeremy Mann sets the show's action in evocative two-dimensional surroundings. (Hugh Landwehr's scenic designs look like vintage illustrations by Gustave Dore, while costume designer Bill Black's channeling Disney.) Yet the storybook look only serves to heighten the all-too-human dilemmas on display.
Mann ably balances the musical's more satirical aspects (Saide and Kyle Eberlein as two hilariously pompous princes who love to suffer) with more poignant moments in the woods, as characters inevitably must face the undeniable fact that — to quote another of Sondheim's pierce-the-heart lyrics — "wishes come true, not free."
Those moments prove that, despite its make-believe trappings, "Into the Woods" spins a tale that's all too real. That is, if you've ever made a wish — and haven't we all?
Contact reporter Carol Cling at ccling@reviewjournal.com or 702-383-0272.
Review
"Into the Woods"
In repertory through Aug. 30
Utah Shakespeare Festival, Cedar City
Grade: A-
ALL THE REVIEWS:
'Twelfth' finds its best, true self with balance of heart and humor
It takes game of thrones to get young prince to find his way
You said it, sisters: Finding right romance requires keeping wits
With Gold Rush-era 'Comedy of Errors,' there's droll in them thar hills
'Measure' of human struggle, marked by moral knots, fistfuls of foibles