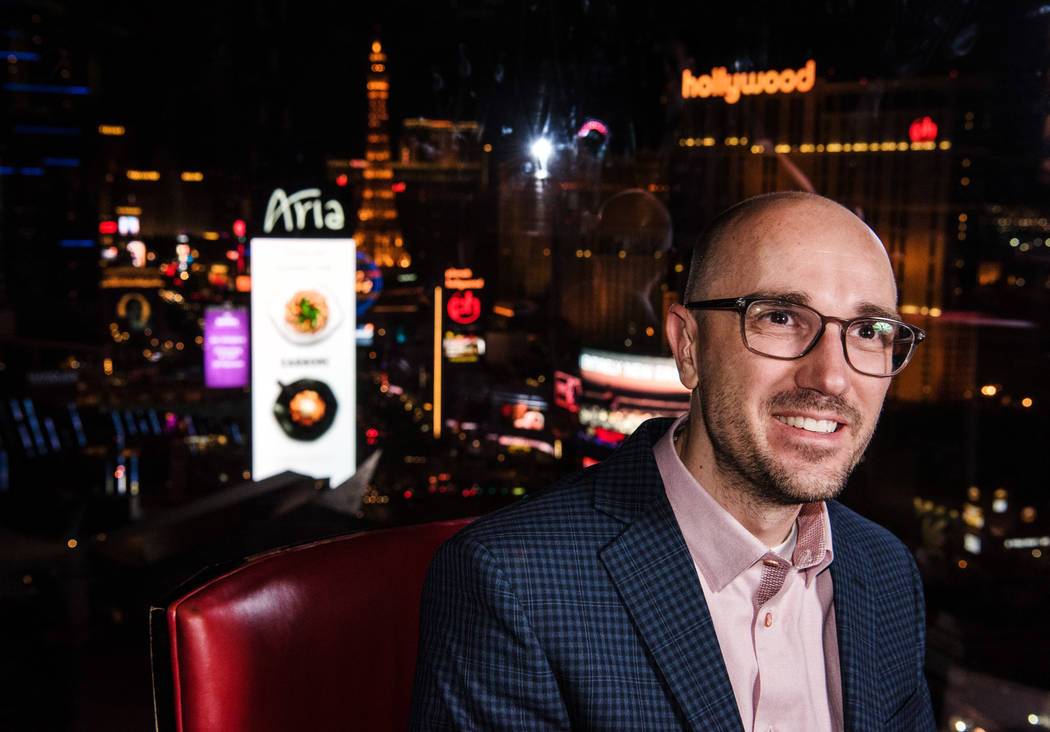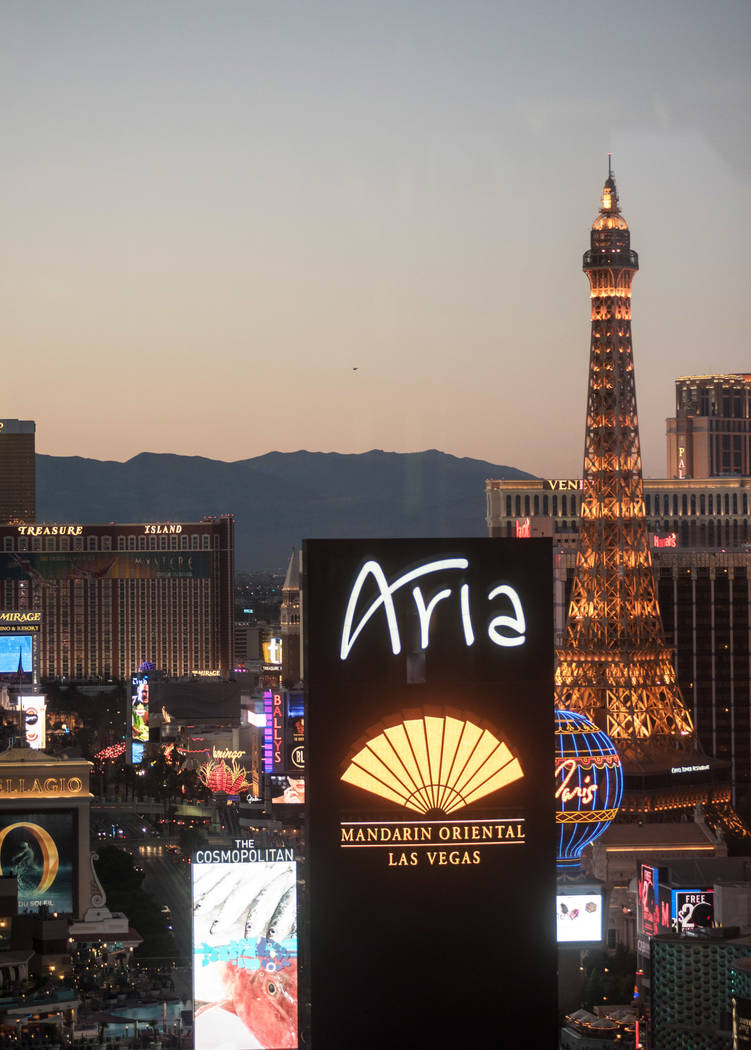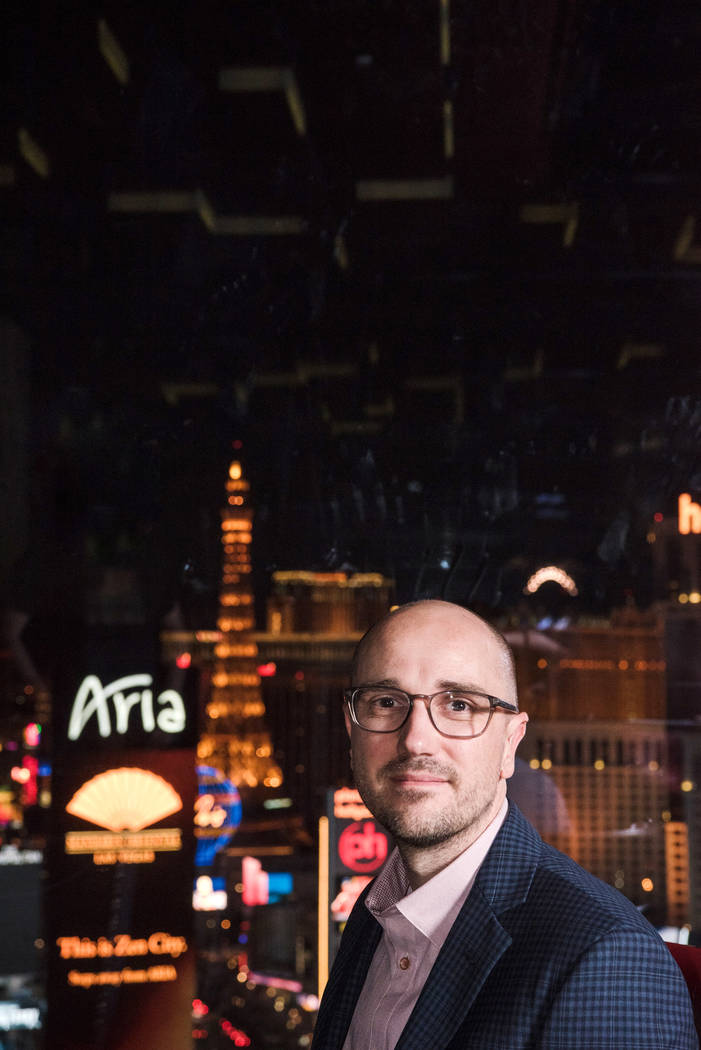 Vegas Voices is a weekly series featuring notable Las Vegans.
Few cities in America, perhaps in the world, can rival the visual impact of Las Vegas. A drive along the Strip is an exercise in ocular overload — a bombardment of lights from countless signs and marquees competing for your attention. For over 20 years, Brian Henry has been part of the Strip's sign evolution.
The soft-spoken, contemplative founder of Brian Henry Design, who turns 40 this month, has contributed to some of the most iconic marquees in our city. After beginning his career with Anchor Gaming, sketching commemorative slot machine token designs for resorts like Caesars Palace, he went on to work for the pioneering sign company Yesco, before founding Brian Henry Design in 2013. Over two decades, he's designed, co-designed or created content for the marquees of Bally's, Aria, Cosmopolitan, SLS, and The Linq, as well as the wraparound display on the Harmon Retail Center at Harmon Avenue and Las Vegas Boulevard, among others.
The Review-Journal sat down with the Las Vegas native to get his thoughts on the look of Las Vegas, how it's changed over the years, and where it might be headed.
Review-Journal: Do you have an earliest memory of the signs of Las Vegas?
Brian Henry: Definitely. When I was a kid you could still drive up and down Fremont Street. And I remember being so small that I could stand on the front seat. And I remember being in my mom's lap, looking out the window, and just seeing Fremont Street — Binion's and maybe the Mint, I can't remember exactly the signs that I saw, but I remember the experience. I could tell that there was more than the physical object there. I could tell that there was a purpose for these designs. It's almost like when you look at a classic picture of a deity, and they have a halo, you can tell that the artist was really trying to represent that there was something greater there. When I saw those signs, it had that kind of impact on me.
What was you first major piece of work on the Strip?
The Bally's three-sided media marquee. It was designed by another designer, but I did the 3-D presentation and animations for all of the executives, for county approval, for all that stuff.
Were you around early enough to work with neon?
I designed for neon but I never actually physically produced it. But almost all of my early signs incorporated quite a bit of neon. And the Bally's three-sided marquee is a perfect example of the transition from neon to digital, in the sense that there's a lot of neon on that sign, and it's rather precisely digitally controlled. There's red and blue neon on the bold nose of that display that kind of caterpillars up and down and animates in a really cool way. And then the main focus of that display is the three-sided digitals.
Is LED the medium of choice today for signs in Las Vegas?
Yes. It's modern. It's a way to change their messaging frequently. It's fresh. You almost have to have it now. There are still creative and innovative things that can be done with it. And as much as I love neon, and I do, it has a time. And once neon is incorporated, it's a very stylistic choice — they're either trying to do a throwback thing or they're trying to imply history. So while I still love neon, and I still want to use it frequently and I hope it never goes away, I feel now there's a fetish (for it). I hope it will never go away, because it's real and tangible.
If you had to take somebody to only one piece of your work, what would it be?
That's a tough one. It's like picking your favorite kid because they all are special for some reason. But probably the Harmon display, because of the scale of it. Because it was so disruptive, in the sense that it kind of is the building. The building was almost built around the display. And it was such a technical challenge. 4K TVs are just now becoming commonplace. And that is over 7,000 pixels wide, over a 7K picture, and that was done four years ago.
The concept of the initial proposal was that it was a building that could evolve and transform, and also be a vehicle for advertising. So it could look like a Starbucks in the morning, a restaurant or a retail place midday, like a nightclub in the evening hours, and a calm and relaxing place to be in the late evening. So it was a concept of ephemeral architecture – architecture that could change its appearance based on what the activities in it might be. And then, of course, it could play advertisement. And now, that's what it does.
You've had an impact on the look of the Las Vegas Strip for many years. How do you feel about the way it looks now, at this point in history, compared to the past?
Just as there was a golden age of neon, and I think that we are in, or are at the beginning of, a golden age of digital media. We went through an age where everything was very themed. We would crack open design books and history books to understand the architecture of a particular era — Mandalay Bay, Paris, The Venetian. There really wasn't a lot of room to break out of those historical themes. And to me that was a very exciting time too — to be able to look at and research and try to get your head around the aesthetics of those eras and design something that can be fabricated today that has those classic ethos. But there's definitely been a turning point where digital is much more of a focus. The world looks to Las Vegas for those innovations.
Currently obsessed with?
The new music video for "Everything Now" by Arcade Fire
■ Place you always take visitors?
23rd floor of Mandarin Oriental for the view. Aria for the art. The Cosmopolitan for the scene. Bellagio for the fountains/botanical gardens. Wynn/Encore for the ambiance.
■ Favorite indulgence?
Delices Gourmands French Bakery on Sahara
■ Underrated/overrated?
For locals: The Strip (underrated)/ downtown (overrated)
For tourists: Downtown (underrated)/ the Strip (overrated)
■ Currently reading?
"Simulacra and Simulation" by Jean Baudrillard
■ Never leave the house without?
Camera (even just on my smartphone)
Contact Al Mancini at amancini@lasvegasreviewjournal.com or 702-387-5250. Follow @AlManciniVegas on Twitter.