'Diary of Anne Frank' holds timeless message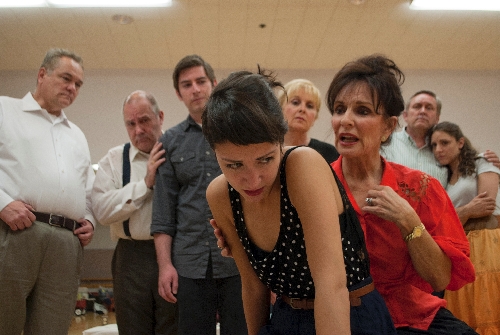 Preserving your humanity in the face of inhumanity.
Anne Frank has been the poster girl for that daunting challenge ever since the 1947 publication of "The Diary of a Young Girl" – which she kept from 1942 to 1944, when the Frank family spent two years in hiding during the Nazi occupation of the Netherlands.
The theatrical adaptation, "The Diary of Anne Frank," has been a stage staple since its 1955 debut.
But the Jewish Repertory Theatre of Nevada's production – which launches its "Sundays at the Smith" series at 2 and 5 p.m. – underlines the story's universality and its timelessness. To say nothing of its relevance.
The Jewish REpertory Theatre previously presented "The Diary of Anne Frank" in January as part of its "ELEVATE: Youth Education through the Performing Arts" community outreach program, bringing it to 1,600 students at four Clark County School District campuses.
The play confines audiences to a hidden attic annex in 1942 Amsterdam, where two Jewish families – including the teenage Anne (played by Rebecca Reyes) – take refuge from Nazi persecution.
And the students who saw it in January were "absolutely spellbound" by Anne Frank's experiences, notes theater co-founder Norma Morrow.
Although "it's not part of (their) world, it's not rap music, it's not a concert," Morrow adds, "on so many levels, it's something young people can relate to."
When "you read in the newspapers about children bullying" classmates, one example of contemporary "hate and bigotry," the play shows "what happens to society if it's left unchallenged," adds co-founder Charlene Sher, who portrays Anne's mother, Edith. (Morrow plays Mrs. Van Daan , part of the other family taking refuge in the attic alongside the Franks.)
The fact that a young teen wrote such an insightful diary, demonstrating "quite amazing depth of human understanding," adds to the story's impact, Sher comments.
And Sunday's production offers a more balanced view of Anne's experiences than Frances Goodrich and Albert Hackett's Pulitzer Prize-winning original did, Morrow and Sher explain.
Anne Frank's father, Otto (played by Douglas Baker), the family's sole survivor after Nazis apprehended the family in 1944, influenced Goodrich and Hackett's initial dramatization by downplaying certain aspects of the story – including Anne's conflicts with her mother.
Sunday's performances feature Wendy Kesselman's revised adaptation, the "definitive edition," which presents "more of Anne's adolescence," Morrow explains – and addresses it with greater candor.
"It wasn't correct to display that kind of information" when the play debuted in the 1950s, she points out. These days, however, "our world has become more tolerant" of greater emotional honesty, in Morrow's view.
Ann-Marie Kaufman directs Sunday's performances. (The 5 p.m. show will include signing for the hearing-impaired.)
Rounding out the cast: Tyler Hastings as teenage Peter Van Daan, with whom Anne shares her first kiss; David Sankeur as Peter's father; Cynthia Vodovoz as Anne's sister Margot ; Troy Tinker as the dentist Mr. Dussell, another attic resident; and Anastasia Vance as Miep Gies , the family friend who helped hide the Franks from the Nazis. (Gies retrieved Anne's diary after the Franks were arrested, keeping it safe until Otto Frank returned from Auschwitz and learned of his daughter's death, from typhus, in the Bergen-Belsen concentration camp.)
In presenting "The Diary of Anne Frank," the theater group reflects "what's happening on Broadway" currently, Morrow says, noting revivals of "really good plays" that have "deep meaning and make people think."
The same goes for "The Diary of Anne Frank," she says. After Sunday's performances, "we hope everyone walks out thinking."
Contact reporter Carol Cling at ccling@reviewjournal.com or 702-383-0272.
PREVIEW
What: "The Diary of Anne Frank"
When: 2 and 5 p.m. Sunday
Where: Troesh Studio Theater, The Smith Center for the Performing Arts, 361 Symphony Park Ave.
Tickets: $20-$37 (749-2000)