Discover First Friday fest, brew share in downtown Las Vegas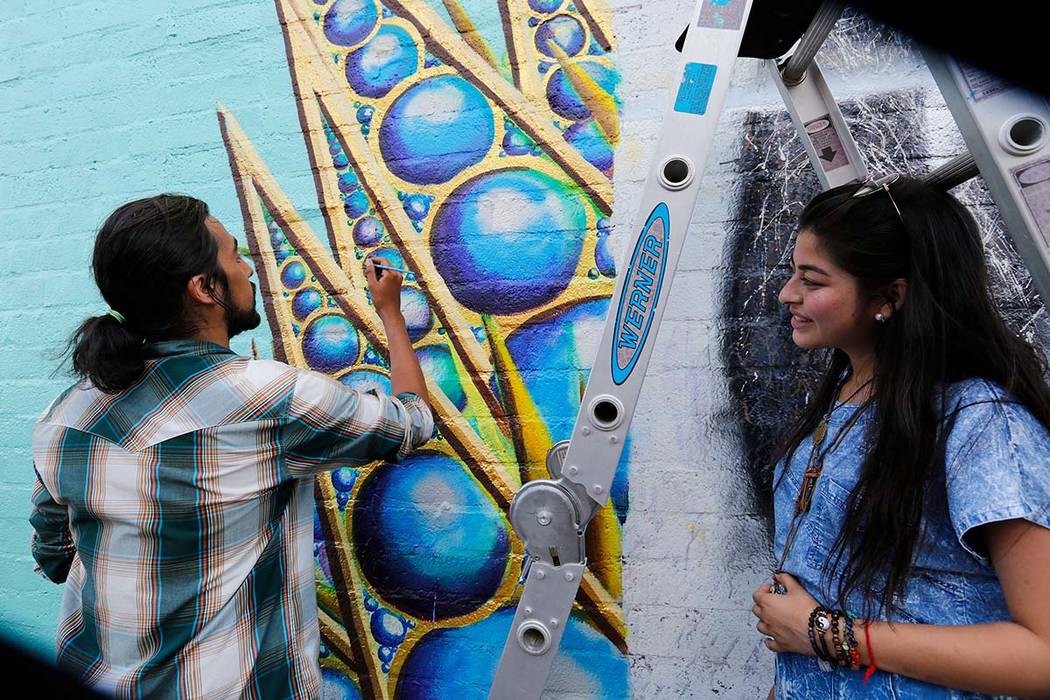 'Renew' is September First Friday theme
The theme of this month's First Friday celebration is "Renew: New Beginning and Rejuvenation." Featured artists Nova May and Joel Spencer will create mixed-media work with bright, expressive colors and playful lines and shapes, while music will be provided by DJs Mr. and Mrs. R and Peaceful Retreat. Main stage for the festival, which runs from 5-11 p.m., is at the south end of the Art Way parking lot, with most of the artists and vendors located on First Street.
Bring, share some hard-to-find brews
The monthly bottle share returns Saturday afternoon at Atomic Liquors, 917 Fremont St. The rules, for those who are new to this, are pretty simple. Admission is $10 for anyone who brings a bottle of rare beer, which is defined as something you can't get in the Las Vegas area. Once inside, make new friends and share some brew. The price of admission also entitles guests to free draft beer, selected by the bar. The sharing runs from noon to 3 p.m. atomic.vegas
Wine Walk also a benefit for school
Downtown Container Park, 707 Fremont St., will host a Wine Walk from 5-8 p.m. Saturday. Tickets are $30 online (downtowncontainerpark.com) or $35 at the door, and include all the wine you can drink. There will also be live music and various specials at the park's food outlets and retails shops. Five dollars from every ticket sold will go to Sunrise Acres Elementary School.
The Center hosts Gender Fest event
The Center, 402 S. Maryland Parkway, will host Gender Fest Thursday through Saturday. The conference, which runs from 9 a.m. to 7 p.m. each day, will address the intersectionality of gender, the different ways gender is expressed, and navigating a gender journey. Tickets are $75. thecenterlv.org
'Flock Cancer' benefit dinner is Sunday
Flock & Fowl at The Ogden, 150 Las Vegas Blvd. North, will host the second annual Flock Cancer fundraising dinner at 6 p.m. Sunday. The Las Vegas chapter of the American Cancer Society's Ambassadors Board will host the three-course dinner to support local causes. Tickets are $100 plus fee. eventbrite.com, search "Flock Cancer."
Birthday bash at Discovery museum
Discovery Children's Museum, 360 Promenade Place, will celebrate its birthday on Sunday, and the entire city is throwing it a party. On Friday, Mayor Carolyn Goodman will present the museum with a proclamation as it gets its own space in the First Friday Fun Zone. Then on Sunday, organizations throughout the valley will take part in a Citywide Day of Play by adding children's activities to their spaces. Participants include Downtown Project, Hydrant Club, Las Vegas Lights, Las Vegas Metropolitan Police Department, Las Vegas Natural History Museum, Nevada Ballet Theatre, Nevada School of the Arts, PediPed and The Smith Center. The museum's celebration on Sunday will include special activities, art projects, cupcakes and balloons.
Contact Al Mancini at amancini@reviewjournal.com. Follow @AlManciniVegas on Twitter.