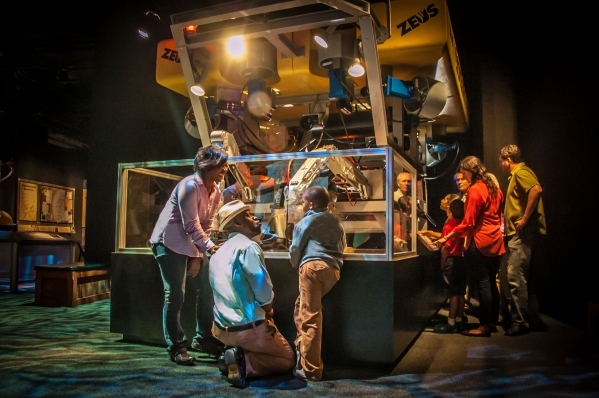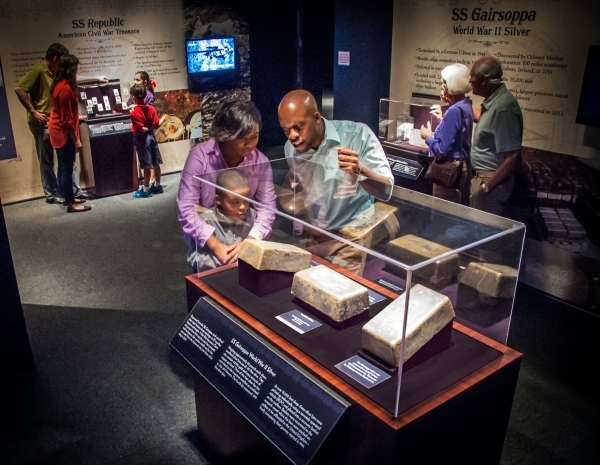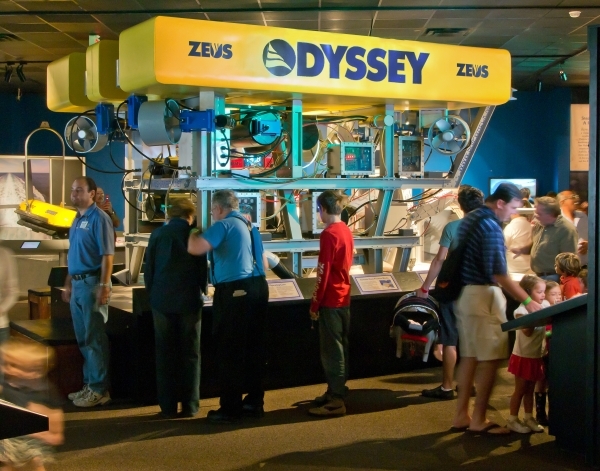 Southern Nevada isn't exactly hurricane territory.
But hurricanes — simulated and real — play a prominent role in "Shipwreck! Pirates & Treasure," a new touring exhibit, created by Odyssey Marine Exploration, that opens Sunday at the Springs Preserve.
In the simulated department, the exhibit's interactive features include a hurricane tube that enables visitors to experience the force of 75 mph winds.
A real-life hurricane, meanwhile, is behind the main shipwreck spotlighted in the display: that of the SS Republic, which set sail from New York, bound for New Orleans, just after the Civil War.
Odyssey discovered the wreck of the Republic in 2003, in almost 1,700 feet of water, according to John Longley, the company's chief executive officer.
Among the salvaged artifacts: Civil War-era coins and bottles, decorative porcelain figurines and personal objects from toothbrushes to hair combs, Longley notes in an email interview.
But a more recent New Orleans hurricane — Katrina — also figured in the exhibit's development, he adds.
Odyssey developed a "Shipwreck & Treasure Adventure" in 2004-05 as a permanent display in the Jax Brewery building in New Orleans' famed French Quarter.
"Sadly, the grand opening was marred by the impending Hurricane Katrina, which hit two days later" in August 2005, Longley recalls. "Luckily, the attraction was on the third floor on the safest side of the building, and Jax Brewery is on some of the highest ground in the French Quarter."
Although the "Shipwreck & Treasure Adventure" briefly reopened in New Orleans in 2006, the post-Katrina tourism decline prompted Odyssey to close it and use many of the concepts for the "Shipwreck!" tour, Longley explains.
The traveling exhibit debuted in Tampa, Fla., at the Museum of Science and Industry in 2007 and has been on the road ever since, attracting more than 2 million visitors at 13 previous tour stops.
Aaron Micallef, the Springs Preserve's curator of exhibits, caught up with "Shipwreck!" a few years ago in Hot Springs, Ark., where he checked it out for a possible Southern Nevada run.
"What makes it somewhat unique," Micallef observes, is the fact that "it's from a company that does underwater salvage. It's not from a museum, it's not from a nonprofit. It's actually from a treasure company."
And though the word "Pirates" does turn up in the exhibit's subtitle, only "a tiny portion" of the exhibit is devoted to buccaneer exploits, Micallef notes.
Kids can "hoist a pirate flag" or "create your own pirate," he explains. But "it's really about underwater archaeology."
Good thing, too, in his opinion.
"I think Hollywood has done a really nice job of romanticizing pirates," the curator contends, adding that "they were murderers and did horrible things to people." (Of course, that's not stopping Springs Preserve from presenting a live "Pirates: Myth and Merriment" show on weekends through Nov. 29.)
But piratical pop-culture appeal adds to the fun of the exhibit, which seeks to blend education and entertainment, Longley says.
"You have the stories of the ships, passengers and artifacts that pique the interest of history buffs," he emails, along with "interactive games that thrill the tech enthusiasts. Adventure seekers are immersed in the excitement of exploring the deep ocean."
Interactive elements range from a working robotic manipulator arm — where guests can test their mettle at retrieving coins — to full-scale replicas of the equipment Odyssey workers use to discover shipwrecks around the world.
For families, there's a "find the sunken ship" game, Micallef notes, along with a chance to pilot a Remotely Operated Vehicle that's "about the size of a Volkswagen Beetle." Or "you can steer a vessel through a storm. That's really fun."
With more than 500 artifacts on display, "this exhibit is the most artifact-heavy traveling exhibit we've ever had" at the Springs Preserve, Micallef points out. (And for those who can't get enough of salvaged artifacts, the website www.odysseysvirtualmuseum.com displays even more.)
Throughout, "Shipwreck!" demonstrates that it's "infinitely more difficult to explore the deep sea than space," Micallef maintains, in part because underwater explorers must contend with "corrosive sea water" along with underwater pressure. "And we've explored so very little."
All of which means there are a lot more shipwrecks out there than those "Shipwreck!" investigates.
"We know they're there," Micallef says of the exhibit's title element. "We just don't know where."
Except, perhaps, at the Springs Preserve — at least through January 2016.
— For more stories from Carol Cling go to reviewjournal.com. Contact her at ccling@reviewjournal.com and follow @CarolSCling on Twitter.