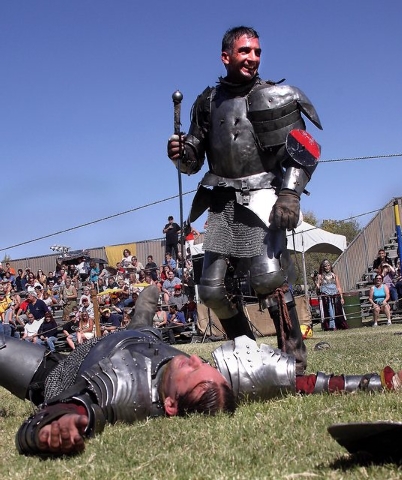 For a weekend, Sunset Park travels back to a time of knights, jesters and jousters as the 21st annual Age of Chivalry Renaissance Festival returns Friday through Sunday.
Medieval attire is not a requirement to attend but the festival's king, Nate Tannenbaum, highly recommends men and women don their festive clothing.
"This event is a great way to see what things look like back in that time," he says.
To depict that age, the event comes complete with arts and crafts vendors, blacksmiths and, of course, food such as meat pies and bangers and mash.
"There are always turkey legs," Tannenbaum adds.
There is also jousting, gladiator battles, black powder demonstrations, strolling minstrels, contortionists, magicians, storytellers, jokers, jugglers, flame eaters, belly dancers, trained parrots, pirates and bow-and-arrow target games.
On the Field of Honor, German, Italian, Ottoman, Turk, French, Celtic, Polish and British military encampments are expected to meet for battle.
One of Tannenbaum's favorite things about the fair is seeing people walking around in traditional clothing.
He adds that there are Renaissance guilds in which people dress accordingly.
But the types of clothing options are growing with the implementation of fantasy elements such as fairy wings.
There is a costume contest Saturday for both children and adults. Categories include noble, pirate, fantasy and fighter.
It wouldn't be true to the time period if there weren't a king. For the past 10 years, Tannenbaum has served as the king.
"Be careful," he says. "I can chop your head off."
Clad in a ruffled shirt and tunic, he can be seen in the royal parade Saturday and Sunday that will feature kings, queens, warriors and peasants.
Throughout the event, Tannenbaum will be walking around with other festivalgoers and overseeing the jousting tournaments known as the Knights of Mayhem — full-contact jousting in which participants are armed with 130 pounds of steel armor, which includes a helmet with a quarter-inch eye slot.
Dressing up has been fun, he says.
"When I first started, I would rent clothing," he says. "Now, they provide me clothing."
Tannenbaum doesn't remember how he was chosen for the honor, but says he'll continue with the role as long as he is asked.
"When they first asked me, it was scary," he says. "It's a lot of responsibility, but it's a lot of fun."
Tannenbaum says he has eased into his role over the years. Some of his favorite memories, he adds, include interacting with children and inviting them to sit in the king's court during the jousting tournaments.
Tannenbaum has also seen the festival grow.
For the majority of its 21-year reign, the festival has run at Sunset Park.
During construction, in which the park added new features, the festival moved to the New Silver Bowl Park.
"Some people thought that wasn't the best spot," he says. "This is our second year back at Sunset Park."
Though many of the elements are the same, this year is supposed to have a pirate ship on the lake.
"People will be able to take rides on the ship," Tannenbaum says.
As usual, there are many authentic entertainment experiences.
With more than 50 shows each day, there are performances from local and national groups such as the Gypsy Time Travelers, Pandora Celtica, Hanging Jester, Nature of Mercy and Tipsy McKracken.
Wicked Tinkers is excited to return this year.
The tribal Celtic music band features bagpipes, tribal drums, an Australian didgeridoo and a Bronze Age Irish horn.
"We play a lot of traditional Scottish and Irish tunes," says Aaron Shaw, a founding band member who plays bagpipes. "Let me assure you, bagpipes are not a lost art. It is more popular than ever."
Wicked Tinkers formed in 1995 and travels throughout the United States, playing at many Renaissance Fairs and Celtic festivals throughout the year.
But Las Vegas' festival holds a special place for the band members.
"The Renaissance Festival in Las Vegas was one of our first performances," he says.
Wicked Tinkers will headline the main stage along with the Mahones and Killian's Angels.
When not performing, he says the band will enjoy the festivities.
"We will be enjoying the food and the beer, of course," he says. "We gotta get a turkey leg. Every fair has one."
Contact reporter Michael Lyle at mlyle@reviewjournal.com or 702-387-5201. Follow @mjlyle on Twitter.
Preview
What: Age of Chivalry Renaissance Festival
When: 10 a.m.-10 p.m. Friday and Saturday; 10 a.m.-5 p.m. Sunday
Where: Sunset Park, 2601 E. Sunset Road
Admission: $13 per day in advance general admission, $8 per day in advance for seniors and children ages 5 to 12, free for those 4 and younger; $15 per day general admission and $10 per day for seniors and children at the gate; passes and combo packs available (702-455-8200, www.lvrenfair.com)