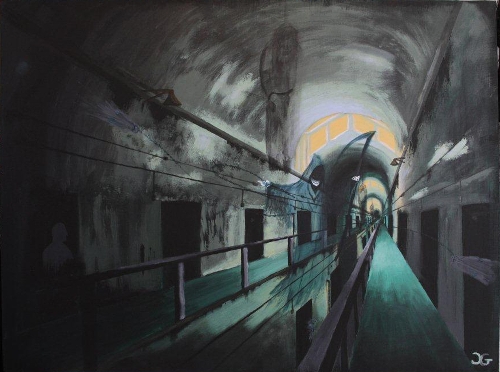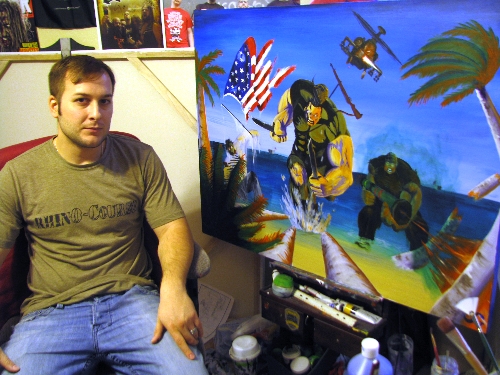 Like a lot of kids, Christian Gabriel liked to draw skulls and other scary images.
It wasn't until he returned from Iraq after six years in the U.S. Marines that his dark drawings coalesced into dark paintings.
An exhibition of his acrylic paintings titled "Echoes of War: The Mind of Christian Gabriel" is scheduled to be on display Thursday through March 17 at the Sunrise Library, 5400 Harris Ave.
"They are very strong pieces and a little scary," said Denise Alvarado, gallery services coordinator for the Las Vegas-Clark County Library District. "It's like a lot of bad dreams on canvas."
The work is inspired by Gabriel's time in the Marines and also by horror imagery borrowed from films such as "Frankenstein."
Gabriel maintained a gallery space for two years in The Arts Factory in downtown Las Vegas, but most of his work is painted in his home studio in The Lakes.
"There are some pieces that are part of a separate show that are all military themes, and there are some that are a little more dark," Gabriel said. "Most of the pieces in the show are original paintings, but a few are prints on canvas of paintings I did on commission."
Gabriel said he came from an artistic family, and he used to stay up late writing and drawing.
"I had a little collection of drawings of fruits I would turn into weapons," Gabriel said. "I had a watermelon guillotine and a banana with a knife coming out of the peel."
When he returned from Iraq in 2005, he found it difficult to schedule an appointment with the Veterans Administration. It was often months before a counseling date was available.
"I think they have way more veterans to help than they have providers," Gabriel said.
Gabriel turned to art to help him work out his feelings.
"I don't think I ever would have started painting if I wasn't in a dark spot in my life," he said.
Gabriel was married this spring and his wife, who was not initially a fan of his artwork, has grown to love it. He has nearly completed his studies in animation at the Art Institute of Las Vegas and hopes to begin work in that field soon.
For more information about the artist, visit christiangabrielart.com.
Contact Sunrise/Whitney View reporter F. Andrew Taylor at ataylor@viewnews.com or 702-380-4532.