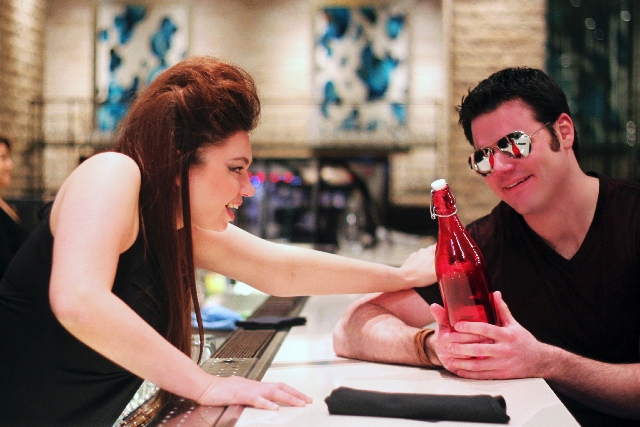 It's a classic story of boy loves girl, girl doesn't care, bad guy makes play for girl, boy buys magic elixir …
You get the drift. And when UNLV Opera Theater presents Gaetano Donizetti's "The Elixir of Love" this weekend, audience members will see that time-honored plot recast in a new, yet familiar, way.
The opera will be presented Friday, Saturday and Sunday at Artemus Ham Hall on the University of Nevada, Las Vegas campus.
Donizetti set the opera in the Italian countryside. But in UNLV Opera Theater's production, the setting will be a Las Vegas casino, circa right now.
In addition, instead of Donizetti's original love triangle involving a peasant, a beautiful landowner and a military sergeant, UNLV Opera Theater's production will revolve around a casino maintenance man, a beautiful mixologist and a flashy poker player.
However, this weekend's production will, of course, include the eponymous magical potion that Nemorino, the maintenance man, hopes will make Adina, the mixologist, love him.
But it wouldn't be opera if all of that fell together right off the bat. So, audiences can expect a few twists and turns, both romantic and comedic, along the way.
Director Linda Lister said she approached her recasting of "The Elixir of Love" in "a couple of different ways."
First, she said, is "the idea that a lot of people, especially tourists, come to Las Vegas and think they can change their life overnight.
"They can come here and win this money overnight. Or they can meet someone and marry that day. So, there is that kind of spontaneity, or just a magic solution, to your life."
Then, Lister continued, "I've sensed from some locals I meet — not all of them, but some of them — that they feel like they're trapped in Vegas." So, in UNLV Opera Theater's production, Adina, the beautiful mixologist, finds that, even with all that she has, she is longing for something more.
"She's more than a bartender. She makes a lot of money. She's well-respected at this upscale, newly built hotel, but that's not enough," Lister said.
Ultimately — and this is hardly a spoiler alert — Adina finally comes to appreciate Nemorino, "this simple maintenance man who has loved her through thick and thin, and she finally opens her heart to him in this magical town."
"The Elixir of Love" is a "very familiar and well-known opera," Lister noted.
One reason is the plot, which revolves around the idea of a magic potion. That plot device is familiar to just about everybody thanks to its use in everything from popular music (the 1959 rock classic "Love Potion No. 9") to literature (as in the Harry Potter series).
Also, "it's not that complicated an opera," Lister said. "Some opera plots can be a bit contrived. This is pretty straightforward: Boy loves girl, boy gets girl. It's a romantic comedy. It's fun and nobody dies."
Lister once sang the part of Adina herself. So, she said, "it has a special place in my heart, which is one reason to pick it (for UNLV Opera Theater). In addition, we had students who I thought would fit the roles well."
The cast will include Isabella Ivy and Lindsay Cunningham as Adina, Jonathan Mancheni and Alfredo Martirena as Nemorino, Jonathan Napier-Morales and Elliot Matheny as the poker player Belcore, Kathleen McVicker and Bonita Bunt as Gianetta, and Nathan Van Arsdale as Dr. Dulcamara.
Taras Krysa will conduct the UNLV Symphony Orchestra, and the production also will feature the UNLV Chamber Chorale under the direction of David Weiller, the work of student designers from UNLV's theater department, and UNLV dance student Kaileigh O'Neill.
The opera is one of Donizetti's most popular pieces. "I think the characters are timeless," Lister said. "And, just as someone who's new to Vegas myself, I sort of saw archetypes of some of these characters running around here."
This familiarity also would make "The Elixir of Love" an unintimidating first opera for operatic rookies to attend. Lister noted that audience members will be able to follow the dialogue via projected titles.
But, really, that won't even be necessary, she said, "because it's such a simple, straightforward story."
Contact reporter John Przybys at jprzybys@reviewjournal.com or 702-383-0280.
PREVIEW
What: UNLV Opera Theater presents "The Elixir of Love"
When: 7:30 p.m. Friday and Saturday, and 1 p.m. Sunday
Where: Artemus Ham Hall, 4505 S. Maryland Parkway
Tickets: $25 general admission, $15 for seniors, faculty, staff and military (895-2787)