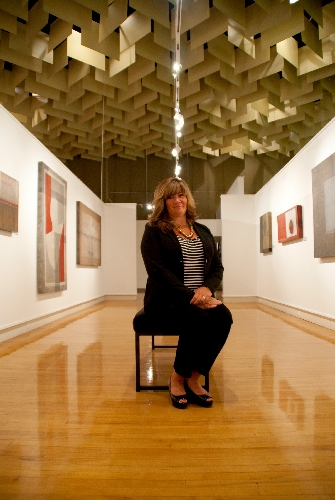 Cash dries up?
Culture could follow.
"I can't really put into words what the loss would be," says Aurore Giguet, program director of the Marjorie Barrick Museum on the University of Nevada, Las Vegas campus. "No one really wants to talk about it."
Stripped of each and every penny of its annual $250,000 state funding by budget cuts that have torn through Nevada institutions, the 40-plus-year-old Barrick is running on financial fumes, because it relied solely on that money. "Right now we're living off our reserves, about $280,000," Giguet says.
Without rescue from the community via gifts, grants and a healthy response to fundraising programs it is beginning to institute to refresh its operating budget, it will shutter around fall 2012.
"Besides the Lost City Museum and the state museum, we've been (in Nevada) the longest," Giguet says. "The loss of the collections is going to be tremendous for the community and the students."
Created in the late-1960s and converted from a gymnasium on the campus of what was then Nevada Southern University, the museum long focused on the state's environment and natural history before expanding into art exhibits. That trend has not only been codified as a primary goal, but also is a possible boon to fundraising.
"We rewrote our mission statement with the focus on visual art and cultural history," Giguet says. "That's been getting the most attention and what people ask for. And by giving us that focus, we could get people who support the arts, rather than a more general university museum."
Acting on that, the Barrick has become one of the most consistent providers of satisfying art exhibits in the city, hosting an eclectic buffet of styles that has recently included Mexican artist Frida Kahlo, photographer Ansel Adams, local artists Lincoln Maynard and Stephen Hendee, and a display of Great Basin photography.
"It has a very special place in my heart because it's the very first museum I ever worked at — it reminds me of the first time I ever handled an artifact," says local arts activist and historian Brian Paco Alvarez, who interned there when he attended UNLV.
"The Barrick has this uncanny resemblance to museums back east, those big giant gallery spaces with big cases. It's a building where you don't think of it as being in Las Vegas, with these high ceilings and wood floors, it's quite elegant. The only thing that remotely reminds you of a gym is that logo of the original UNLV mascot, Beauregard (a Confederate cartoon wolf)."
Lecture series have included an impressive array of speakers, including former presidents Jimmy Carter and Gerald Ford, and ex-Soviet leader Mikhail Gorbachev.
Cultural exhibits cover more than 2,000 years of Native American and even earlier cultures, including the Mesoamerica period. Highlighting the Barrick is its permanent collection of pre-Columbian artifacts that began with a contribution of pre-Columbian art donated in 1979 by UNLV alum Mannetta Braunstein and her husband, Michael.
"That collection is amazing," Alvarez says. "There is no institution anywhere in this community, with the exception of the state museum that has a few pieces, that is as extensive. I would have to go to New York or Los Angeles to see such a collection."
Citing artifacts such as its ancient ceramics, figurines, textiles and masks, Dr. Louisa McDonald, chair of UNLV's department of art and acting president of the Barrick advisory board, extols its value to her students.
"The intellectual value of that collection is extremely important, even if only for historical or aesthetic reasons," McDonald says.
"But it's important to the entire educational mission of the university. I often take students to field trips to the Barrick so they can interact with actual as opposed to virtual works of art we see in slides and books. They love these encounters with the actual objects."
Though its primary mission is to serve the UNLV community, its visibility to the city at large is sometimes hindered by its logistics — smack in the middle of a campus that can be intimidating for nonstudents to negotiate, with difficult parking that can drive visitors to search for faraway dirt roads on which to leave their cars.
"It's always been a challenge where it's located, not easy to access by the public," Alvarez says. "But its disadvantage is also its advantage, because it brings people who are really interested in visiting a museum, and a lot of people have never even been to UNLV."
Revving up to raise funds in the next year, Giguet cites such measures as naming opportunities, a friends-of-the-museum program and the staging of John Logan's play "Red," based on painter Mark Rothko.
In the next month, Barrick will present a "We Will Survive" exhibition and benefit featuring donated work by Las Vegas artists that will be up for sale at silent auction, with proceeds going to the museum. Such programs and events, Giguet adds, are necessary given the size of Nevada's donor pool.
"The giving community in Las Vegas is very small," Giguet says. "In Nevada, if you look at private foundations that give money to museums, there's only 35 private foundations." Other states, she notes, have hundreds of foundations, and New York has thousands.
Another factor under review is admission fees. Currently, patrons are asked only for donations, suggested as $5 for adults and $2 for students and seniors older than 65.
"We haven't (charged a fee) in the past because we received state funding," she says, "but since that's been cut, that's something we're looking at."
Museums, Alvarez adds, deserve that financial support from visitors. "Even though admissions don't necessarily make up for operational costs, people need to know they have to pay for that service," he says. "They need to raise the rates."
Looking ahead anxiously to a year that will probably demand a great deal of asking, persuading, cajoling, perhaps even begging, pleading and arm-twisting, Giguet says simply:
"We are in the community's hands."
Contact reporter Steve Bornfeld at sbornfeld@ reviewjournal.com or 702-383-0256.