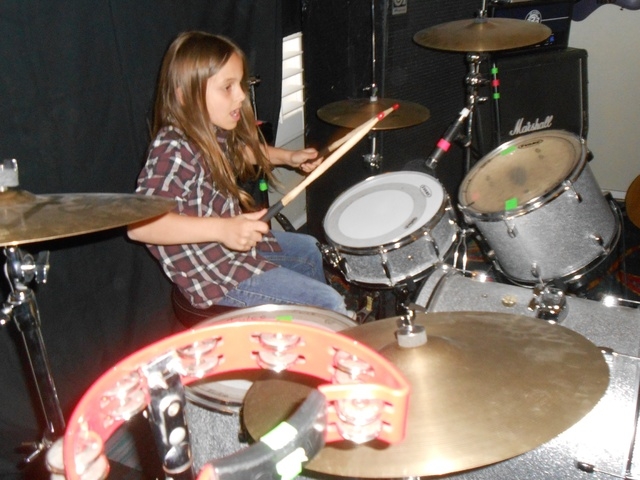 The last time View Neighborhood Newspapers checked in with the rock band Joei & The Fulcos, they'd returned to Summerlin after performing in the Zhangjiajie International Country Music Festival in China.
Now, they've come off a 16-performance schedule in Europe, and Joei Fulco, 17, has been tapped to be in the independent film "Heidi" in a supporting role. Daniel Ray is the filmmaker.
"When she came on set, she was fully prepared and knew her lines," he said. "And more important, she was very believable as an actress. She didn't sound like she was just (reciting) a line. She was very natural."
"Heidi" is a horror movie, filmed in the style of "The Blair Witch Project." The movie is set in Las Vegas and used locations at Lake Mead, in the family's house and out in the desert. Filming was set to wrap in May.
How is acting different from performing on stage?
"This experience, the acting, is difficult, but it's fun," Fulco said. "With singing, you're acting as well. You have to portray the music, present the lyrics in a meaningful way and make them seem believable. With acting, you get to change up the way you're doing things, to try things, but you have to follow directions a lot more. Singing on stage, you can take liberty with what you're doing. Acting, I'm taking direction from the director."
"Heidi" is set to be released online in June. It will feature music by Joei & The Fulcos.
The family was in Europe in June and July after Joei, her dad Joe and brother Jesse, 15, were invited to play at the 20th anniversary of the Stars 'N' Bars Cafe in Monte-Carlo. At the event, they sang with Prince Albert II of Monaco, a friend of Joe's from when they shared the stage in the 1990s.
Joe Fulco, who has been playing in bands since he was a teenager, is also friends with Julian Lennon, son of former Beatle John Lennon. Lennon, who also worked in photography, had shot the family's promotional pictures. He was having an album release/photography show on June 14, 2013, at the Morrison Hotel in Los Angeles and sent the Fulcos an invitation.
When they arrived, Apollonia Kotero, of "Purple Rain" fame, was there as well, hosting the event. She said she couldn't stop looking at the youngest Fulco.
"I saw Tyler, this cute, little man with the long hair, and I was drawn to him," Kotero said. "I went over to him and said, 'Man, you're a rock star.' He told me he was a drummer and Julian (Lennon) and Steve Tyler were there, and they were both, you know, like, 'This is the most amazing musical family, the Fulcos.' I fell in love with all of them. … They work so hard, they're so committed, and I saw a little bit of myself when I first started — the dedication, the passion."
A conversation started, and she eventually agreed to manage them through her mulitmedia production company, Kotero Entertainment. The family is looking to buy a second home in Los Angeles in anticipation of gigs and recording sessions. Kotero said she could open doors for them by making introductions to the right people but that it was up to them to do the work.
They're used to hard work. Joei and Jesse started as preteens, rehearsing daily. Most of the band's songs were written by them. Joei said the message of her music is the same, but the way she writes now is more mature. She and Jesse use their experience to guide their younger siblings, communicating with them "on a different level" than their parents, Joei said.
What's it like for the younger Fulcos to be included in the band?
"It's cool because I don't know anyone my age who does this, so it's really neat to experience something different instead of going to school, then come home, eat dinner, then go to bed," said Stevie, who is 11 and a student at Staton Elementary, 1700 Sageberry Drive, along with her brother Tyler, 8. "I mean, I do practice, and then we're having gigs, so it's a new experience."
She's also writing songs now, though she's content to play only tambourine. Singing is more her style, she said.
They played at BB's Clubhouse & Event Center, 4660 Boulder Highway, for a battle of the bands. They also were in Mesquite, at the Eureka Casino, where Joei's age worked against her. She was denied entry.
"They kicked me out, like, three times in a row," she said. "I walked in, and they said, 'You're not allowed to be here.' And I said, 'But I'm performing.' "
She had to wait outside until it was time to go on stage. The kicker? Younger Jesse wasn't stopped.
Jesse said being in a band of family members meant there wasn't the drama some bands incur, as their affection for one another trumped any disagreements.
Contact Summerlin Area View reporter Jan Hogan at jhogan@viewnews.com or 702-387-2949.