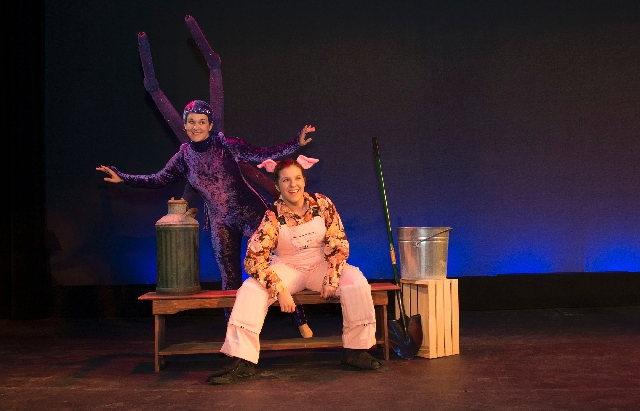 Exactly how does one portray a spider?
It's all in the arms, explains Lisa Orchard, who will play the eponymous arachnid this weekend and next in the Las Vegas Shakespeare Company's production of "Charlotte's Web."
The family-friendly musical, which will play Friday through Sunday each weekend, brings to the Henderson Pavilion — here's a phrase you don't hear very often — one of literature's most beloved insects.
The production is based on E.B. White's 1952 novel about the unlikely friendship between a spider named Charlotte and a pig named Wilbur. However, that synopsis also is deceptively simple, because the plot involves deeper themes of friendship, loyalty and responsibility, with an ending sure to bring mist to the eye.
"I appreciate the story," said Tammy Pessagno, who is co-directing the musical with her husband, Rick. "I think it's something that we need to keep sharing, because it's really about tolerance, it's about mending the differences between us.
"You can't beat the message, and I think it's one we can continue to share."
It's also a message that has been taken to heart by several generations of readers. Pessagno often works with young actors as a choreographer and director, and "when I say to them, 'I'm working on 'Charlotte's Web,' (it's), 'Oh, 'Charlotte's Web,' I love that story!' "
What makes the story such a classic? "I think it's the universal themes that are never-ending," Orchard said.
"It doesn't matter where you come from, how old you are, how physically different you are or what your background is. People can make friends — and make lifelong friends — with someone they would never have expected."
Orchard said that while this is the first time she has played the story's female lead, she has performed in "Charlotte's Web" before.
"The first show I ever did in my life was, when I was 6 years old, I played a gosling in 'Charlotte's Web,' the play, in Washington state," she said.
So, playing Charlotte — full name: Charlotte A. Cavatica — this time around is, Orchard said, "like a blast from the past."
Orchard earned a degree in theater from the University of Nevada, Las Vegas, and she had just completed a stint singing in "Jubilee!" when the call for "Charlotte's Web" arrived.
The end of her "Jubilee!" contract "perfectly coincided with the beginning of this," she said. "So without even a day off, I went straight from 'Jubilee!' to 'Charlotte's Web.' "
A cast of about 20 actors portrays both human and animal characters. For the latter, the show's costumes are suggestive of their insect forebears, rather than literal interpretations of insects.
"You're not going to lose the human aspects of the actors onstage, but they have, kind of, accents (of) animals," Orchard said.
"For mine, I have a backpack piece that has four spider legs on it — it's immense — and my four limbs will then serve as the other four legs," she said. Then, "I do a lot of up-and-down movement" to move the costume's legs.
"You're sort of inviting the personality of it," Pessagno said, to create "a more humanized version of our animals."
The production team includes a few theatrical heavy hitters. Musical director Jack Gaughan worked on the Broadway productions of "Evita," "Cats" and "The Phantom of the Opera," as well as the Las Vegas productions of "Phantom: The Las Vegas Spectacular," "Mamma Mia!" "Spamalot," "Jersey Boys" and "The Lion King."
Scenic designer Andy Walmsley's Broadway and West End credits include "Blood Brothers" and "Buddy: The Buddy Holly Story" and a roster of TV shows that includes "American Idol," the Emmy Awards and the Miss USA pageant. His Las Vegas credits include work on Terry Fator's show and Human Nature.
Speaking of which: "We've got a really fun set," Pessagno said. "It's very colorful and very bright and very cheerful."
"Oh my God, the sets are insane," Orchard said. "They're beautiful."
The cast includes both children and adult actors, including performers from Opportunity Village.
"They're just really great," Pessagno said. "And it just kind of enhances our story, really, because it makes this even more diverse."
It is, Orchard said, as though "we're presenting the theme, we're living it ourselves."
All of which makes "Charlotte's Web" a perfect family show, even if the ending might be, well, a bit sad for young kids.
(Spoiler alert: Charlotte dies, although the story ends on an uplifting note.)
That ending still can tug at kids' — and adults' — emotions every time.
"Absolutely," Orchard said, admitting that she finds herself holding back a few tears "on a daily basis when we run those end scenes."
Contact reporter John Przybys at jprzybys@reviewjournal.com or 702-383-0280.
PREVIEW
What: Las Vegas Shakespeare Company presents "Charlotte's Web"
When: 7:30 p.m. Friday and Saturday and April 26 and 27, 4 p.m. Sunday and April 28
Where: Henderson Pavilion, 200 S. Green Valley Parkway, Henderson
Tickets: $10 (267-4849 or www.HendersonLive.com)