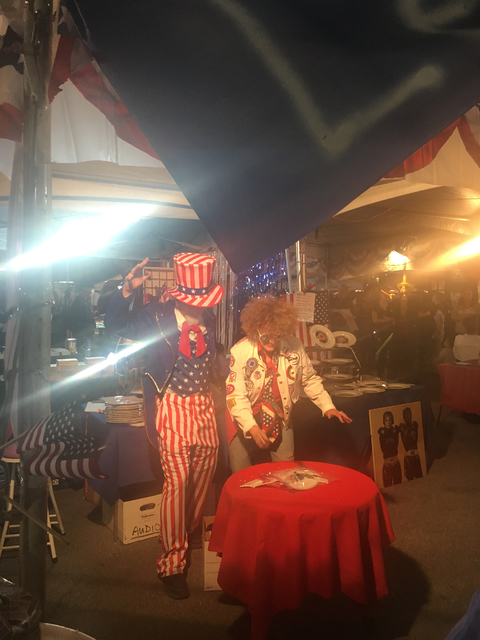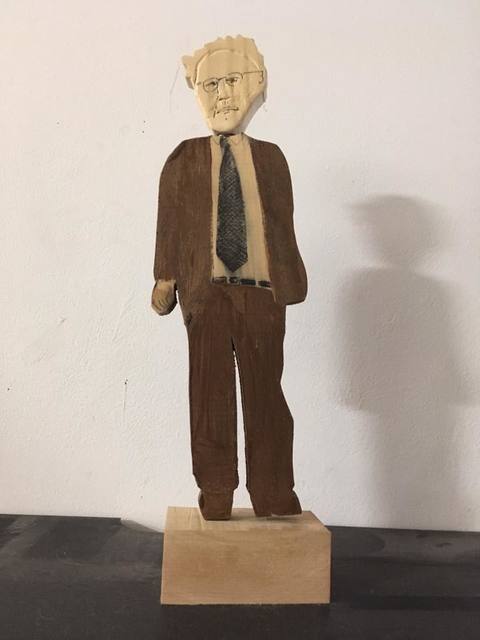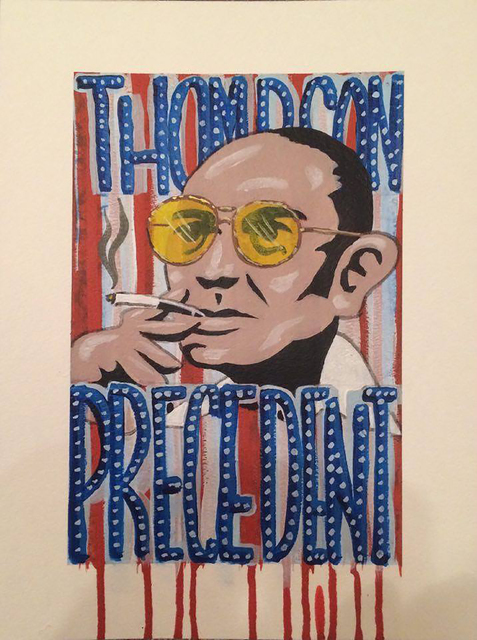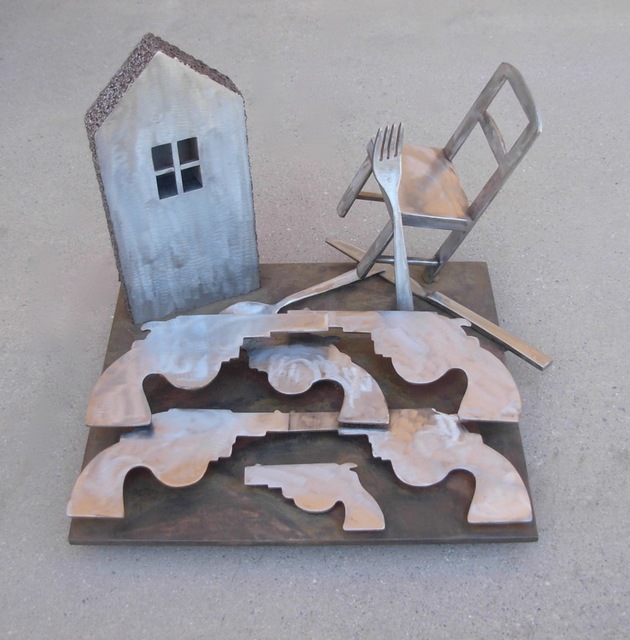 Our long national nightmare is almost over.
And so is Las Vegas artist/activist Diane Bush's yearlong "Dishing It Out 2016," a series of monthly art happenings designed to satirize the long strange trip this year's presidential election has been.
Fittingly, the project culminates Tuesday with "The Final Tally," a free Election Day bash that begins at 7:01 p.m., one minute after the polls close in Nevada.
The one-night-only event, at Art Square's Victor Xiu Gallery, will showcase more than 20 artworks inspired by the election, as well as other pieces created for previous "Dishing It Out" events.
In addition to viewing the artworks, attendees can watch vote totals roll in and visit with participating artists. There'll be a taco truck outside for those eager to chow down. (To say nothing of two bars, adjacent to the gallery, available for those driven to drink by the election results.)
Bush also will raffle one set of plates depicting each of the 22 candidates who ran for president this year. (Raffle tickets are available online at here.)
"I am going to kind of miss it," Bush says of the 11-month project, but "I'm very happy I put myself through this."
To join her in "Dishing It Out" this election year, Bush invited more than 60 artists — from Las Vegas and across the U.S. — to submit artworks, in any medium, inspired by American politics.
Works depicting the various candidates were considered for the 22 ceramic plates.
Other creations went on display at several exhibits during the series, which launched in January at Brett Wesley Gallery and traveled to various other spaces, from the Arts Factory to Sahara West Library and Left of Center Gallery in North Las Vegas.
The 11-month project also included a poetry reading and two First Friday events — one in May, the other in October.
May's event, dubbed "Inflated Dreams/Broken Promises," invited attendees to comment on America's unsolved problems or "what they wanted America to do" before breaking red, white and blue balloons filled with shredded paper representing Indian treaties, the Equal Rights Amendment and "other disappointments," Bush recalls. (One young boy's request: "Spaghetti that tastes like bananas.")
October's First Friday found participants smashing "Dishing It Out" plates — rejects that Bush couldn't use in the commemorative sets.
The monthly events also included voter registration and fundraising for arts education.
"Dishing It Out" is hardly Bush's first foray into satirical political art.
Eight years ago, she created "The Embleachment of George W. Bush," in which attendees threw small vials of watered-down bleach at a photograph of President George W. Bush (obviously no relation to the artist) so "the picture of him disappeared."
Searching for "another project where the public could interact physically," Bush recalled a commemorative plate featuring President Richard M. Nixon that someone gave her "as a joke," she says. And so "Dishing It Out" was born.
Although she had never worked with ceramics, she thought she could "get people to break the plates as a kind of therapy."
In addition to the raffle, limited-edition "Dishing It Out" plates — and ceramic mugs featuring the candidate portraits — will be available for purchase at Tuesday's "Final Tally."
The artworks debuting Tuesday range from needlework to re-creations of candidate meals.
Las Vegas-based artist Justin Favela, for example, is "doing a replica" of the taco that Hillary Clinton ordered at Tacos al Gordo on East Charleston Boulevard, as well as "remaking the Trump Tower Taco Bowl."
Favela generally prefers "to stay away from politics, 'cause it gets nasty, really fast." But Bush's invitation, along with the opportunity to "bring some lighthearted artwork" to the heavy presidential contest, inspired him to participate in "The Final Tally."
For Jeanne Voltura, whose star-spangled needlework piece depicts candidate hairstyles (including, inevitably, Donald Trump's distinctive coiffure), "my work always has a social message, so this was sort of natural to me," she notes.
As for Susanne Forestieri, "I'm not a political artist, which typically involves a satirical portrayal," she acknowledges. This year, however, "taking a good look at the candidates' faces was compelling, if not irresistible." Forestieri chose to draw Clinton, Jeb Bush and Chris Christie "because I liked their faces."
Because of a limited budget (Bush received a $590 grant from the Nevada Arts Council and a $1,000 grant from the Puffin Foundation), artist Gig Depio invited "some of our mutual artist friends from (former UNLV professor) Dave Hickey's Facebook discussions," Depio notes. Artists from coast to coast "were all excited to send in their works, and later, more local artists from Las Vegas joined in."
Maine-based artist Dan Mills is one artist who learned about "Dishing It Out" on social media, "and thought, wow, that sounds like a ridiculous, crazy, completely over-the-top crazy carnival of art events," he emails. "I have to participate in this."
Although "art of political satire usually is a secondary focus of mine," Mills notes, "during the last half year, it has consumed my art practice" — and prompted a mention in a Los Angeles Times article devoted to the election year's "most provocative political artists."
Overall, Bush says, "Dishing It Out" met its goals: "to amuse the public, to celebrate free speech, to register voters … and the last goal was to encourage artists to embrace this genre."
For Depio, "the best part of this whole project was being able to share our work with the Las Vegas community, to show people that a grass-roots effort to generate an authentic response to this 2016 election is possible, even with very limited resources."
Or, as Mills reasons, "who knew an election that has filled so many with such dread, anger and anxiety would turn out to be so inspiring."
Read more from Carol Cling at reviewjournal.com. Contact her at ccling@reviewjournal.com and follow @CarolSCling on Twitter.
Preview
What: "The Final Tally"
When: 7:01-11 p.m.
Where: Victor Xiu Gallery, Art Square, 1025 S. First St., Las Vegas
Admission: Free (702-769-8029, www.facebook.com/events/1196701677069425/)