'Gentleman's Guide' a murderous, jolly ride
March 10, 2016 - 10:41 am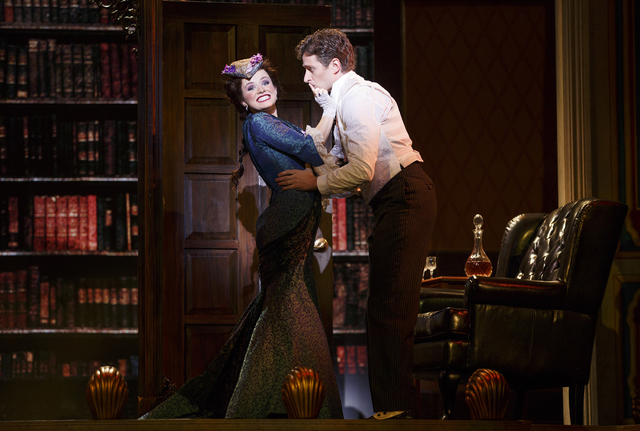 To die for? Not quite.
But make no mistake — "A Gentleman's Guide to Love &Murder" serves up a bloody good time.
The Tony-winning musical, at The Smith Center through Sunday, takes a genially jaunty approach to what might seem serious business: a serial killer's upward climb through the branches of a venerable family tree.
As the musical's brief prologue cautions, "For those of you of weaker constitution, for those of you who may be faint of heart, this is a tale of retribution, so if you're smart, before we start, you'd best depart …"
Balderdash and poppycock. Ignore the tongue-in-cheek warning and enjoy the even more tongue-in-cheek ride, which composer Steven Lutvak (who shares lyric-writing duties with librettist Robert L. Freedman) describes as "My Fair Lady" meets "Little Shop of Horrors."
That's as good a description as any for this rollicking romp, which transports us back to Edwardian-era England.
There, impoverished Montague "Monty" Navarro (charmingly deadpan Kevin Massey) has just finished burying his beloved, beleaguered mother when an unexpected guest brings even more unexpected news: "You're a D'Ysquith." (Think "Dies Quick" and by Jove, you've got the pronunciation.)
They're an aristocratic clan so snooty that they cast out Monty's mother when she had the temerity to (horrors!) marry for love. And only eight of them stand between Monty and the D'Ysquith title.
If Monty can bump them off, one by one, he can claim not only the earldom but stately Highhurst Castle. He might even be able to claim his social-climbing sweetheart, Sibella (a saucy Kristen Beth Williams) — if cousin Phoebe (wittily winsome Adrienne Eller), who's fortunately behind Monty in the D'Ysquith succession, doesn't claim him first.
If all this sounds familiar, perhaps you've seen "Kind Hearts and Coronets," the 1949 British comedy with Alec Guinness as all eight victims.
Based on the same novel, "Gentleman's Guide" also employs the same casting approach. Quick-witted, quick-change chameleon John Rapson portrays all eight doomed D'Ysquiths with irresistible glee, from haughty Lord Adalbert (who sings the aptly titled "I Don't Understand the Poor") to determined do-gooder Lady Hyacinth, vowing to outdo rival philanthropists so that "every dilettante will envy me and want a colony of lepers of her own."
They're all such annoying twits that their various departures trigger comedy, not concern, especially with Freedman and Lutvak's bouncy songs accompanying each droll demise.
Director Darko Tresnjak keeps "Gentleman's Guide" skipping along between knockabout silliness and sly satire, admirably resisting the temptation to surrender to mere cartoonishness.
The show also shows off some delightful theatrical sleight-of-hand, from Alexander Dodge's pop-up storybook set to Aaron Rhyne's witty projection designs, which (for a change) enhance rather than distract, and detract, from the onstage delirium.
Just don't expect "Gentleman's Guide" to deliver anything beyond giddy fun. This is not the sort of show where it's possible to feel for, or with, any of the characters, who exist to amuse, not affect, those of us in the audience.
It's all rather like climbing aboard a merrily whirling carousel. You may know exactly where you're going at every turn, but that doesn't mean you don't enjoy the ride.
Read more stories from Carol Cling at reviewjournal.com. Contact her at ccling@reviewjournal.com and follow @CarolSCling on Twitter.
Review
What: "A Gentleman's Guide to Love & Murder"
When: 7:30 p.m. through Sunday; also 2 p.m. Saturday and Sunday
Where: Reynolds Hall, The Smith Center for the Performing Arts, 361 Symphony Park Ave.
Tickets: $29-$139 (702-749-2000, www.thesmithcenter.com)
Grade: B+