'Hamilton' tickets for Las Vegas go on sale April 28
April 17, 2018 - 11:09 am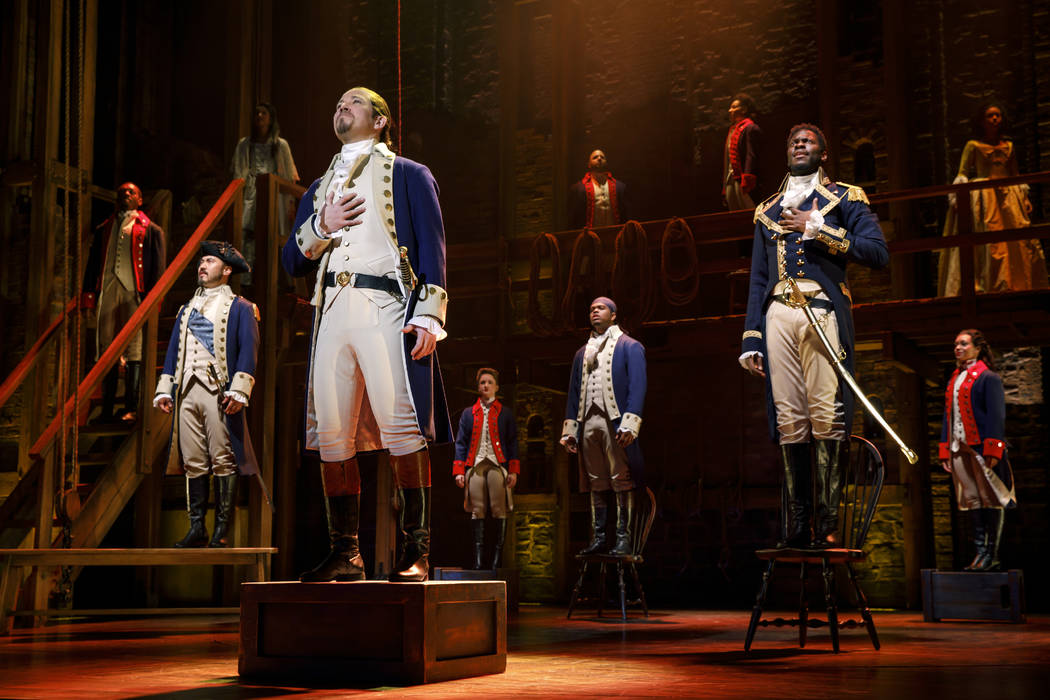 Ticket sales for The Smith Center's "Hamilton" run will begin at 10 a.m. April 28 online at thesmithcenter.com.
Tickets to the Tony-winning musical also will be sold from 10 a.m. to 1 p.m. that day at The Smith Center box office, with additional seats for sale closer to the start of the show's run, which begins May 29 and ends June 24.
Phone sales will be available through the box office at 702-749-2000.
All ticket buyers will receive a receipt at the time of sale, whether they purchase tickets online, by phone or in person, according to Smith Center president Myron Martin.
Tickets will be mailed two weeks before the performances; each address will be limited to a maximum of four tickets.
"We're encouraging people to go online" because it's "the most expedient," Martin said. "For every walk-up window" at the box office, "in the amount of time it takes to process one order, the internet can process hundreds or thousands."
About 63,000 tickets are available for "Hamilton's" four-week run in Reynolds Hall, which seats 2,050; about 26,000 of those tickets were reserved for subscribers to The Smith Center's 2017-18 Broadway Las Vegas season.
After all tickets are sold to the 32 Reynolds Hall performances, "all purchases will be reviewed," according to The Smith Center website. "Any and all purchases found violating the 'Hamilton' ticket policy will be canceled without further consideration."
Most "Hamilton" tickets are $69 to $194, plus applicable fees, with premium Gold Circle seats priced at $569. "Hamilton" producers set the ticket prices.
As in other cities where the musical has played, a "Ham4Ham" lottery for 40 seats priced at $10 — in honor of the show's "10-dollar father" title character — will be held for all performances. Additional lottery details will be announced closer to the Las Vegas run.
Although "it's tempting to get tickets any way you can," according to "Hamilton" producer Jeffrey Seller, "there are many sites and people who are selling overpriced, and in some cases, fraudulent tickets."
In a news release announcing the April 28 on-sale date, Seller advised those who want to see "Hamilton" at The Smith Center to purchase seats online "for the best seats, the best prices and to eliminate the risk of counterfeit tickets."
Contact Carol Cling at ccling@reviewjournal.com or 702-383-0272. Follow @CarolSCling on Twitter.