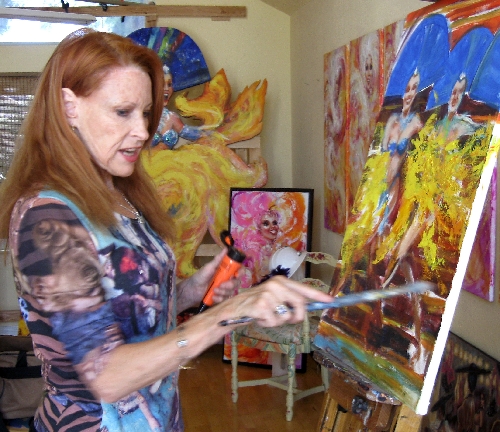 After about four years in the making, Henderson artist Terry Ritter has unveiled her latest work inside the newly opened Terminal 3 at McCarran International Airport.
The 50-by-8-foot, 3-D acrylic work titled "Folies in Flight" – located in the U.S. Customs and Border Protection area – pays homage to Las Vegas showgirls featured in the long-running production "Folies Bergere."
"I feel satisfied with the reactions I am getting, especially from the dance community," Ritter said.
The art piece was inspired by a smaller painting Ritter had done years ago.
When she heard that the Clark County Aviation Department was looking for artwork to display in the new terminal , she submitted a proposal.
"It's funny that it already had the name 'Folies in Flight,' " Ritter said. "It was meant to be."
Chris Jones, the public affairs and marketing manager at the Clark County Department of Aviation, said the overall theme for the terminal was "Dynamic."
"Terry is a known local artist, and this piece was dramatic and colorful," Jones said. "Her piece's images suggest movement by the dancers. Terry's piece has appropriate, iconic Las Vegas imagery."
After presenting mockups to the board tasked with picking the artists, Ritter was finally chosen to create a larger-scale piece.
"It lived in my living room for three years," Ritter said. "It would wrap around the living room walls, and there were parts of it in the garage."
Working with contractors, Ritter began installing the work in January.
Jones said airport management was pleased with the end results of the artwork.
"It fills the space well," Jones said. "People are drawn to it."
Ritter said she is thrilled to be able to gain notoriety from her work.
"I know I can do (projects like this) now," Ritter said.
Ritter said even though much of her work focuses on dance and movement, she is up to the task of taking on any project.
"Nothing is too big or too small," Ritter said. "I would love to do a large sculpture in a public place."
Ritter's defining moment as an artist came when she was 9 and received an A-plus on a project.
"I thought, 'I am really good at this,' " Ritter said. "I knew right then I wanted to grow up and be an artist. (That grade) validated me as an artist."
Ritter began to experiment with different mediums, including acrylics and water colors.
"I still experiment with (different mediums) to this day," Ritter said. "You never know what happy accidents – as artists tend to call them – will happen."
While pursuing her passion to paint, Ritter also fell in love with dance.
"It was something I saw and had to do it," Ritter said.
Ritter lives by a philosophy to follow whatever passion lies within.
"I say get the job, then figure out how to do it," Ritter said. "When you find your passion, you go for it and the rest will follow. If you know you have a knack for something, follow that path."
Even though she is partial to jazz, Ritter played around with various dance forms, including ballet.
Ritter ended up performing as a dancer in various productions and eventually worked in "Folies Bergere" at the Tropicana.
"It was mostly backstage," Ritter said. "My husband was also an acrobat (for the show)."
Painting never left her life. Ritter would set up space backstage, often doing some of her works in the hallways when pieces grew large and spilled over from her closet space.
"I would be backstage and hear someone say, 'Terry, get on stage. You're going to be late,' " Ritter said.
As a dancer, Ritter understood how to bring movement to life in her paintings.
After Ritter started a family, she said she would find time to paint between taking her children to soccer practice or any other event.
"I was very fortunate to have a very understanding family," Ritter said.
As her children got older, Ritter became known as the mom who painted showgirls.
"My son would say all his friends have up photos of the family (in the living room), but we have pictures of showgirls," Ritter said, laughing.
Ritter doesn't have a gallery but eventually hopes to open a space .
For more information about Ritter's art, visit terryritterart.com.
Contact Henderson/Anthem View reporter Michael Lyle at mlyle@viewnews.com or 387-5201.