Henderson resident produces local film about military family
February 10, 2015 - 2:11 pm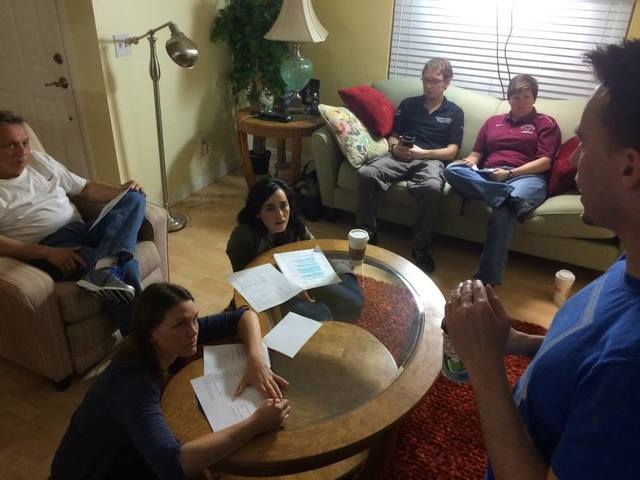 From "Ocean's Eleven" to "The Hangover," Las Vegas is no stranger to the film industry's limelight.
But when writer/actor Jason Aaron Goldberg chose to direct his first feature film in the valley, it wasn't because of the city's glitz or glitter. It was because it was home.
"I was living in Los Angeles at the time, but my (co-producer) was still living here," Goldberg said. "We had been making movies together as kids, so I knew that coming back home was just part of the deal."
The Henderson resident's feature film debut "The Three Es" is scheduled to be available for free screening online through February.
The 88-minute film follows the Dunn family as it learns to regain its composure after its middle and only male child is severely injured while serving in the military in Iraq.
"I researched a lot of soldier stories, read a lot of books and watched a lot of documentaries, but I never came across any stories that were completely about veterans' families," Goldberg said. "These families are forever changed and affected by their loved one's injuries."
Born and raised in Las Vegas, Goldberg attended Green Valley High School and graduated from UNLV. In 2000, he moved to Los Angeles to pursue his acting and screenwriting career.
At first, Goldberg said he wrote for himself and focused on creating lead roles around characters he could play. Now focused on writing bigger stories, he said he's more concerned with the storylines and concepts than starring in the film.
" 'The Three Es' is part of that transition. Sure, I act in the film, but I'm certainly not the lead," Goldberg said. "I was more interested in this family dynamic, especially with the two sisters. They're about 10 years apart in age, and you've got this brother in the middle that ties them together. Now he's changed forever, and it changes their dynamic as siblings."
Despite not having a connection to the military, actress Marlena Shapiro, who plays the mother, said she was able to get into character because she is a mother in real life.
"I knew some families that were in the military, but I wasn't close to them," Shapiro said. "Then (Goldberg) approached me about doing the film, and I thought, 'Oh, my gosh, what an opportunity.' I had no understanding at first, but it made me very aware, and now I pay attention."
From the actors to the musicians on the soundtrack, nearly every cast member is a local resident, and every scene was filmed in the valley.
The bulk of the movie takes place in Goldberg's grandmother's home near Mission Hills and College drives. His father Allan, who plays the father in the film, was college buddies with the executive director at Railroad Pass, who gave the crew permission to film in the casino's diner and hotel.
"It would be cool if this film did things for the city (of Henderson)," Goldberg said. "Making a movie here wasn't always the easiest thing, but we want people to know that you can make a local film with local people."
With a budget of about $11,000, the cast filmed over the course of about two years. Goldberg co-produced the movie with childhood friend Joseph Campanale, a professional video editor.
"The process was more about scheduling and availability because we all have other projects or jobs," Goldberg said. "(Campanale) has all the stuff and programs to edit. If we had to buy or even rent his studio, it would have been, like, $20,000, so he really kept the budget down."
While filming, real life didn't stop for the cast. Goldberg's father Allan tore a ligament in his knee playing softball, and his mother was diagnosed with breast cancer. Jill Klopp, who plays the oldest daughter, got married and traveled on her honeymoon while Shapiro attended her brother's funeral.
"It's like a truncated 'Boyhood' adventure, where we can point out certain times of our lives by the scene," Goldberg said. "We're able to watch it and be like, 'Oh, that's when you blew out your knee. Mom got sick here. That's before (Klopp) got married.' "
Goldberg and the cast plan to submit the feature to several film festivals, such as the Las Vegas Film Festival, Vegas Indie Film Festival, Zero Film Festival and more.
"To be part of something that started the way it did and struggled along, it was like the little engine that could," Shapiro said. "Despite everything thrown in front of it, we kept coming up and continuing. At this point, the accomplishment has been achieved as far as I'm concerned. Whatever happens next is just icing on the cake."
For more information or to view the film, visit imdb.com/title/tt4247740 or facebook.com/thethreeesmovie.
Contact Henderson View reporter Caitlyn Belcher at cbelcher@viewnews.com or 702-383-0403.