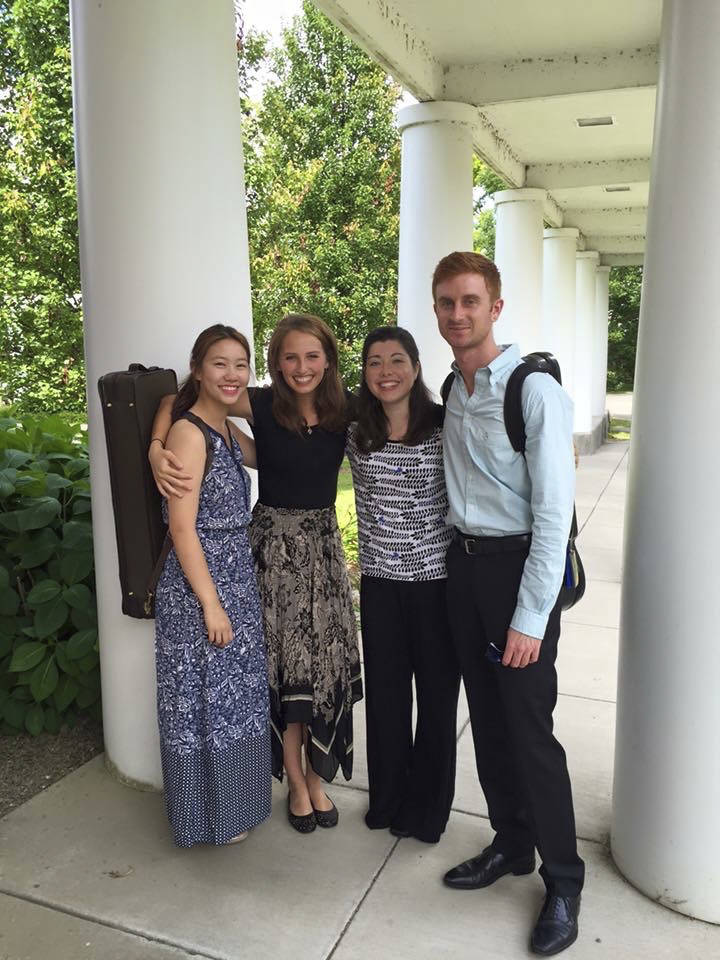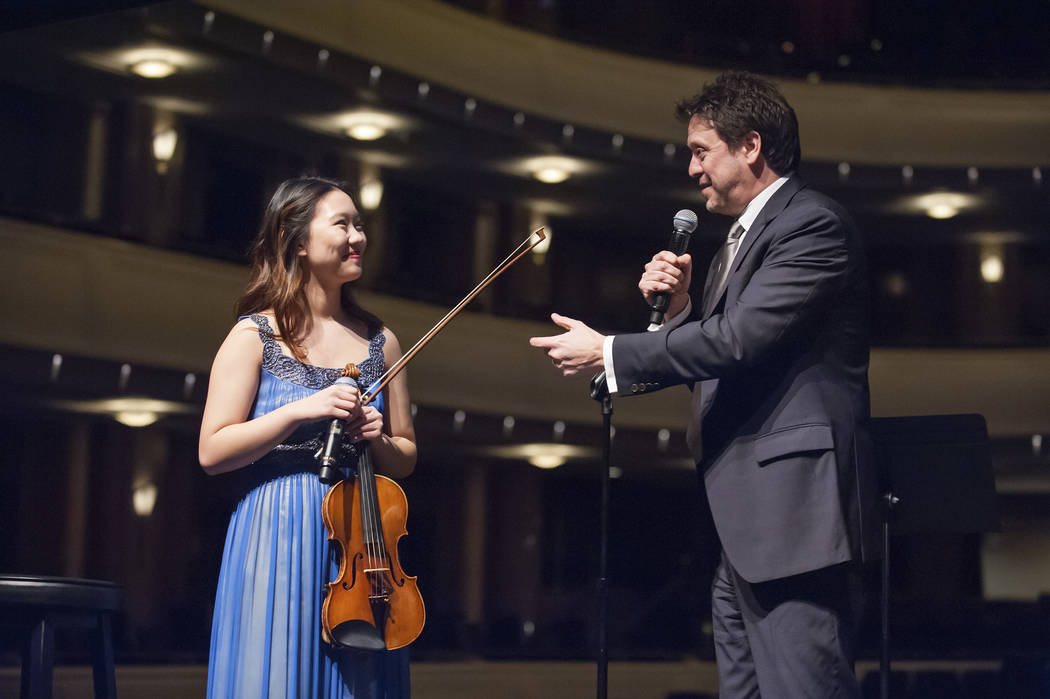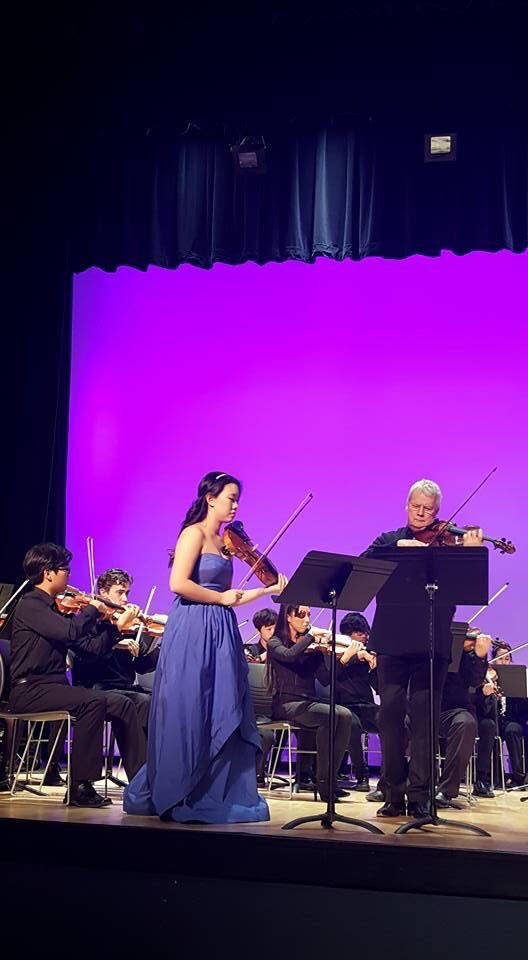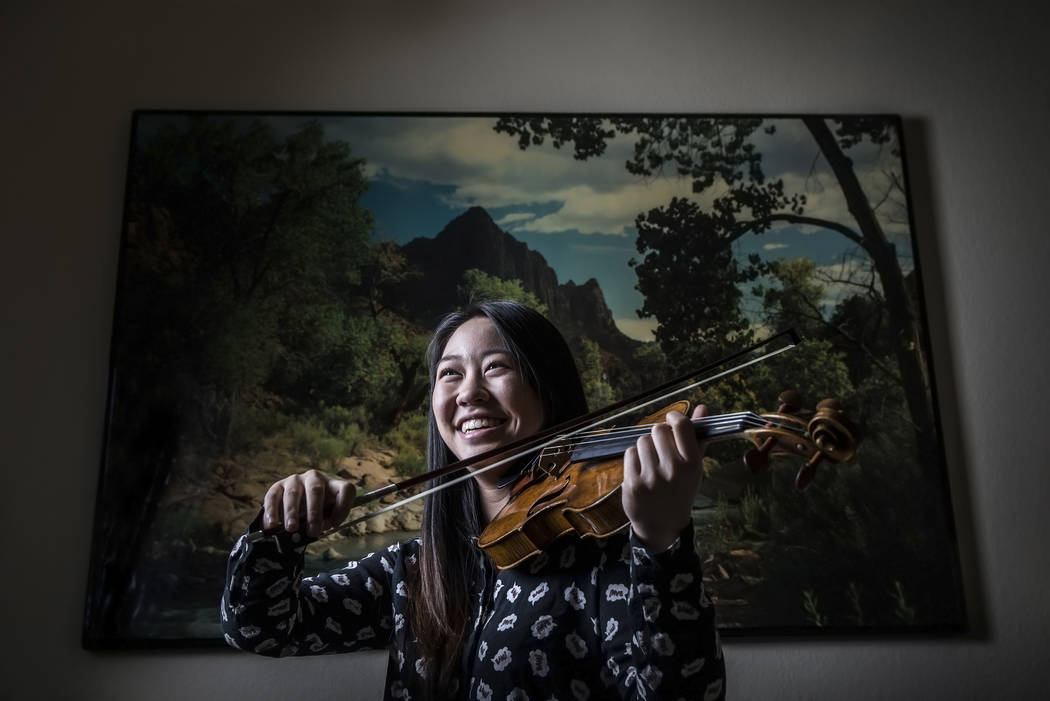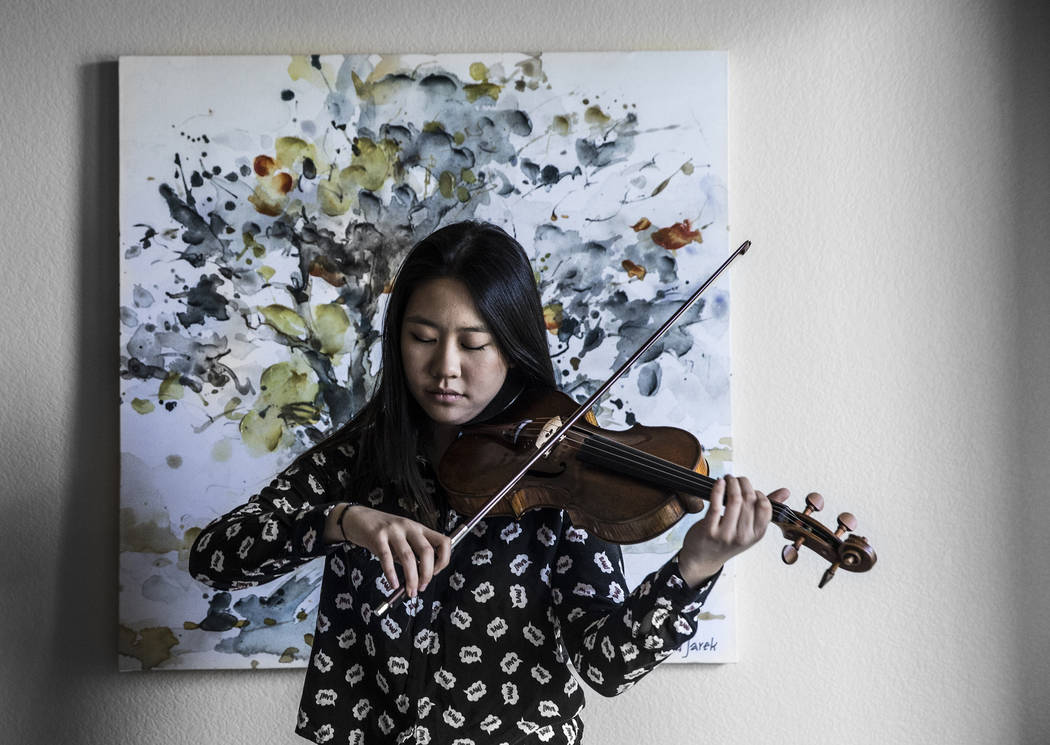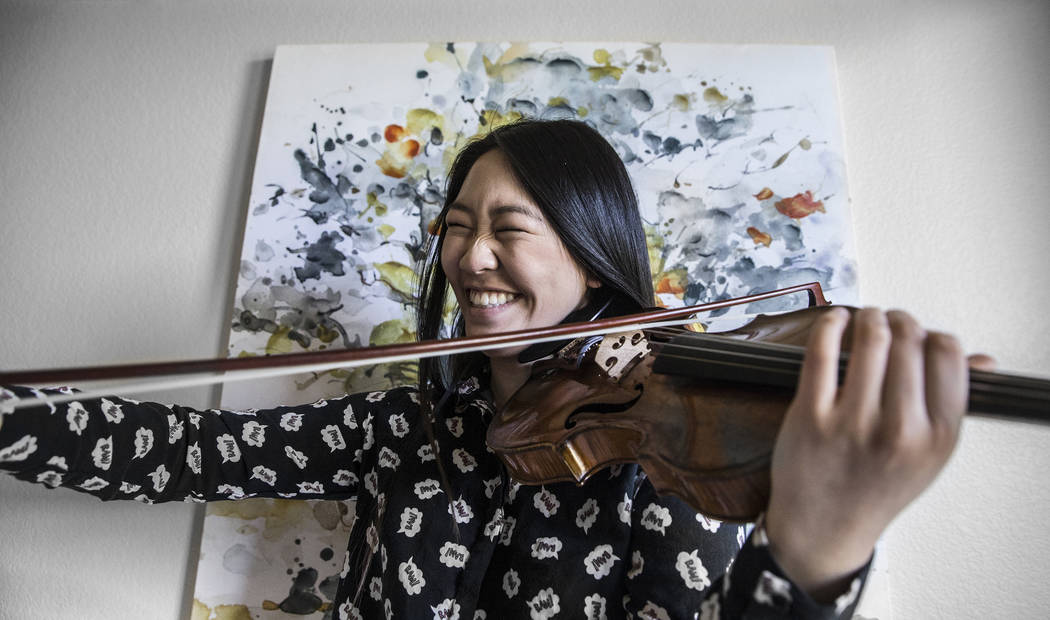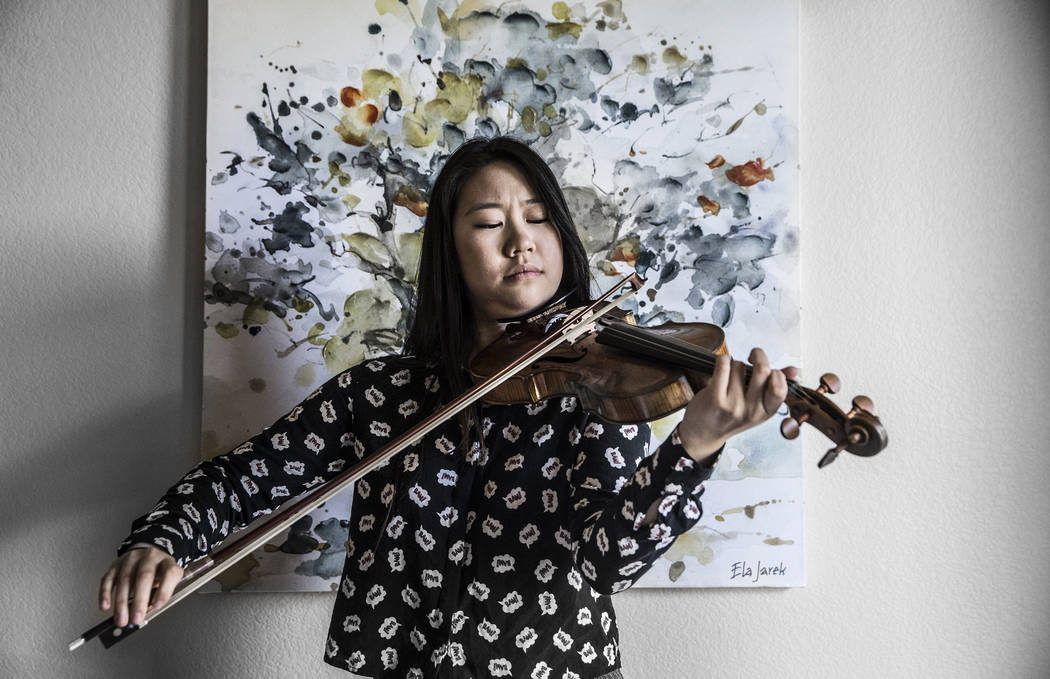 Kelsea Au doesn't like it when her mother brags about her. But she must be used to it by now.
Last week, Kelsea graduated — with honors — from Green Valley High School. Next week, she celebrates her 18th birthday.
And on July 1, she heads to New York to join 115 other young musicians, ages 16 to 19, in the National Youth Orchestra of the United States of America; the ensemble's schedule includes a Carnegie Hall concert and a Latin American tour.
Kelsea applied to join the orchestra in late October and found out she had made the ensemble Feb. 1.
"I was at school — my mom texted me with a screen shot of the email," Kelsea recalls. "I was having a really bad day," but it improved once she learned about her NYO selection.
It's the latest of several awards, which include scholarships to music festivals from California to Canada.
As a winner of the Las Vegas Philharmonic's annual concerto competition (she won the Henderson Symphony's competition a few years earlier), Au played at The Smith Center's Reynolds Hall — and signed her name on the backstage wall alongside numerous musical luminaries.
"It's just an amazing feeling, knowing people are watching you," she says. "It's nerve-racking, but also powerful. You have control of everything."
Taking to violin at early age
And to think her mother wanted Kelsea to be a cellist.
When Jen Au took her daughter to a concert featuring superstar cellist Yo-Yo Ma, little Kelsea told her, " 'No, I want to play that one,' " referring to another musician's violin.
"That's true," Jen adds with a smile. (Kelsea's father, Mitchell Au, is Desert Radiology's director of information technology and services and security management; her older brother is a UNLV student and her younger brother attends Green Valley High.)
Kelsea began studying violin at 5.
"Sometimes kids, when they start young, don't have the patience to stay for an hour lesson," Jen comments. But Kelsea "just kept going." Through weekly lessons, through group classes, Kelsea "progressed quicker than a lot of kids."
That didn't stop the young violinist from playing sports, from golf to soccer — although a middle-school interest in volleyball taught her a valuable lesson.
"Volleyball isn't good for your hands," Kelsea acknowledges, remembering "a huge bruise on my pinkie" that interfered with her playing.
At 12, Kelsea attended her first music festival, in Kansas, and was inspired, she says. "I thought, 'I can do this.' " And "around age 13, I said, 'OK, this is my path.' "
That path has taken Kelsea to numerous music festivals, where she's met friends who encouraged her to apply for the NYO because it was "so much fun — they learned so many things."
She only knows three other NYO members, but "it's OK," she reasons. "I get to meet new people."
'Very mature sound'
And when she meets those new people, Kelsea's ready for the usual reactions.
"I get the usual questions" about Las Vegas life, she says. " 'Do you go to school?' 'Do you live on the Strip?' "
Southern Nevada may not boast as many musical opportunities as larger cities offer, but Kelsea's managed to find a way to advance all the same. Besides, it's unlikely anyone else in the NYO has performed at the Country Music Association Awards — which Kelsea did in 2012, sharing the stage with Little Big Town.
She's also shared the stage with renowned violist Steven Dann, who performed with the Las Vegas Young Artist Orchestra in December; Kelsea's been a member of the ensemble since its 2015 founding by Las Vegas-based violist Yunior Lopez.
Au performed Mozart's Sinfonia Concertante alongside Dann, "one of the world's great violists," Lopez says, lauding the "maturity in her sound, her musicality — especially for her age."
Donato Cabrera, the Las Vegas Philharmonic's music director, also cited Au's "very mature sound," noting that "she's meticulous in her preparation and also extremely easy to work with."
Lopez concurs, adding that, "even for all her talent, she doesn't advertise it."
Beyond Kelsea's intense focus on music, she finds time to volunteer for community service projects with the Henderson group Teens Making a Difference, which she helped found in sixth grade.
In addition, "I like to hike," especially during annual family treks to various national parks. Montana's Glacier National Park is her favorite — so far. (This summer's destination is Acadia in Maine.)
Kelsea's NYO itinerary, meanwhile, includes Mexico, Ecuador and Colombia, following the orchestra's three-week residency at Purchase College, State University of New York, about 20 miles northwest of Manhattan. (The NYO will play a July 19 concert at Purchase, to be broadcast on public radio's "From the Top," and a July 21 Carnegie Hall concert, to be broadcast and streamed live.)
Indiana, and snow, beckons
When summer's over, Kelsea will embark on the next phase of her musical journey, at Indiana University's Jacobs School of Music, where she'll study with Mauricio Fuks, with whom she's already had master classes. (An award-winning violinist who once studied with the legendary Jascha Heifetz, Fuks now devotes himself to teaching.)
"I don't know how I'll deal with snow," the native Southern Nevadan says of her future collegiate alma mater. During an audition in Chicago, "I had to buy gloves and a scarf" — and endure the comments of Midwesterners who told her, " 'This isn't cold.' "
Not that winter weather will get in Kelsea's way.
Neither will anything else, predicts Lopez.
"There's no doubt in my mind" that she's on her way to becoming a professional musician, he says. "In a sense, she already is." After all, "she's already performed with professionals. Just imagine how much farther she can get."
For her part, Kelsea's happy to continue the musical journey she's been on for most of her young life.
"I love expressing myself," she comments. "And music is another way to do that."
Youth Orchestra travels to New York, Latin America
You've probably heard the old joke about the best way to get to Carnegie Hall: practice, practice, practice.
In Kelsea Au's case, it's no joke.
She's one of 116 young musicians, ages 16-19, recognized by Carnegie Hall — and chosen as a member of the National Youth Orchestra of the United States of America following a competitive audition process.
"The musicians who make up NYO-USA's 2017 roster are truly among the very best in our country," according to Clive Gillinson, Carnegie Hall's executive and artistic director, "and we look forward to embarking on another wonderful summer of music-making."
That summer begins with an intensive three-week training residency on the campus of Purchase College, State University of New York, where faculty members — led by James Ross of the University of Maryland and Spain's Orquestra Simfonica del Valles — will oversee rehearsals, lead master classes, chamber music readings and seminars on essential music skills.
Concerts begin July 29 at Purchase College (to be recorded for public radio's "From the Top" series), followed by a July 21 Carnegie Hall concert, to be heard worldwide on a "Carnegie Hall Live" broadcast and streamed live online on medici.tv.
Following the Carnegie Hall concert, the NYO-USA musicians will embark on a Latin American tour that includes visits to Mexico, Ecuador and Colombia. Conductor Marin Alsop will lead the ensemble in a program that includes the world premiere of a Carnegie Hall-commissioned piece by Gabriela Lena Frank, John Adams' "Short Ride in a Fast Machine" and Mahler's Symphony No. 1.)
In Bogota, Colombia, NYO-USA members will perform their own concert and spend several days rehearsing for a joint concert with students from a Bogota youth orchestra; a similar program is teaming NYO members with their counterparts in Mexico.
Kelsea Au's musical partner: her violin(s)
When Henderson's Kelsea Au joins Carnegie Hall's National Youth Orchestra in July, she'll be accompanied by her constant companion: her violin.
Although she has a modern instrument, by Italian maker Roberto Callini, another — and rarer — violin has been her partner on her recent musical journeys.
An anonymous donor loaned the young violinist an 1810 instrument made by Lorenzo Ventapane, a violin maker from Naples, Italy.
"Both violins are very, very good," Kelsea comments. But "the Ventapane just has this sound — a very old sound. It resonates."
Although the violin is a loaner — albeit one worth thousands of dollars — Kelsea bought her own bow with prize money she won in various competitions.
"It's not cheap," says Kelsea's mother Jen Au, "if you want to have a nice bow."
She should know. Jen Au works part time at the Desert Strings music store (to help fund Kelsea's studies and pay for instrument maintenance) and says violin bows can range in price from $500 to more than $100,000.
As for the music Kelsea plays on her violin, her repertoire includes chamber and orchestral pieces by composers from Bach to Vivaldi, and beyond.
But "I like Brahms," she says. "Brahms is amazing." (Although her musical tastes also include movie music, indie rock, jazz and "a lot of Korean pop. … I'm a very versatile listener.")
Her favorite violinist? That's an easy one: "Obviously, (Jascha) Heifetz. He's like the god of the violin."
But she's also a fan of award-winning contemporary violinist Clara-Jumi Kang.
Someday, "I would love to be a soloist," Kelsea says. "That's any classical musician's dream."
Contact Carol Cling at ccling@reviewjournal.com or 702-383-0272. Follow @CarolSCling on Twitter.