Here's everywhere you can get free comic books on Saturday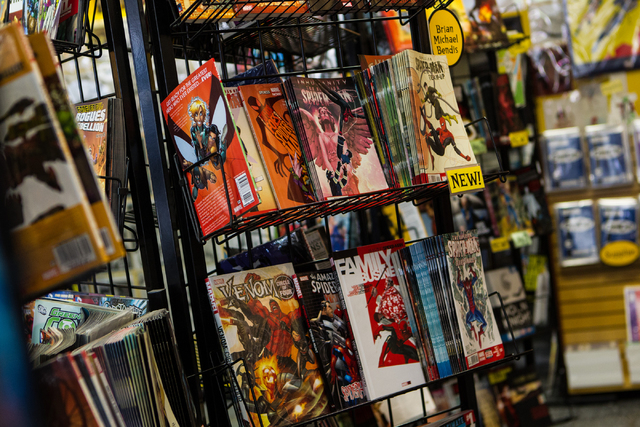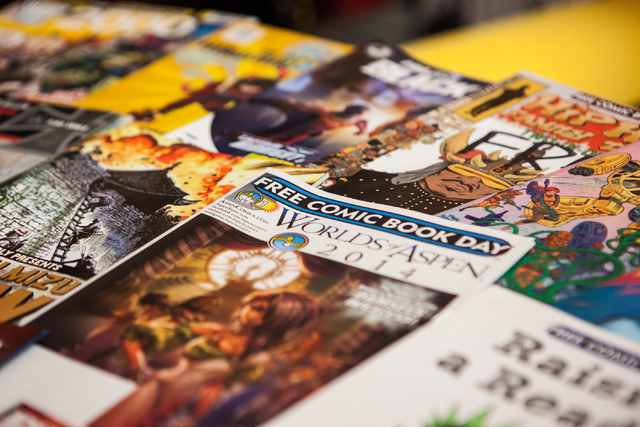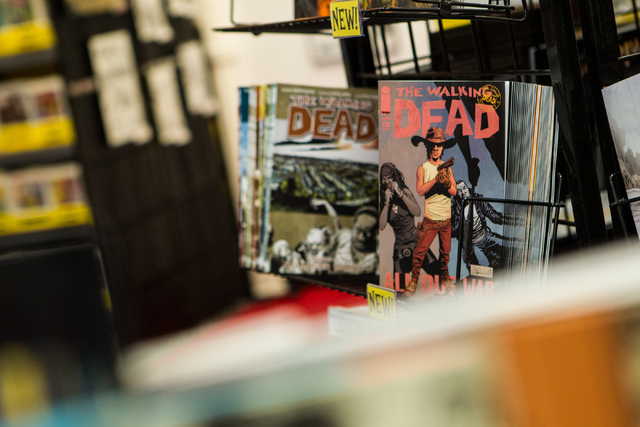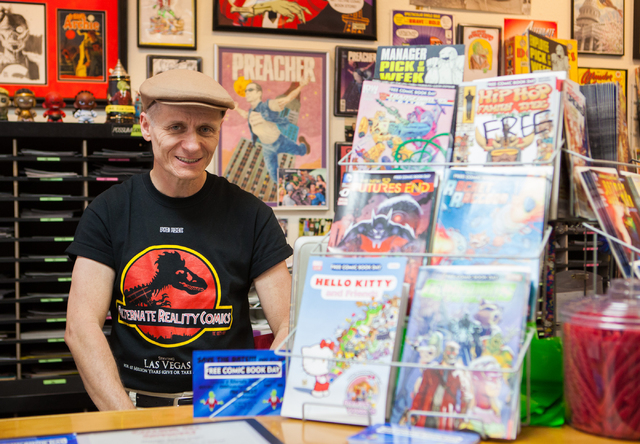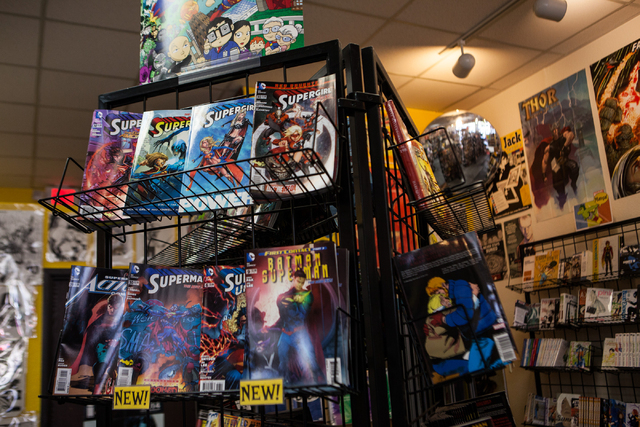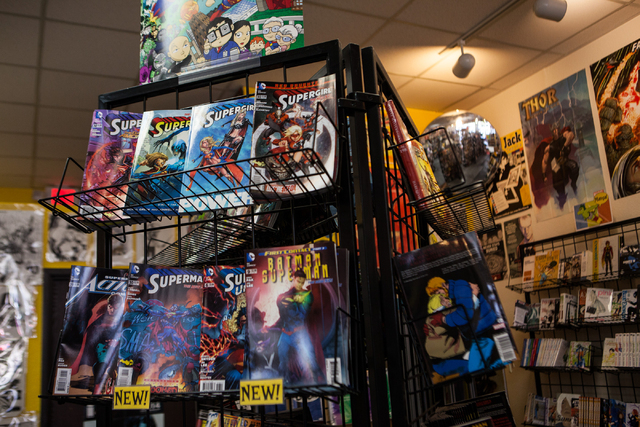 Imagine a combination of Christmas, Halloween and Burning Man (minus the nudity and oppressive heat) and you'd get some idea how Free Comic Book Day is viewed by fans of the medium.
"To me, Free Comic Book Day is the greatest day ever, because you can go into any comic shop in the valley and get a free comic book," said Stephanie Payne, founder of the Very Awesome Girls Into Nerdy Activities. "Some people go in costume, some shops have raffles for amazing prizes and it's a huge social event where you can meet other fans and talk comics."
Comic shops across the nation are set to participate Saturday in the event, which has taken place annually since 2002. Special comics are produced for the event, and shops give them away to reward loyal customers and bring in new ones. Some are reprints of classic material, while others are sample stories from a publisher's most popular books or new works created solely for the event. Locally, 19 stores are participating in the event, including all 16 comic shops and a few that sell comics as part of a wider inventory of collectibles.
Many of the stores are also set to have sales, special guests, raffles, food trucks and costumed characters and cosplay participants — fans who attend events dressed as their comic book characters.
Payne will be visiting several of the shops, volunteering while dressed as Michonne from "The Walking Dead" comic, the basis of the popular AMC series.
"I'll be there helping with lines and guests and helping to make sure things run smooth," she said. "Chances are at any shop that you go to in the valley there will be an Awesome Girl there."
The Very Awesome Girls are a group of women who support and promote comics and other genre fiction and fandom. The organization was started just a few years ago and has grown to five chapters: Las Vegas, Phoenix, San Francisco, Los Angeles and Flint, Mich. Locally they can be seen volunteering at nearly every event involving nerdy activities.
The event often coincides with the release of a major film based on a comic book. This year it's "The Amazing Spider-Man 2."
"We're having a raffle for 'The Amazing Spider-Man No. 9,' " said Roland Wellington, manager of Cosmic Comics, 3830 E. Flamingo Road. "That's the first appearance of Electro (the villain portrayed by Jamie Foxx in the new film). We'll be giving out raffle tickets throughout the day, but you have to be here at 6 when we will be doing the drawing to win."
The shop pulls out all stops for the celebration with early bird specials for customers waiting in line when the store opens at 9 a.m., costume contests, appearances and sketches by local comics creators and other events.
"It's kind of like the Super Bowl of comics," Wellington said.
Action Comics and Games, 210 N. Boulder Highway, is set to hold a food drive in conjunction with the event. Customers bringing in nonperishable food items will receive raffle tickets for comics and the grand prize of a Spider-Man slot machine.
Jay Bosworth, owner of three Maximum Comics stores, at 4130 S. Fort Apache Road, 520 S. Marks St. and 7950 W. Tropical Parkway, plans to use Spider-Man as a major element at his stores on Free Comic Book Day.
"Every year we have to top the year before," he said. "We'll have guest appearances by the Amazing Spider-Man at all the stores and raffles with Spider-Man themed prizes and a laptop computer. 'The Amazing Spider-Man No. 1' is launching that week, and we'll have a special Maximum Comics variant cover."
The book is not part of Free Comic Book Day, but it's notable because, after almost 50 years of publication, "The Amazing Spider-Man" ended with issue 700 in January 2012 with the apparent brain death of the hero's alter ego Peter Parker. The storyline continued in a new book titled "The Superior Spider-Man" with the mind of villain Doctor Octopus in Parker's body. In a move that surprised pretty much no one, Peter Parker returned to his body, and Spider-Man's flagship title is set to relaunch with a new first issue. Orders for the book are through the roof, with nearly 600,000 initial orders of a book with multiple variant covers, including those personalized to specific shops. The Maximum Comics variant features a re-creation of the cover of 'Amazing Fantasy No. 15,' the first appearance of Spider-Man, with Bosworth cast in the role of the bad guy.
(Don't worry, there won't be a test on this.)
Spider-Man is featured in a secondary story in "The Guardians of the Galaxy," one of the free comics produced by Marvel Comics. The Guardians are set to make the leap to the big screen in August with a film featuring some characters that are strange even by the standards of comics, including a tree-man and the furry, tough-talking pilot and marksman Rocket Raccoon, who has his own book for Free Comic Book Day.
It's not just big-name companies that participate in the event. Some of the more impressive titles come from lesser-known companies such as Archaia, which added "The Mouse Guard, Labyrinth and other stories," a 48-page hardcover anthology comic to the almost 60 titles available for Free Comic Book Day.
Not all comic shops will have all the different free titles. The books are sold to the stores at a much lower cost, but they're free for the customers, not the retailers, who order the books they feel their customers and potential customers will be most interested in. The event brings in new faces and rewards regular customers, but it's not a moneymaker for the stores.
"We did it at first because it was new and sounded interesting," said Derrick Taylor, owner of Comic Oasis, 121 N. Rainbow Blvd. "Now we do it because everyone looks forward to it. It's a hard, busy day, but it's a great time and it's rewarding to see so many people having a good time."
For many years, the lines have gone out the door of Comic Oasis. Taylor said the store is set to give out more than 5,000 books and sell many others at greatly reduced prices.
"We don't put too many limitations on how many books a person takes, other than be a decent person and don't take stacks," he said. "If a teacher contacts us ahead of time we can usually make arrangements so they can bring a bunch for their students. The general rule of thumb is to take something you're going to read."
All of the stores are open various hours, but most will be celebrating Free Comic Book Day all day. The special events, including bands and appearances by comic creators are scheduled from 2 to 5 p.m. at HellPop! in The Arts Factory, 107 E. Charleston Blvd., but for comic fans who want to take the celebration into the evening, Cosplay Karaoke is scheduled from 6 to 10 p.m.
The operators of one of the newest comic shops in town, Jesse James Celestial Comics at Neonopolis, 450 E. Fremont St., have decided that one day isn't enough, and they plan to have free comics and special guests Saturday, Sunday and Monday.
When the dust settles, most of the retailers will start setting their sights on next year's Free Comic Book Day.
"I love the event, it's a great chance for the comics community to come together," Bosworth said. "It brings people in. It gives people an excuse to get the whole family out and introduces kids to reading.
For information about Free Comic Book Day visit freecomicbookday.com.
Contact F. Andrew Taylor at 702-380-4532 or ataylor@reviewjournal.com.