'Idaho!' brings plenty of old-fashioned fun, irreverent humor to Smith Center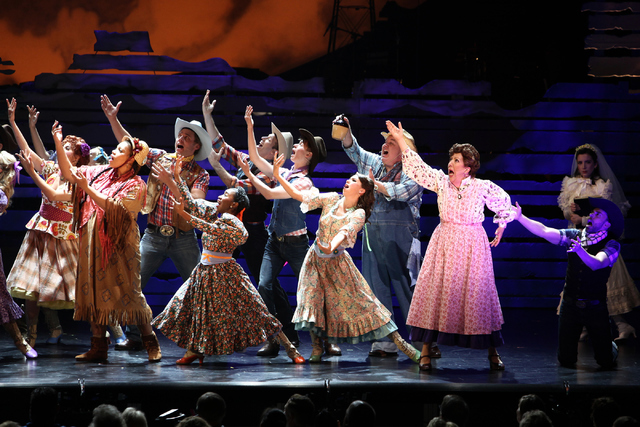 Toto, I don't think we're in "Oklahoma!" anymore.
But we're close enough to get all the knee-slappin', poke-in-the-ribs jokes in "Idaho!" — the new "comedy musical" that receives its first full production at The Smith Center's Reynolds Hall through July 17.
The jury's still out as to whether hip-hop "Hamilton" fans would recognize, let alone embrace, a spoof of such golden-age musicals as Rodgers and Hammerstein's 1943 landmark "Oklahoma!"
Yet even if they don't get the references, there's plenty of good old-fashioned fun — and irreverent humor — to enjoy.
Nothin' fancy, to be sure. But "Idaho!" proves the fundamental things still apply: well-crafted songs and dances, brought to life by appealing performers who are in on the joke but take their characters seriously.
That's about the only place you could apply the word "serious" to "Idaho!" It's the kind of show where everyone's tongue is so firmly in cheek it's a wonder the performers can deliver the lyrics — and punch lines.
"Idaho!" transports us to the turn-of-the-20th-century Gem State, where stalwart spudbuster Whip Masters (brawny, big-voiced Nathaniel Hackmann) knows that "Heck, it's a helluva day!" because, after all, "I'm the leading man."
He meets his leading lady, mail-order bride Cassie Purdy (a winsome Jessica Fontana) when she arrives by train from Ohio. Alas, Cassie's not Whip's bride. Instead, she's contracted to marry odious land baron Jed Strunk (deftly despicable Paul Vogt).
This here being a musical, we know that Whip and Cassie are meant to be together. And this here being a meta musical spoof, their getting together entails heaping helpings of humorously self-referential elements direct from the "Oklahoma!" (tem)plate.
You may recognize such characters as down-home matriarch Aunt Pearlie (tough yet tender Jennifer Perry, taking a break from Broadway's "Kinky Boots" to reprise a role she created) to not-only-cain't-but-won't-say-no Ida Dunham (saucy Alex Ellis). Or such songs as "Boise's Jist as Noisy as Kin Be" (as opposed to its "Oklahoma!" inspiration, "Everything's Up to Date in Kansas City"). There's even a dream ballet, an "Oklahoma!" innovation, along with another, even funnier "Twister Ballet."
Buddy Sheffield's "Idaho!" script moves the sexual subtext of its inspiration into the foreground, but it's all good clean dirty fun. And the score — by Sheffield and Las Vegas' own Keith Thompson, who also arranged the music and conducts the onstage orchestra — augments the laughs with lilting melodies that wouldn't seem out of place back in the "Oklahoma!" era.
Director Matt Lenz maintains a just-brisk-enough pace to leave plenty of time for the jokes to land, while Michele Lynch's lively choreography gives every number a kick. And Las Vegas-based Andy Walmsley's imaginative, barn-plank sets conjure not only the show's frontier setting but the spirit of all those vintage musicals where somebody exclaimed, "Hey, kids, let's put on a show!"
Who knows whether "Idaho!" will have a life beyond this Smith Center production. (Its producers hope the creative journey will lead, ultimately, to Broadway.) But it's heartening to know that it deserves one.
Read more from Carol Cling at reviewjournal.com. Contact her at ccling@reviewjournal.com and follow @CarolSCling on Twitter.
Review
What: "Idaho!"
When: 7:30 p.m. Thursday, Friday and Saturday, 2 p.m. Sunday; also 7:30 p.m. July 12-16, 2 and 7 p.m. July 17
Where: Reynolds Hall, The Smith Center for the Performing Arts, 361 Symphony Park Ave.
Tickets: $39-$89; $39-$129 Saturday, including opening-night Ida-Ho-Down party (702-749-2000, www.thesmithcenter.com.)
Grade: B