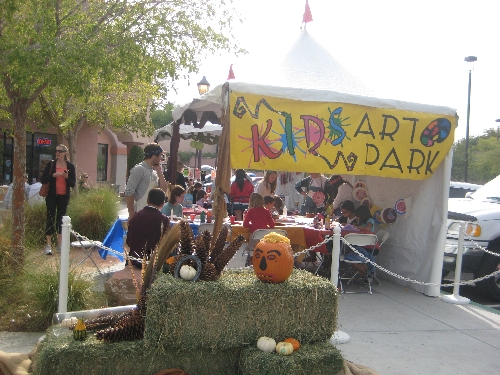 Complex Moves
Surely when a new dance company is created, it's got a leg up (forgive us, we're pun-mad) when the creators once hoofed for the Alvin Ailey troupe. Such was the advantage given to the Complexions Contemporary Ballet, founded in 1994 by Ailey-ites Dwight Rhoden and Desmond Richardson.
Blending methods, styles and cultures, Complexions glides — no doubt with exceptional grace — into the University of Nevada, Las Vegas, for a performance as part of UNLV's New York Stage & Beyond series.
Combined, Rhoden and Richardson have eclectic credits beyond Ailey, stretching from TV appearances on PBS, VH1 and E! to stage work for Cirque du Soleil and the Joffrey Ballet. That variety informs the work that makes Complexions so, well, complex.
They'll definitely keep dance fans on their toes.
Catch their artistic interpretations at 8 p.m. Saturday at Artemus Ham Hall. Tickets are $35, $50 and $75. Call 895-2787 or visit pac.unlv.edu.
Walking the Artistic Trail
Art gets some exercise this weekend at the 14th annual ArtWalk.
Stroll over to the Trails Village Center in Summerlin for this free celebration of artwork and fine crafts, with a kids' craft area and art demonstrations. Many mediums — including mixed media, oils, watercolors, photography, metal, ceramics, wood, fiber, hand-created jewelry and glassworks — will be featured in the art show, produced by the Mark Vranesh Studio. Local art guilds, including the Fiber Arts Guild and the Nevada Clay Guild, will demonstrate their craft and sell their work.
Get artistically enriched from 10 a.m. to 4 p.m. Saturday and Sunday just by showing up at the center at 1970 Village Center Circle. For more information, contact Sandy Ray at 595-8255 or SRay621@gmail.com
Sin-ful Opera
Opera — you know, that art form where they sing melodramatically — comes to Sin City this weekend courtesy of the conveniently named Sin City Opera. Local countertenor Skip Galla adapted and directs Jacques Offenbach's "Ba-ta-clan," described as a "gender-smart farce of racist confusion." ("Farce"? How melodramatic could it be?)
Gleefully venturing into debauchery, "Ba-ta-clan," penned in 1855, satirizes politics and grandiose opera conventions and will be performed in English, with bits of French, Italian and Chinese "gibberish" tossed in.
We'd try to further clarify the plot, but you'll need to see it to (maybe) believe it. Sort it all out at 8 p.m. today and 10 p.m. Saturday at the Onyx, 953 E. Sahara Ave. Tickets are $10. For more information, call 732-7225 or visit www.onyxtheatre.com or www.sincityopera.com.
— By Steve Bornfeld