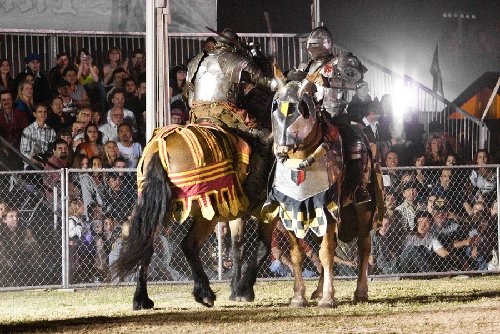 Festival
ANNUAL RENAISSANCE
FESTIVAL RETURNS
Ready to party like it's 1599?
Now's your chance, with the 19th annual Age of Chivalry Renaissance Fair bringing costumed knights and maidens, knaves and wenches to Silver Bowl Park today through Sunday.
The festival's longtime home, Sunset Park, is under renovation, so Silver Bowl Park takes over as a venue for more than 50 daily shows, exhibits by more than a hundred artisans, plus historical re-enactments, jousting tournaments, strolling minstrels, a royal parade and heaping helpings of food and drink, from fish and chips to a six-course feast.
Three Celtic rockers headline the main stages: San Diego's Lexington Field, Canada's The Mahones and local favorites Killian's Angels.
The Age of Chivalry Renaissance Festival at Silver Bowl Park, 6800 E. Russell Road, is open from 10 a.m. to 10 p.m. today and Saturday and from 10 a.m. to 4 p.m. Sunday. Daily admission is $10 for adults and $5 for seniors 60 and older and children 5 to 12 (ages 4 and younger are free); three-day passes are $25 for adults, $10 for children and seniors. For more information, call 455-8200 or go online to www.lvrenfair.com.
Family fun
IMAGINATION MOVERS
VISIT HENDERSON
Emmy-winning Disney Jr. stars Rich, Scott, Dave and Smitty – alias the Imagination Movers – kick off the second leg of their nationwide "Rock-o-Matic" tour tonight at the Henderson Pavilion. It's their only Nevada stop.
The four friends from New Orleans blend music, from hip-hop to rock to country, with onstage hijinks and audience participation – including "idea emergencies" to solve – plus stories and skits.
The Imagination Movers will perform at 7 p.m. today at the Henderson Pavilion, 200 S. Green Valley Parkway. Tickets ($10) are available by calling 267-4849 or clicking on www.HendersonLive.com.
Family fun
FREE OKTOBERFEST FUN
ON TAP DOWNTOWN
The fourth annual Oktoberfest celebration returns to downtown Las Vegas Saturday, serving up music, dance and children's activities at Centennial Plaza, on the campus of the Historic Fifth Street School.
The free event this year features a new children's activity area with face painting, magic, music, a balloon artist and games.
Alpine music from Salzburger Echo features 12-foot alphorns and Swiss cowbells, while yodeling master Kerry Christensen delivers yodel-centric music from cowboy to classical, Hawaiian to Alpine. The Las Vegas Bavarian Dancers also will entertain throughout the day; traditional food and drink will be available for purchase.
The Oktoberfest celebration continues from 2 to 10 p.m. Saturday at Centennial Plaza, 401 S. Fourth St. More information is available by telephone (229-3515 or 649-8503) or online (www.artslasvegas.org or www.germanamericanclubnv.com).
Music
NEW YORK POLYPHONY
HARMONIZES AT UNLV
Delivering medieval melodies with a modern sensibility, the four members of New York Polyphony bring their acclaimed harmonies to UNLV Sunday afternoon.
The music made by countertenor Geoffrey Williams, tenor Steven Caldicott Wilson, baritone Christopher Dylan Herbert and bass Craig Phillips has been hailed as a "stunning tour through chant, polyphony and renaissance harmonies," as Minnesota Public Radio described their "Tudor City" CD, which topped Billboard's classical album chart. Their most recent recording, "endBeginning," features rare and never-before recorded works from the Franco-Flemish Renaissance.
New York Polyphony will perform at 4 p.m. in Artemus Ham Hall at the University of Nevada, Las Vegas, 4505 S. Maryland Parkway. Tickets ($35, $50 and $75) are available by calling 895-2787 or going online to pac.unlv.edu.
– CAROL CLING