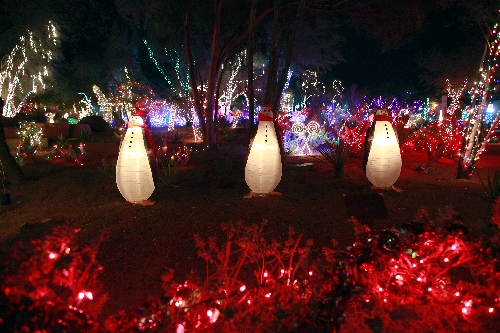 Holiday event
Still time to explore
Ethel M Cactus Garden
Just a little more than a week remains for Southern Nevadans to visit the colorful Holiday Cactus Garden at Ethel M Chocolates, 2 Cactus Garden Drive in Henderson.
Thousands of colorful Christmas lights are used each year to decorate the three-acre cactus garden adjacent to the chocolate factory.
Visitors can stroll down the garden's illuminated pathways to enjoy the sights, smells and sounds of the chocolate wonderland from 5 to 10 p.m. each day. The display is open through Jan. 1.
Back by popular demand, Ethel M invites visitors to experience the display in 3-D. Special glasses, available for purchase in the Ethel M store, will allow the attraction to come to life with special 3-D effects.
Among scheduled entertainment this weekend is the jazz group Blu 7 from 6 to 8 p.m. both today and Saturday.
Art
LANDSCAPE EXHIBIT ON DISPLAY AT BELLAGIO
The exhibit "A Sense of Place: Landscapes from Monet to Hockney" runs through January in the Gallery of Fine Arts at the Bellagio, 3600 Las Vegas Blvd. South.
The exhibit include more than 30 paintings and photographs plus a video creation and features both impressionist works from Claude Monet to precise pigment prints by Vik Muniz. Other artists included in the exhibit are Marc Chagall, Christo, Helen Frankenthaler and Robert Rauschenberg.
General admission to the exhibit is $15. Nevada residents and seniors 65 and older are admitted for $12, while students, teachers and the military pay $10. Children ages 12 and under are free. Between 5 and 7 p.m. Wednesday, locals are admitted for $8 with a Nevada ID.
The gallery is open from 10 a.m. to 6 p.m. Sundays, Mondays, Tuesdays and Thursdays and from 10 a.m. to 7 p.m. Wednesdays, Fridays and Saturdays. Free docent tours are given at 2 p.m.
"The pieces we've curated for this collection truly complement one another, and together they create a thorough exploration of landscape art," says Tarissa Tiberti, director of the local gallery.