In Brief: Theater, art and family fun
January 4, 2013 - 2:01 am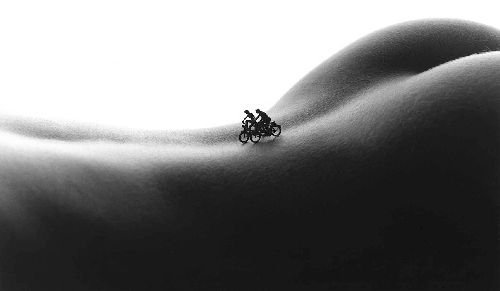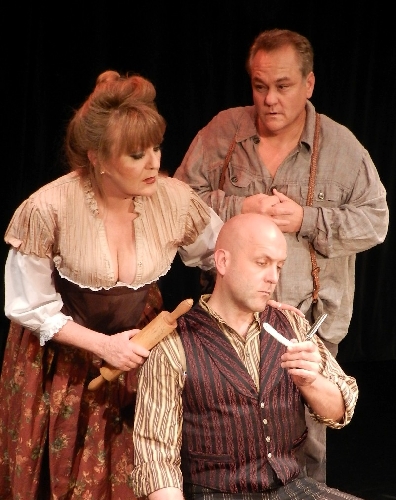 Theater
ONYX RESURRECTS
'SWEENEY TODD'
Attend the tale of "Sweeney Todd" – again.
After a smash October run – "we were turning people away at the door," recalls director Brandon Burk – Stephen Sondheim's award-winning musical thriller returns tonight to haunt the Onyx Theatre for three weekends.
"From a business standpoint, it seemed like a good idea," Burk says. In addition, the 13-member cast and offstage crew have "this great vibe," Burk says of "Team Sweeney." Little wonder, then, that they "wanted to work together again."
For all the good vibes offstage, "Sweeney" onstage radiates nothing if not bad vibes, spinning its dark tale of the title character (alias "the demon barber of Fleet Street"), who's driven to madness and murder in Victorian-era London. Chris Mayse portrays Sweeney (except at two matinees, when Glenn Heath takes on the role), with Kellie Wright as Mrs. Lovett, Todd's landlady and partner in crime.
Bringing the dark, bloody musical into the intimate Onyx heightens the audience's involvement, Burk says.
"We can incorporate them in the tale and make them feel a part of it," he explains, so audiences "experience it even more."
Off-Strip Productions' "Sweeney Todd" will be presented at 8 p.m. today and Saturday and 2 p.m. Sunday at the Onyx Theatre, 953 E. Sahara Ave. Additional performances are 8 p.m. Thursday, Jan. 11-12 and Jan. 17-19 and 2 p.m. Jan. 13 and 20. Tickets ($25 in advance, $30 at the door) are available by calling 732-7225 or visiting www.onyxtheatre.com.
Photography
'BODYSCAPES' OPENS
AT SIN CITY GALLERY
Now you see it – but what, exactly, are you seeing?
That is the question when it comes to photographer Allan Teger's "Bodyscapes." The show opens a seven-week run this weekend at Sin City Gallery.
Teger captured "best in show" honors last year at Sin City's juried "12 Inches of Sin" competition with "Mountain Climbers," which depicts two miniature men – scaling a female breast.
That juxtaposition – between shapes in nature and the shapes of the human body – have inspired a range of "Bodyscapes," from "Horse and Rider" to "Farmlands."
Trained in psychology, the Florida-based Teger (who'll lecture at the gallery Jan. 31) turned to photography in the 1970s to express the notion of multiple realities.
"The picture could be seen as a landscape and it could also be seen as a body," he explains. "Although they were different, both perceptions were right at the same time. I knew instantly that I had an entire series of images waiting to be captured on film."
Those images will be on display through Feb. 16 at Sin City Gallery, 107 E. Charleston Blvd., inside the Arts Factory. Gallery hours are from 7 to 11 p.m. Wednesdays through Saturdays and by appointment; for more information, call 608-2461.
Family fun
PRIDE OF THE MGM GRAND
AT HOME IN HENDERSON
The MGM Grand's lions have always called Henderson home.
But they're back in the public eye again, now that their private abode, Lion Habitat Ranch, is open to the public.
Owner Keith Evans, who's been keeping lions and other big cats at his ranch for more than four decades, transported the lions to the MGM Grand's habitat for 11 years – until the attraction closed last year.
Now, Evans has opened his ranch on weekends, when members of the public can observe the habitat's 40 resident lions.
This weekend is the last chance visitors will have to get up close and personal with seven lion cubs born in November, but the habitat also features other special programs, including "Trainer 4 a Day" and "Feast With the Beasts."
Lion Habitat Ranch – located at 382 Bruner Ave., Henderson – is open from 11 a.m. to 4 p.m. weekends, with the last visitors admitted at 3:30 p.m.
General admission for adults is $20; one child under 12 is admitted free for each paid adult. (Charges for special programs range from $200 to $800.)
More information is available by calling 595-6666 or by going online to www.lionhabitatranch.com.
Art
'IN FLUX' MARKS
ARTIST'S SOLO DEBUT
"Life throws us a curveball and we react somehow. The way we react is what matters."
That's how artist Yobana Graciano – aka Yobi – explains her solo debut, "In Flux," which opens tonight at Jana's RedRoom , inside the Arts Factory at 107 E. Charleston Blvd.
A self-taught artist currently attending the College of Southern Nevada, Yobi has studied painting, print making, graphic arts and photography at CSN, where her work has been recognized three times by fine arts faculty members.
She describes the works featured in "In Flux" as "an autobiographical manifestation" of "our bleakest darkest moments" and "a wake-up call from the thoughts and limitations we set for ourselves."
The exhibit, which runs through Jan. 27, will be open from 6 to 10 p.m. during tonight's First Friday event; regular gallery hours are from 11 a.m. to 4 p.m. Tuesdays through Thursdays and from 4 to 8 p.m. Fridays and Saturdays. (Additional hours are by appointment.)
More information is available by telephone at 454-3709 or online at www.janasredroom.com.
– By CAROL CLING