Inspiration all around in Las Vegas, artist Favela says
August 10, 2015 - 9:30 am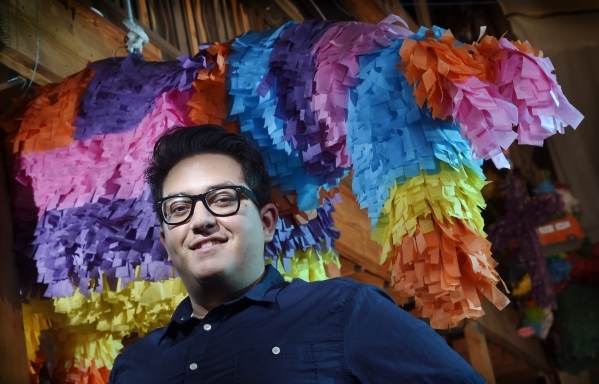 Vegas Voices is a weekly question-and-answer series featuring notable Las Vegans.
Justin Favela is known for his pinatas. These aren't your run-of-the-mill birthday party props, but fine art pieces that have been featured in various shows and galleries around town, as well as the Crystal Bridges Museum of American Art in Bentonville, Ark.
Born and raised in Las Vegas, Favela has experienced much of what this town has to offer. Being an artist also gives him a different perspective on the city.
We recently talked to the 29-year-old Favela about his hometown's art scene, whether Las Vegans appreciate art, and some of his favorite things about living here.
Review-Journal: How did you get into art?
Favela: I was really into music when I was in high school. When I went to UNLV, I took a drawing class, and I really liked it. I switched my major over to art. While taking classes, I was really drawn to sculpture because it was easy to express my ideas. Sculpting came naturally to me. As much as I loved it, I'm kind of a bad drawer.
Review-Journal: How has the art scene evolved in this city?
Favela: I remember when I first started making art in 2007. It was a very emerging art scene in Las Vegas. Everyone was hopeful. There was a lot of great galleries in the Arts District. Then things started going away. Galleries closed and people moved. Now, there are a lot of great spaces but not really a lot of new galleries. I feel the art scene is on the rise again.
Review-Journal: People often say there is no culture in Las Vegas. Do you think that is true?
Favela: No way. That's not true. There is so much culture. It's a young city so there is not a lot of history or tradition. Those are the things usually associated with culture. But Vegas is a unique place. Everyone knows what (Vegas) is from around the world. I think Vegas is a reflection of the cultures from around the world. It's not that there is no culture here; it's just different.
Review-Journal: What's the hardest part about being an artist in Las Vegas?
Favela: No one takes you seriously because you're from Las Vegas. I've heard a lot of people describe it as Sin City. Everyone talks about it being transient. Because of that, people think (Vegas) is just very temporary and everything doesn't matter. As a native, proud, battle born and raised in Las Vegas, it used to hurt my feelings. But I have my own views.
Review-Journal: What's the best part about being an artist?
Favela: We have the freedom. It's nice because we can be influenced by the art world. L.A. is so close, but we're not a part of the art scene. Because Las Vegas is kind of disregarded (as an art community), we are free to do whatever we want. It's also cheaper to be here in Vegas. A lot of artists who show here don't live here. Not a lot. I guess some. But they come from New York or Los Angeles or overseas and show here.
It's also easy to be inspired here. There is so much culturally and architecturally. It's the wild, wild West. Anything is possible.
Review-Journal: Do people appreciate art in Las Vegas?
Favela: I think people who live here do appreciate art. Maybe people who live here and don't ever leave or see what art can be in different cities. Maybe they don't have a firm grasp. The art they see in casinos is different than the rest of the world. But I think people do appreciate; it's just different.
Review-Journal: What is your favorite thing about living in this city?
Favela: So many things. I live in east Las Vegas and I'm proud of it. It's the best side. It's very real. I love that I'm 10 minutes away from Sam's Town, which I think is one of the most magical places in the world. It has the Western town theme. I have friends in from out of town right now, and we went and saw an awesome laser show at Mystic Falls Park. It's one of my favorite things. Plus, there are the best tacos in town. So many awesome things about Las Vegas that I took for granted.
Review-Journal: What do you think is the most underrated feature about Las Vegas?
Favela: I think how convenient it is here. If there is anything you want, you can have it at anytime in the day.
Contact reporter Michael Lyle at mlyle@reviewjournal.com or 702-387-5201. Follow @mjlyle on Twitter.