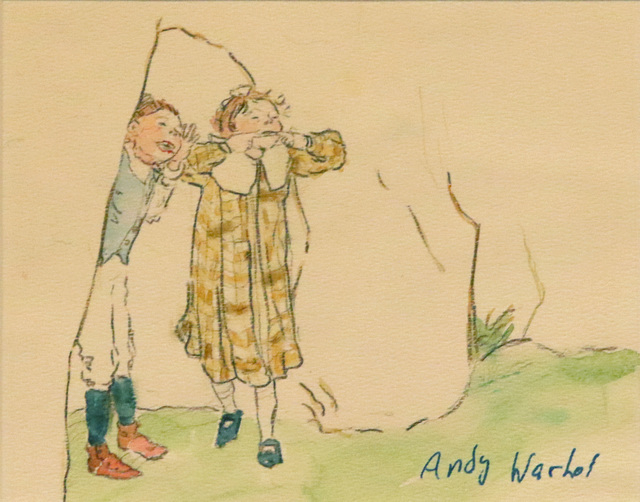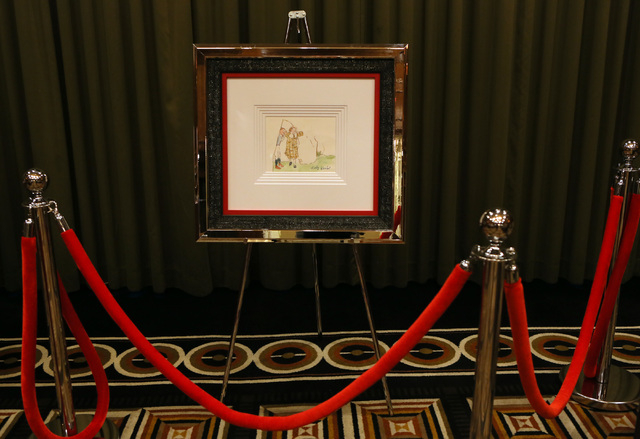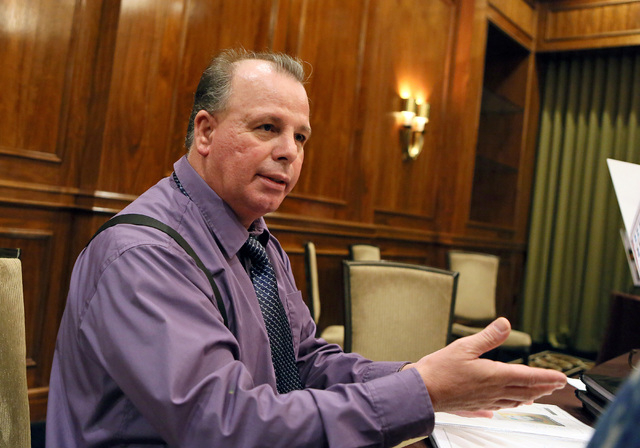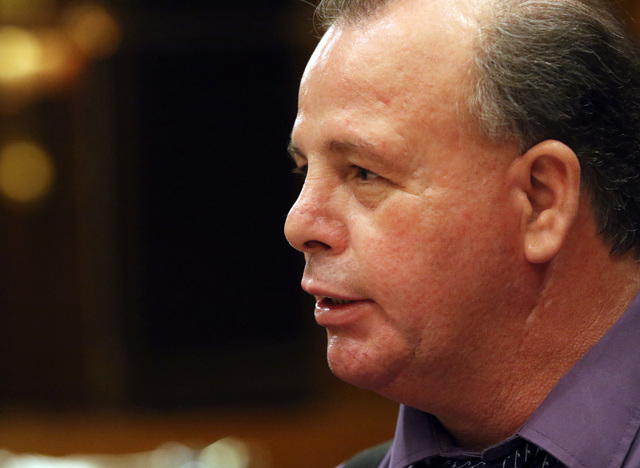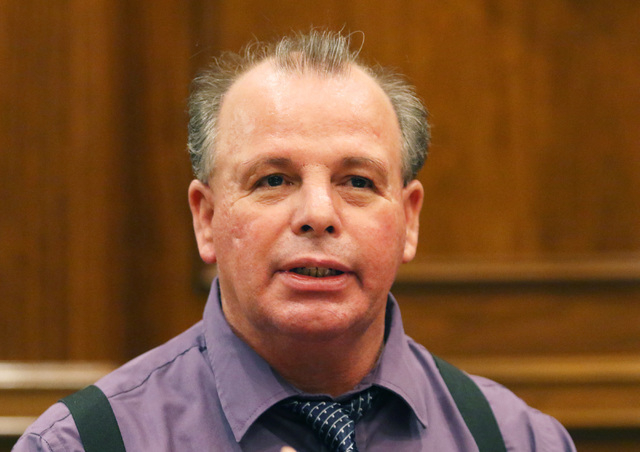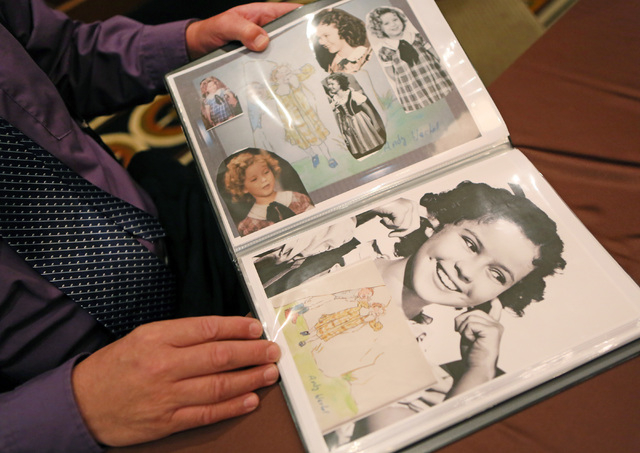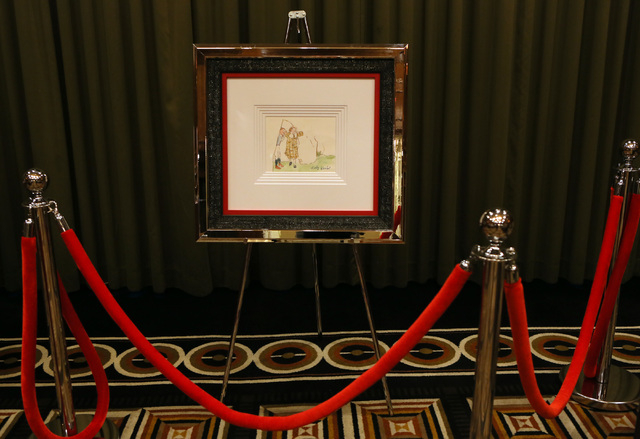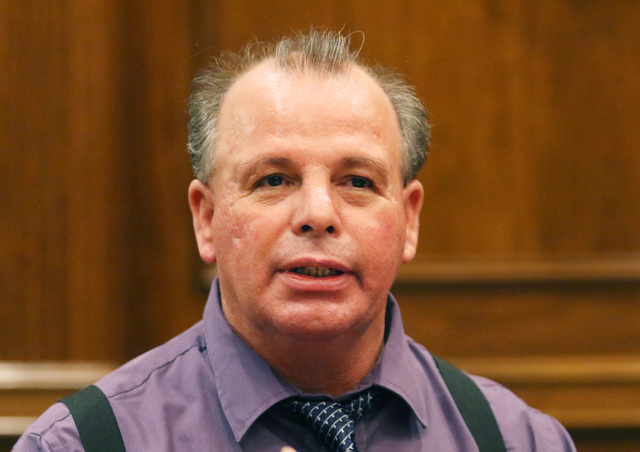 It's the kind of thing that always happened to other people — until the day it happened to blackjack dealer James Samaniego.
The amateur art collector bought a box of artworks at a 2012 Las Vegas estate sale for $200 — the same sale where British businessman (and poker player) Andy Fields bought some paintings and found, tucked behind one of them, an early Andy Warhol sketch of singer Rudy Vallee.
When news broke of Fields' find, Samaniego checked the box in storage — and a watercolor sketch fell out. Signed by Andy Warhol.
The watercolor depicts two impudent kids — a boy and a girl — making playful "nyah, nyah, nyah" faces.
When Samaniego found the sketch, hidden behind another painting, his reaction was "OMG," he said Thursday while unveiling the painting at a Trump International Hotel meeting room.
"I thought it would never happen to me," said the 20-year Las Vegas resident. "It's always happening to somebody else."
Samaniego, 59, believes the watercolor depicts Warhol himself and legendary child star Shirley Temple.
"I think of it as Saturday morning kids playing," said Samaniego, who's spent four years connecting the dots between the watercolor and the legendary pop artist, who died in 1987.
Samaniego believes he has enough evidence to prove its authenticity — including several notebooks filled with copies of photographs and news clippings that link Warhol and Edith Smith, whose nephew held the sale where both Samaniego and Fields bought their paintings.
In his research, Samaniego found a Shirley Temple picture autographed to "Andrew Warhola," Warhol's real name, along with still photographs from Temple's 1940 movie "The Bluebird" that show backgrounds similar to the one in the watercolor.
Shortly after discovering the watercolor, Samaniego approached Las Vegas-based appraiser Brett K. Maly (a regular on TV's "Pawn Stars" and author of "The Pocket Picker for Fine Art") to evaluate his watercolor. Maly appraised Fields' Rudy Vallee sketch for between $1.4 million and $2.39 million.
Although Maly didn't do a full appraisal of Samaniego's watercolor, "I'm saying it could be," Maly noted in a separate interview.
When Samaniego approached Maly, he "did provide some information that linked it to the same estate sale" that produced the Rudy Vallee sketch, which Maly determined was done by Warhol. "This one probably is, too."
But its estate-sale origin "makes the authenticity very difficult," in Maly's view, in part because the Andy Warhol Foundation for the Visual Arts closed its Warhol authentication board in 2012.
"If he (Samaniego) is going to want to sell the piece, another expert will have to step to the forefront," Maly said. "It's kind of in limbo — nobody is a recognized expert."
Samaniego does plan to sell the watercolor.
A Beverly Hills, California, auction firm contacted him but "they wanted too big a cut — I want to do it on my own," he said. "I wish a museum would buy it to give it a chance to show to the public. But if I get the right offer, it's probably going to a private collection."
Assuming he can convince whoever's buying it that it's a genuine Warhol, that is.
"I'm an amateur Warhol scholar. I'm no expert," Samaniego acknowledged. "According to my personal opinion, I believe it's real."
Read more stories from Carol Cling at reviewjournal.com. Contact her at ccling@reviewjournal.com and follow @CarolSCling on Twitter.