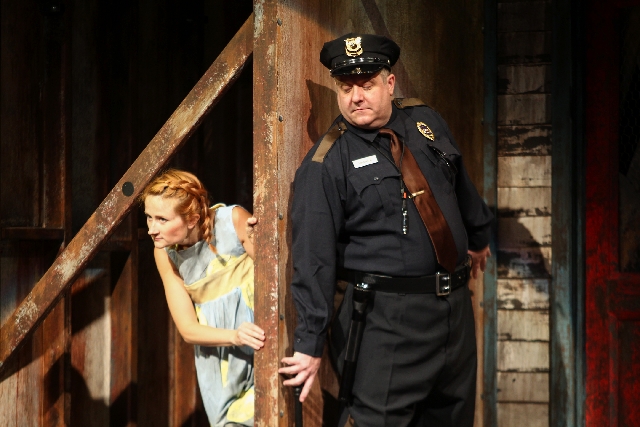 We all know about Southern Nevada's water problems.
But now that "Urinetown's" in town, they don't seem so bad.
After all, you can still use a casino restroom without having to ante up in advance.
That's more than we can say for the urban dystopia depicted in the Nevada Conservatory Theatre production of "Urinetown," which opens a two-weekend run tonight in the Judy Bayley Theatre at the University of Nevada, Las Vegas.
The play, which concludes NCT's 10th-anniversary season, takes place in a drought-stricken metropolis where water usage is controlled by a malevolent monopoly, the Urine Good Company.
Private toilets have been banned to conserve water — and enrich the UGC.
Oh, did we mention that "Urinetown's" a musical?
More accurately, "Urinetown's" a musical satire — a Tony-winning musical satire at that.
Just don't expect to hear "Some Enchanted Evening" as it weaves its comedic tale of parched lives.
"It's a Privilege to Pee" is more like it.
That particular in-your-face ditty, delivered by the steely Penelope Pennywise (Joan Sobel ), offers the following explanation to hapless souls desperate to access the filthy public toilet known as Amenity No. 9.
"I run the only toilet in this part of town, you see, so if you've got to go, you've got to go through me," Pennywise sings. "It's a privilege to pee. Water's worth its weight in gold these days, no more bathrooms like in olden days. You come here and pay a fee for the privilege to pee."
But Pennywise's assistant, the heroic (and aptly named) Bobby Strong (Jordan Bondurant ), has other ideas, prompting him to lead a pee-for-free uprising. (Any similarity to fervent young heroes leading rebellions in such musicals as "Les Miserables" is, we trust, far from coincidental.)
As philosophical street urchin Little Sally (Paris McCarthy) observes, it's "a bad subject for a musical and so is its title."
Tim Bennett, who's directing and choreographing NCT's "Urinetown," begs to differ.
"The show itself is wonderfully written, hysterically funny and playful," Bennett says. "It is political satire, but it's simple political satire. It's more a matter of having people examine themselves and how they interact in the world."
That's a process made easier, he adds, because the show "really skewers every and everyone's perspective. They leave no one unsatirized."
Not greed-is-good UGC boss Caldwell B. Cladwell (Nate Bynum ). Not his starry-eyed daughter Hope (Jade Payton ), an alumna of "the most expensive university in the world," who naturally finds herself torn between daddy dearest and the dashing Bobby Strong. And certainly not Officers Lockstock and Barrel (Adam Kozlowski , Alan Dronek ), charged with apprehending those who dare defy "Urinetown's" micturition restrictions.
Despite the musical's satirical bent, "it's by no means a heavy political point-of-view," Bennett says. "It pokes fun at everyone in a playful way."
And, in the process, "Urinetown" turns the tables on its characters — and its audience.
Bennett describes the show's message as "very, very obvious and purposefully on the surface," but notes that "what will surprise people is that the message you think you're getting is not the message you're getting."
Ultimately, the show's seemingly obvious message is "turned on its head," he adds, "and you say to yourself, 'Oh, wow — I wasn't expecting that.' "
Neither, perhaps, were Tony Awards voters, who recognized "Urinetown" in 2002 for Greg Kotis' book and its musical score, with lyrics by Kotis and music and lyrics by Mark Hollman . (Broadway director John Rando took home the show's third Tony.)
"Urinetown" began its theatrical life not on Broadway but at the 1999 New York International Fringe Festival; it played Off-Broadway in summer 2001 and moved to Broadway in September, its opening delayed by the Sept. 11 attacks.
The show was reportedly inspired by Kotis' experiences as a backpacker-with-a-budget in Europe, where he encountered a pay-per-use toilet.
Because "Urinetown's" book and score are satire, not parody, "it's played very straight," Bennett says. "We play it as it's written," and the sober tone contrasts with "the craziness of the situation."
This production is the second full-fledged musical production Bennett has staged in Las Vegas; the first was Mandalay Bay's long-running "The Lion King."
Unlike that show, where "the material had already been generated," this production means "we're starting with a bare script," the director says. "There's much more room to create from the ground up."
Although "Urinetown" hardly has the budget the Disney-backed "Lion King" enjoyed, that "doesn't feel limiting," Bennett says.
In part, that's because he's long wanted to work with Nevada Conservatory Theatre, which he describes as "sort of a hidden gem in Las Vegas."
Contact reporter Carol Cling at ccling@
reviewjournal.com or 702-383-0272.
Preview
"Urinetown"
8 p.m. May 3-4, 2 p.m. May 5; also 8 p.m. May 9-11, 2 p.m. May 12
Judy Bayley Theatre, University of Nevada, Las Vegas, 4505 S. Maryland Parkway
$20-$30 (895-2787, pac.unlv.edu)