It's all for one, fun for all in USF's 'Three Musketeers'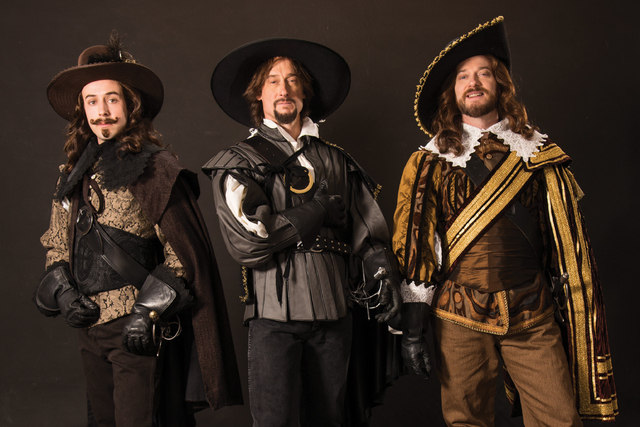 Some people hear the phrase "Caped Crusader" and think of Batman.
But the Utah Shakespeare Festival's rollicking new production of "The Three Musketeers" reminds us that caped crusaders were righting wrongs in Paris several centuries before the Dark Knight ever showed up in Gotham City.
Of course, all those who know Alexandre Dumas' swashbuckling classic also know "Musketeers" has four, not three, true believers in "all for one, one for all."
Start with veteran Musketeers Athos (world-weary J. Todd Adams), Porthos (boisterous Todd Denning) and Aramis (fastidious Tasso Fedman). Then add dashing wannabe D'Artagnan (gallant, spirited Luigi Sottile), newly arrived from Gascony, who just can't help stumbling into intrigue.
Then again, there's a lot of that going around in 1625 France, what with the powerful Cardinal Richelieu (petulant Peter Lohnes) forever plotting against King Louis XIII (the sublimely silly Ben Livingston).
Conveniently for Richelieu, Louis' queen, Anne of Austria (Kim Martin-Cotten, as vivacious as her consort is vacuous), may have a potentially scandalous weakness he can exploit, preferably with the able assistance of his favorite henchwoman, the lethally cunning Milady de Winter (fierce, menacing Melinda Parrett).
Just let them try. Our heroes will have something to say — and do — about that.
In adapting Dumas' tale, playwright Ken Ludwig ("Lend Me a Tenor") can't resist adding multiple jokey, poke-in-the-ribs anachronisms, the most notable being D'Artagnan's kid sister Sabine (feisty Sceri Sioux Ivers), a tomboy who's forever pleading with big bro "D'Arty" to join the Musketeer maneuvers.
But director B.J. Jones — with major assists from costume designer David Kay Mickelsen, lighting designer Donna Ruzika, scenic designer Scott Davis and fight director David Woolley — revs the pacing, keeping the action fast and fluid as the Musketeers draw their swords and twirl their capes, steeling themselves to save the day yet again.
It's a foregone conclusion that they will. But that in no way diminishes the diversion to be had watching them demonstrate what being a caped crusader is all about: all for one, fun for all.
Review
What: "The Three Musketeers"
When: In repertory through Sept. 9
Where: Engelstad Shakespeare Theatre, Utah Shakespeare Festival
Tickets: $20-$73 (800-752-9849, www.bard.org)
Grade: B