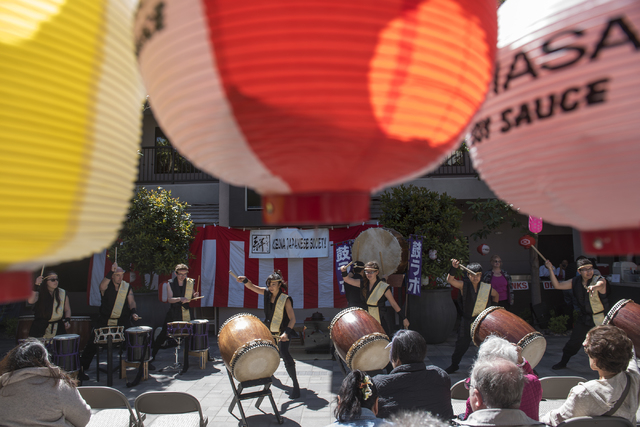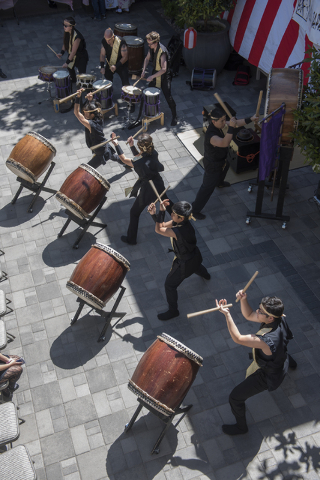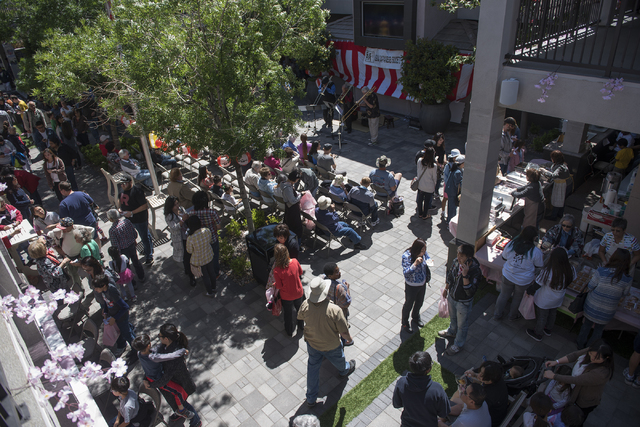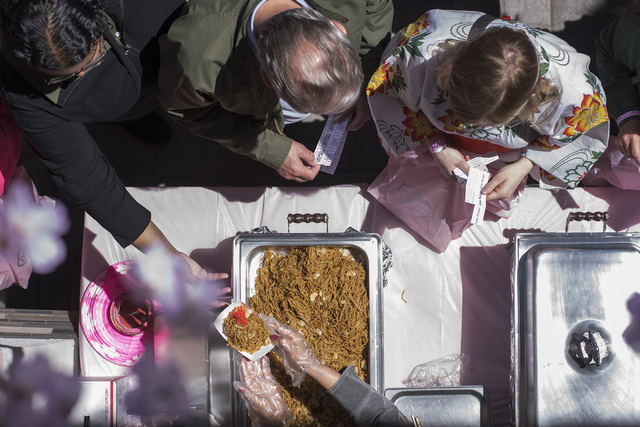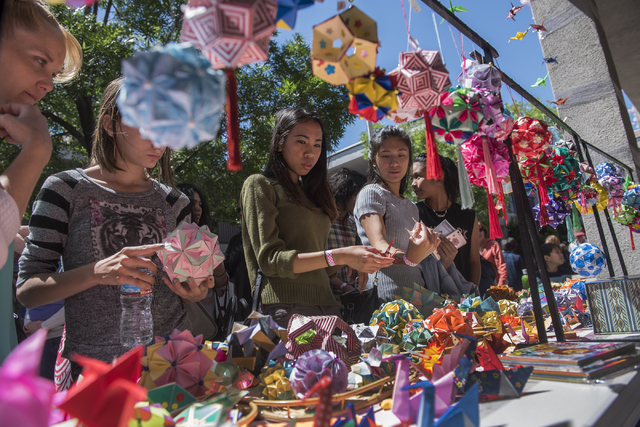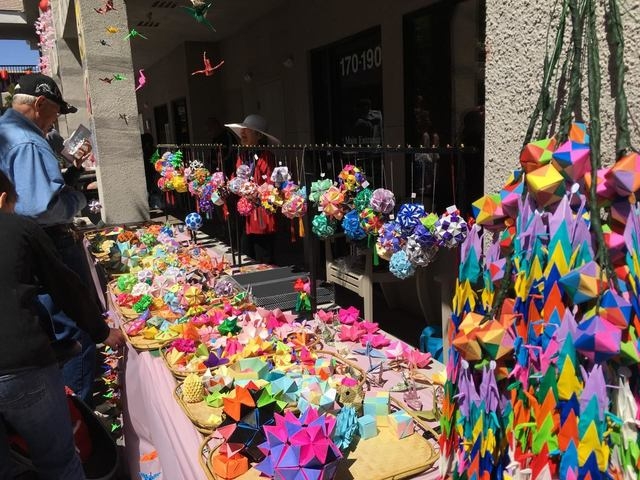 A common fear of hosts everywhere is throwing that proverbial party where nobody came.
That was not a problem for the Kizuna Japanese Society when it hosted its first Japanese Spring Festival in Las Vegas Saturday. Quite the opposite, in fact. It seemed everyone came.
Yuko Yamada, president of the society, was thrilled at the early turnout. Only two hours into the event, however, food began to run out. By 2 p.m., only the shaved ice remained.
The Kizuna Japanese Society had obviously been too successful in its marketing of the free family-friendly event celebrating Japanese culture. In addition to newspaper notices, the 110 society members offered fliers and Facebook reminders that attracted a crowd estimated at more than 1,500 people. (Initial planning had been for 200 to 500 people.)
The Coldwell Banker Premier Realty courtyard on West Sahara Avenue, secured with the help of society member Kaori Guerra, was initially seen as a perfect location for the new festival, but a larger space may be needed going forward.
Founded five years ago, the Kizuna Japanese Society (Kizuna translates as "bond") is a 501(c)(3) not-for-profit organization run entirely by volunteers. The group's purpose is to help elderly or disabled Japanese Americans with household chores, transportation, socialization and other necessary assistance. A request comes to the society and members determine who or what can fill the need.
The society also sponsors twice-a-month calligraphy classes (Yamada is the teacher), and the organization is looking to offer additional classes if sufficient interest is indicated.
The society is largely made up of older adults, with many members still being more fluent in Japanese than English. Noriko Carroll, the group's webmaster and graphics designer, also publishes the organization's monthly newsletter, which is written in Japanese and English.
"Although I'd estimate the majority of our members were born in Japan," she says, "some of the members don't speak Japanese, so we publish in two languages."
The newspaper tells members of upcoming activities, including meeting dates. The group meets the third Thursday of every month at the Japanese Chamber of Commerce offices.
Typically, the society has had events such as yard sales to raise money, but late last year the idea of the festival was suggested.
Planning, under the direction of festival chairman Kazuko Underhill, got serious in January. "We started publicity in February, " Underhill says. "One of the reasons for good attendance is that we got on calendars early."
Underhill reports some 90 volunteers helped make the festival a success. Included among the volunteers were 32 students from Arbor View High School and teacher Paula Patterson who arrived early (7 a.m.) and stayed throughout the day.
Featured at the festival were typical Japanese food favorites. For those unfamiliar with Japanese food, a few descriptions (in English) were required. Yakisoba, for example, is fried noodles with vegetables and meat. Yakitori is chicken on a skewer. Inari is fried tofu stuffed with seasoned sushi rice, and Spam onigiri is a rice roll cooked with Spam.
The food offerings came from Zen Curry of Japan, Ichiban Catering and Sushimom Japanese Restaurant who supplied food at cost. In addition, several booths welcomed visitors.
On hand and wildly popular were the origami hanging decorations of Ayako Tokumaga, most of which also sold out by the end of the day. For those into kimonos, a variety of handmade kimonos sewn by club members were also available and very popular with customers. Booths also featured children's cooking fun, Japanese scarfs, Japanese dolls, children's games, the Japanese art of flower arranging and calligraphy.
The event also incorporated a made-for-the-day theater with chairs for the audience. Opening at 11 a.m. was a drumming group led by Jen Kong followed by Hiroshi & Quartet, trombone-playing led by noted Japanese and Las Vegas musician Hiroshi Suzuki. At Noon, Jodie Cohen Shachu led a demonstration of a Japanese tea ceremony. The rest of the program featured Mieko Magaki performing with a koto, the national stringed instrument of Japan, a performance of the Kaminari Taiko drumming ensemble and a lesson in Japanese history. A group of aikido students from a nearby dojo heard about the festival and volunteered a last-minute demonstration in the theater; they were the afternoon's last act.
"We won't be having a final accounting of everything until next Friday," says Underhill, "but I know we couldn't have had this event without so many people being so generous. Coldwell Banker gave us the space for free; we had help from a number of local businesses, and our society members and other volunteers all pitched in to help."
"The festival was held for many reasons," said Carroll, "but one of the reasons is that we are proud of the Japanese culture. We're so grateful people wanted to share that culture with us."