Las Vegas artists give trash new life in art gallery
January 4, 2018 - 2:59 pm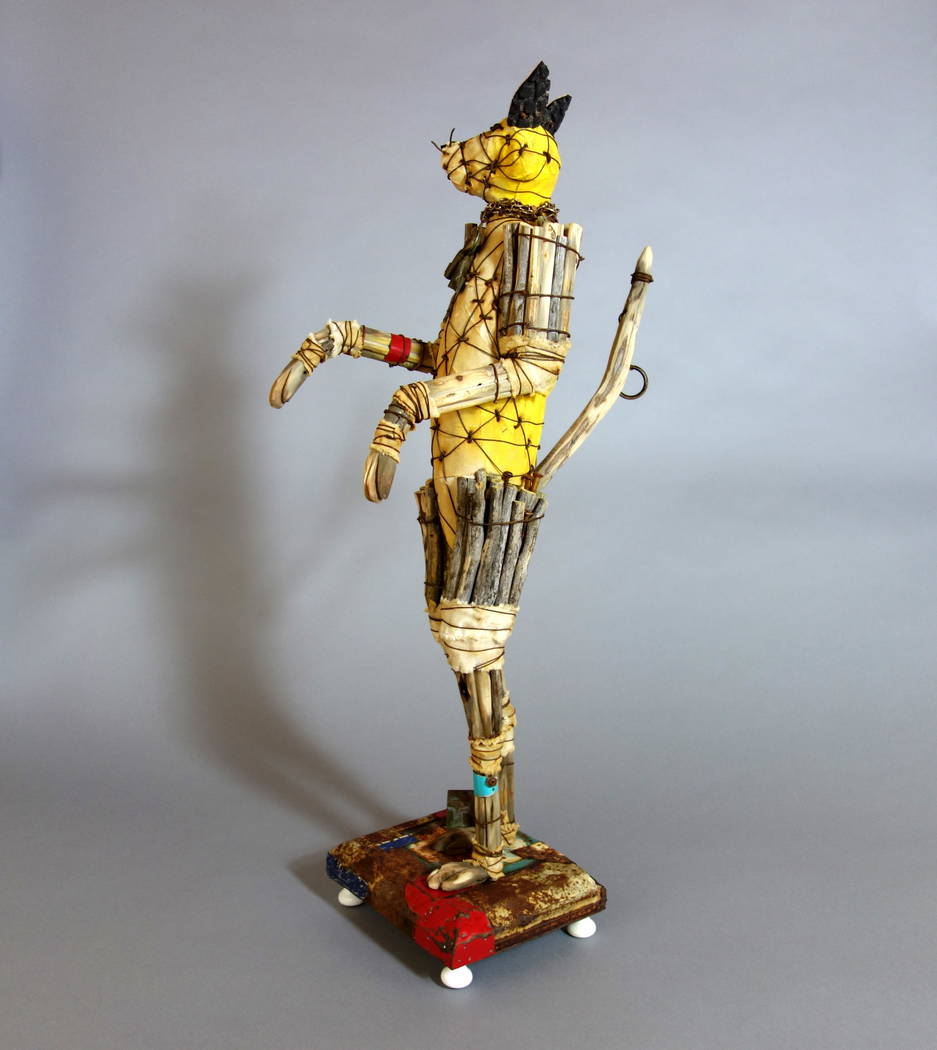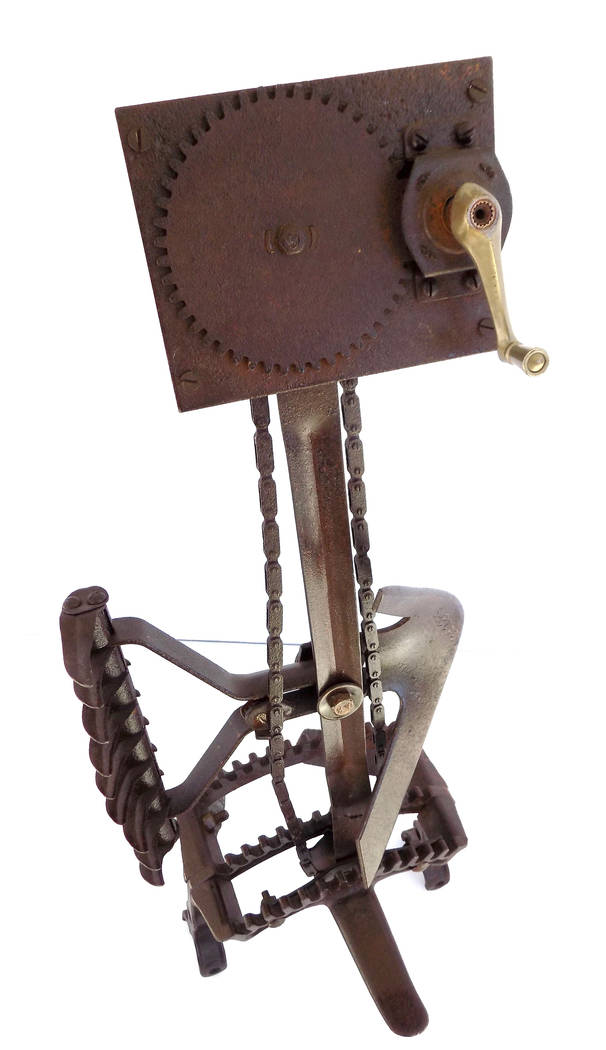 One person's trash is another's artwork.
At least for the eight artists participating in "From Refuse to Reuse," a newly opened exhibit at Las Vegas City Hall's Grand Gallery.
The featured works represent everything from human torsos to whimsical creatures, human and otherwise.
Despite their differences, however, they share one key attribute: they're all made from found or discarded objects their creators have rescued, then reused to create a new vision.
Gallery coordinator Jeanne Voltura, a visual arts specialist in Las Vegas' cultural affairs office, has "been trying to think of ways to liven things up a bit" at the first-floor City Hall exhibit area. "I wanted people to take notice of the space and the art," she explains, noting how "the space and the art … kind of support each other."
As for the art featured in "From Refuse to Reuse," Voltura wanted to highlight "the ingenuity of the human mind and the creativity," she notes. "Not everyone can think that way."
But some people just can't help it.
"Ever since I was a kid, I can remember looking at things like a bicycle frame and seeing how it looked like a rhino or a rabbit, or seeing faces in wood grain patterns and clouds," recalls Jud Turner of Eugene, Oregon, whose "The Candidates" features a trio of see-no-evil, hear-no-evil, speak-no-evil monkeys made from (among other things) motorcycle parts and old tools.
Everything made by another Oregon-based artist, Brian Mock, "is exclusively from reclaimed materials, which I love," he notes. That includes the City Hall exhibit's "Show Girl," a dog fashioned from old gears, utensils, tools and other metal pieces Mock welded together, "then grinding and cutting, fitting pieces here and there along the way."
There's just one problem, he adds: using only recycled materials "can almost limit the creative process at times, since I can only use materials that happen to be available."
For Las Vegas-based Alex Huerta, "the materials that I find" determine the shape of the artwork he's making, he explains. "It's really magical to build from things that are considered not usable."
Two 3-by-5-inch blocks of wood, for example, became the small building featured in his "A Voyeur's View" — because "to me, they always look like buildings," Huerta says.
He was originally inspired to use recycled materials after watching a documentary about famed artist Robert Rauschenberg, who frequently used something "viewed as a piece of garbage" as a creative springboard. "If I want to call myself an artist, I should be able to create something from anything," Huerta says.
Geoffrey Gorman of Santa Fe, New Mexico, was a gallery dealer and consultant before becoming an artist.
"Having been a gallery dealer, I got sick of artists who had to have the nicest studio and best materials," Gorman says. "I always thought you could make something from anything."
Las Vegas-based Jennifer Gilbert — who describes herself on her urbanIron.com website as a "metal artisan … who makes deliberate, one at a time, by hand stuff," from hardware to jewelry — has "an obsession with not wasting" materials.
"When you make things, there's always so much waste," she acknowledges, citing the bent straight pins she saved for years before making the "PinUp Girl" sculpture featured in the exhibit.
Another local artist, Glynn Galloway, has two pieces in "From Refuse to Reuse" — the metallic "Cranked," which includes a window-crank mechanism from an old car, and the whimsical wooden figure "Bowlegged and Bewildered."
Although he's "just so excited" about his work being featured in the City Hall exhibit, he doesn't much care for the exhibit's "From Refuse to Reuse" title, Galloway admits.
"I don't think they're refuse," he says of the materials he uses in his works. "They're almost like artifacts," especially because "I try to find components that have been handmade." In that way, Galloway feels as though he's "collaborating with people that created the components."
In addition to vintage and antique elements, Galloway — a recently retired certified registered nurse anesthetist — also likes to scour the desert for "rusty metal," he says. "I love the effect of sun and time and weather" to create "a patina you could never reproduce."
The results may not be perfect, Galloway acknowledges. But "to me, perfection is boring. I want to see the marks and scars and cracks that have come over time."
From Refuse to Reuse: Featured Creatures
"From Refuse to Reuse" — now at Las Vegas City Hall's first-floor Grand Gallery — showcases artworks created from found or discarded objects.
The starting point may be the same, but the destination differs from artist to artist.
Here are a few of the distinctive creations populating the new exhibit:
■ "The Candidates"
Artist: Jud Turner
Main materials: motorcycle parts, old tools, steel bearings
Artist's inspiration: "It is based on the Japanese pictorial maxim of 'The Three Wise Monkeys,' better know as 'See No Evil, Hear No Evil, Speak No Evil' …. I wanted to gently push this idea into the realm of current-day politics by making the monkeys red, white and blue and titling them 'The Candidates.' "
■ "Cranked"
Artist: Glynn Galloway
Main material: Old car window crank mechanism
Artist's inspiration: "I worked on car windows back in the day — and it's also kind of a statement about how we just discard everything" these days. "People don't take the time to look at what we have."
■ "PinUp Girl"
Artist: Jennifer Gilbert
Main materials: Straight pins
Artist's inspiration: "When I sew, I bend every single straight pin. … I sort of sat with the pins for quite a few years. Before, I had done a plaster cast of my daughter, which also sat around for awhile. … I thought the pins were really good with the contrast of a girl."
■ "Slim Gim Is a Cool Cat"
Artist: Geoffrey Gorman
Main materials: Bicycle tires, old sticks, rusted wire, tin cans, carved wood
Artist's inspiration: "I was literally goofing around in the backyard and I made (a) figure. For some reason, I made one figure and then another. Then I moved on to animals."
■ "A Voyeur's View"
Artist: Alexander P. Huerta
Main materials: Found wood, a metal handle, 35mm slides, collage
Artist's inspiration: "I found two blocks of wood, about 3-by-5 inches. To me, they always look like buildings. … It's like a snow house, in Vail (Colorado). A real exotic house. … And I add a little collage of three faces, guys in ski masks."
Preview
■ What: "From Refuse to Reuse"
■ When: 7 a.m.-5:30 p.m. weekdays through March 22
■ Where: Las Vegas City Hall Grand Gallery, first floor, 495 S. Main St.
■ Admission: Free (www.artslasvegas.org)
Contact Carol Cling at ccling@reviewjournal.com or 702-383-0272. Follow @CarolSCling on Twitter.