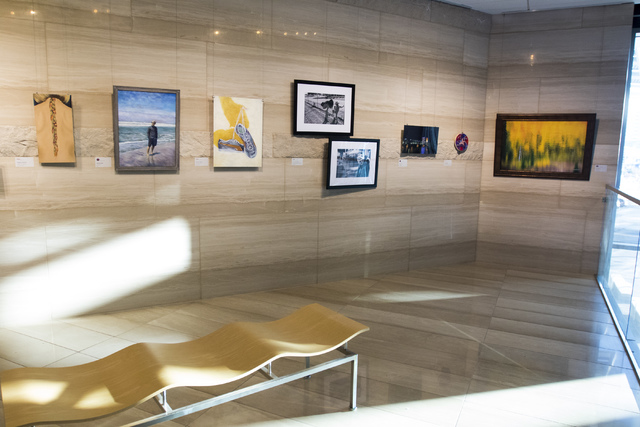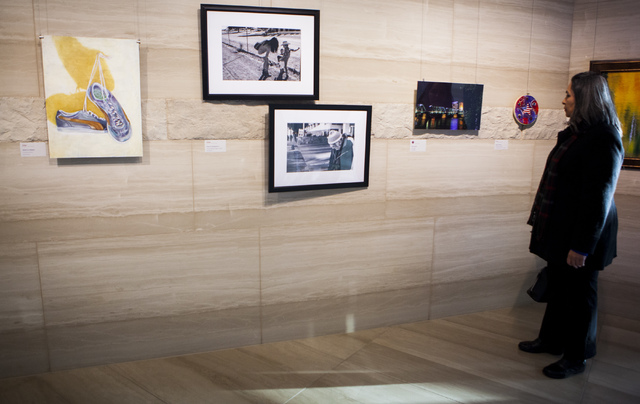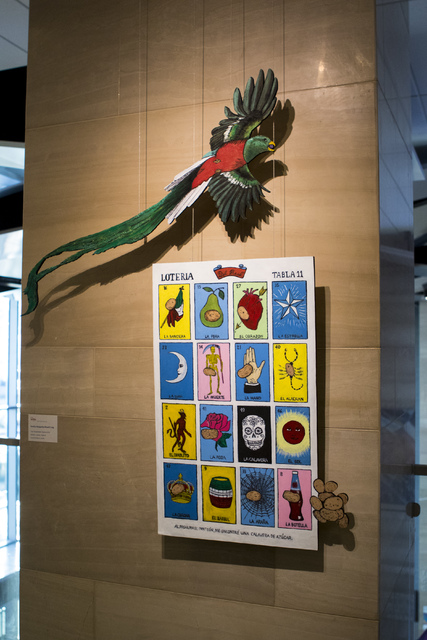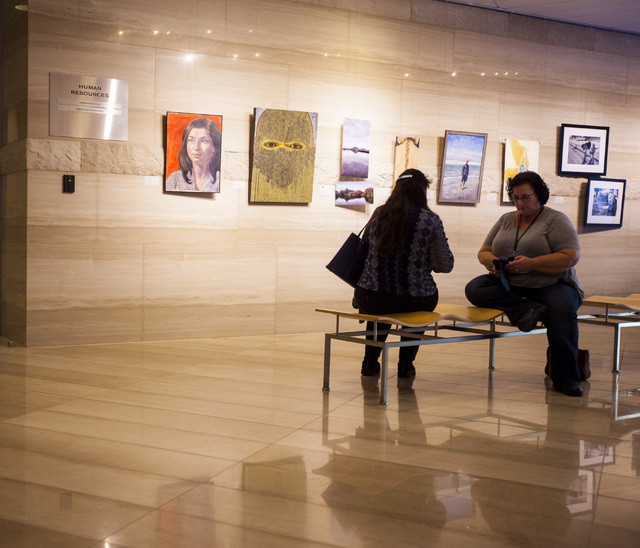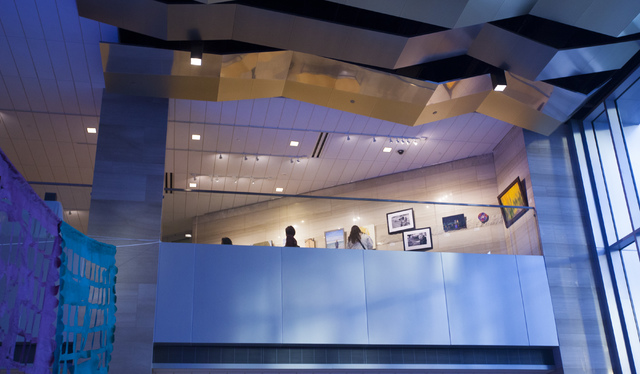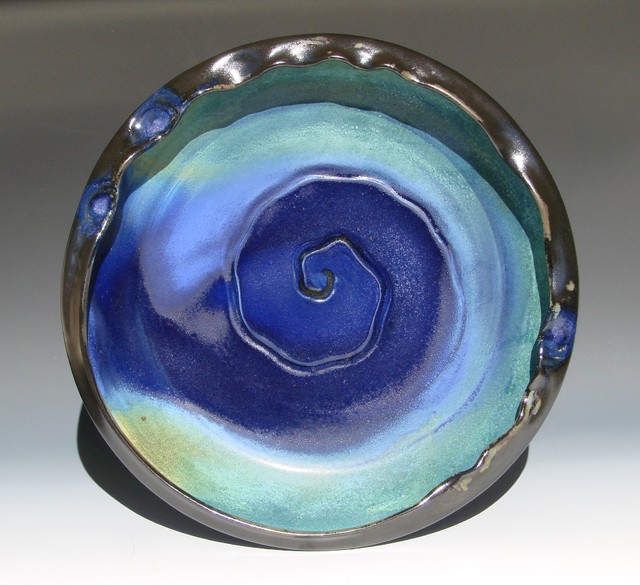 They may work different jobs — for different agencies.
But there's one thing they have in common: They're all artists.
Make that two things, because they're also part of the annual Las Vegas City Hall exhibit showcasing public employees' artistic talents.
The exhibit — at the second-floor Chamber Gallery — features paintings, photographs and ceramics, with portraits, landscapes and abstracts in the mix, curated by Clay Arts Vegas co-owner Peter Jakubowski. (Jakubowski's had a busy fall; in addition to teaching at UNLV, he also designed the lighting for Nevada Ballet Theatre's annual production of "The Nutcracker.")
The artworks featured in this year's employee exhibit cover a wide range, from traditional to contemporary/concept based, according to Jeanne Voltura, who oversees four gallery spaces operated by the city of Las Vegas, including the City Hall Chamber Gallery.
But Voltura's not only the gallery director, she's also an artist, represented in the exhibit by "Hairamerican Roulette," which depicts the distinctive hairstyles of 2016's presidential candidates — in embroidery.
Voltura created it for the yearlong "Dishing It Out" political satire series, but it "was the only thing I made last year," she admits. "Too much to do at work and at home."
That pronouncement could serve as the motto for many of the artists represented in the City Hall show.
"I'm a moonlighter for sure," notes Sandra Margarita Ward Craig, who works at Las Vegas' Charleston Heights Arts Center — and has been submitting her work to the public employee exhibit for more than five years.
Craig has two pieces in the current exhibit.
One is a wood carving of a quetzal — the brightly plumed bird that was a favorite of her late father.
Craig's painting "Loteria: Tabla 11," meanwhile, depicts the title game in progress, with mixed and matched cards — some real and some created for the painting, which she originally did for the Winchester Cultural Center's annual Day of the Dead festival.
Speaking of the Winchester center, once-and-future employee Irma Varela, who'll be returning there in January, is represented by three color photographs.
Two are nature studies of Clark County Wetlands Park; the third is a night shot of an illuminated bridge in Grand Rapids, Michigan, taken while Varela was attending a conference of state arts agencies.
"I always wanted to say, 'I'm an artist,' " Varela says. "I said, this time, I should enter something.' "
Jan Bennett, who has two oil paintings in the exhibit, recently retired after 24 years working for Nevada's Occupational Safety and Health Administration — and, before that, the adult parole and probation departments.
"I always did some kind of crafts or hobbies," notes Bennett, who now teaches art at a local studio. "It's been my love for many, many years. With the teaching, it's kind of my part-time career."
Yasmine Redding, who teaches ceramics for the city of Henderson, describes herself as "a part-time everything," with current stints as a substitute classroom teacher — and chauffeur for her children.
"This is my first time doing this," she says of her azurite platter, marked by swirling blue hues and the only 3-D piece in the exhibit.
"I teach adults how to throw on the pottery wheel," Redding says. "I'm forced to create stuff. I always get inspiration from my students."
For Melody Smith, who works in the Clark County assessor's office, "nobody would be seeing" her work — and that of some others featured in the exhibit — "if it weren't for shows like this."
Her oil painting "Ocean Tint" captures a solitary figure standing on a beach.
Other artworks featured in the exhibit range from the surreal (in Margaret DeClerk's "Serpent de Cheveux," a snake entwines itself in a woman's braided hair) to the abstract (Kent LeFevre's shimmering photowrap "Silver Lake").
The employee exhibit is in its sixth year, Voltura notes.
It began as a show for Las Vegas employees, but it was opened up to public employees from other Nevada agencies as well, she adds.
The exhibit's existence provides an incentive for artists such as Smith to complete paintings for the annual show.
Given her work and family responsibilities, carving out creative time can be a challenge, she admits. "But it's worth it."
Read more from Carol Cling at reviewjournalcom. Contact her at ccling@reviewjournal.com and follow @CarolSCling on Twitter.
Preview
What: Public Employee Art Exhibit
When: 7 a.m.-5:30 p.m. weekdays (closed weekends and holidays) through Feb. 2
Where: Las Vegas City Hall Chamber Gallery, 495 S. Main St. (second floor)
Admission: Free (702-229-1012, www.artslasvegas.org)