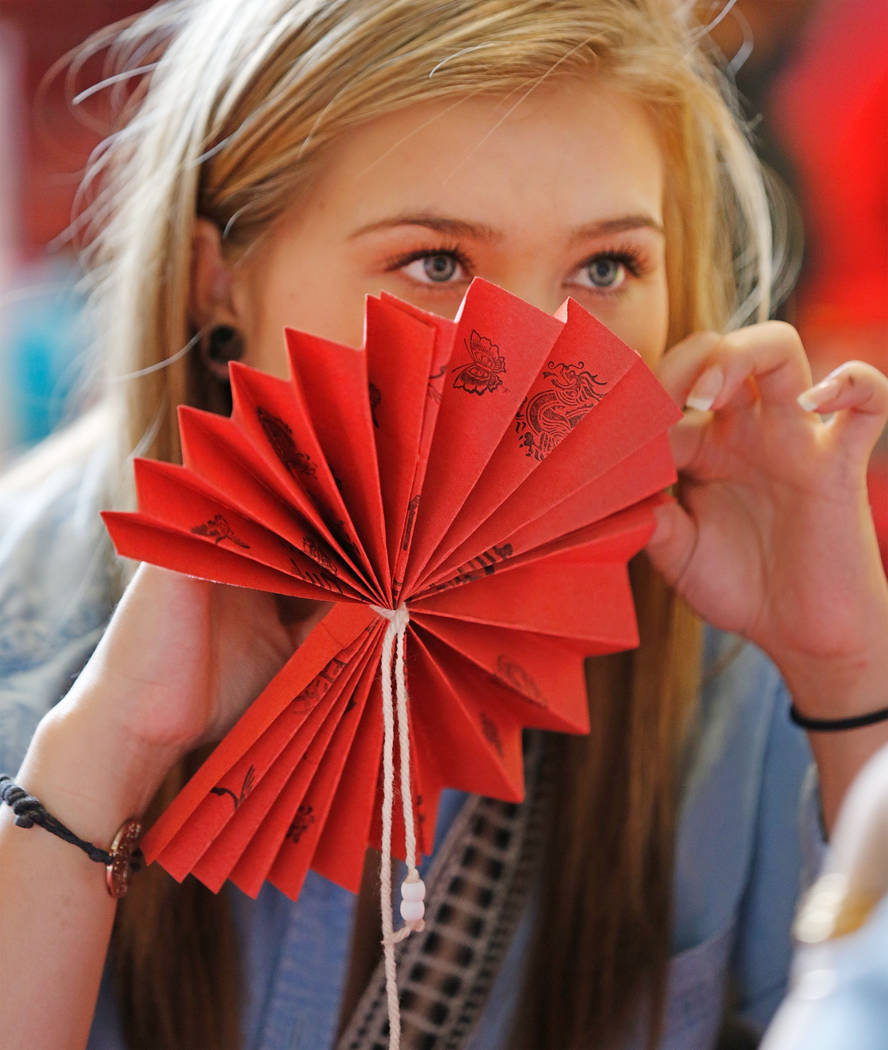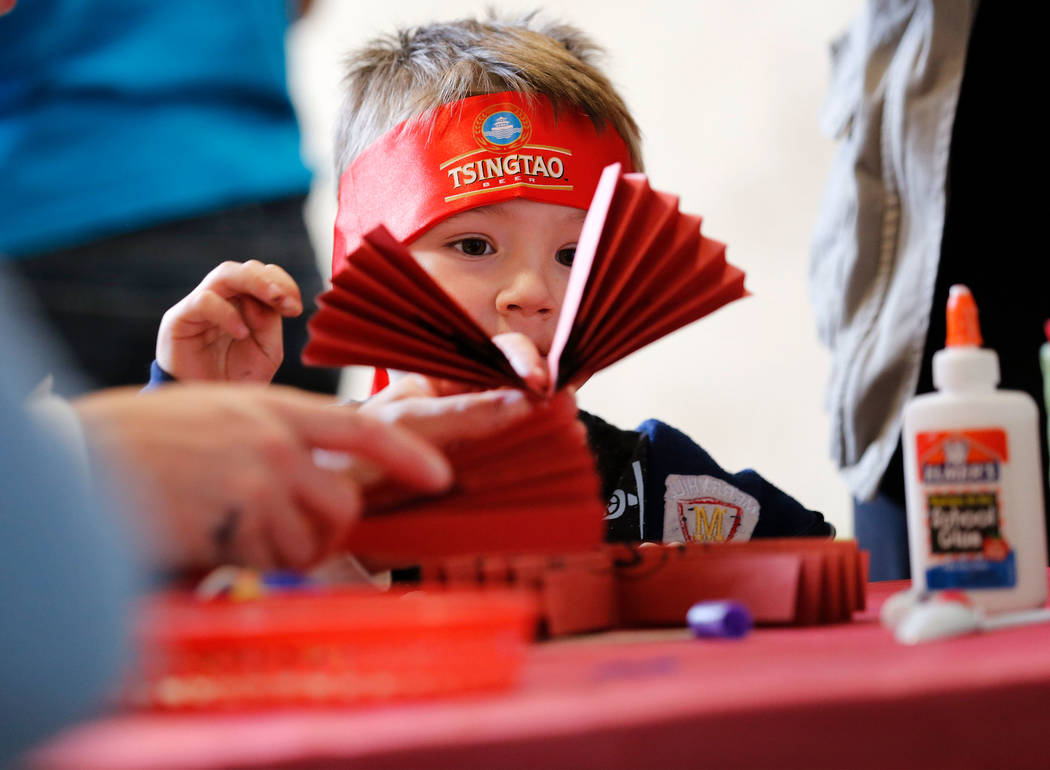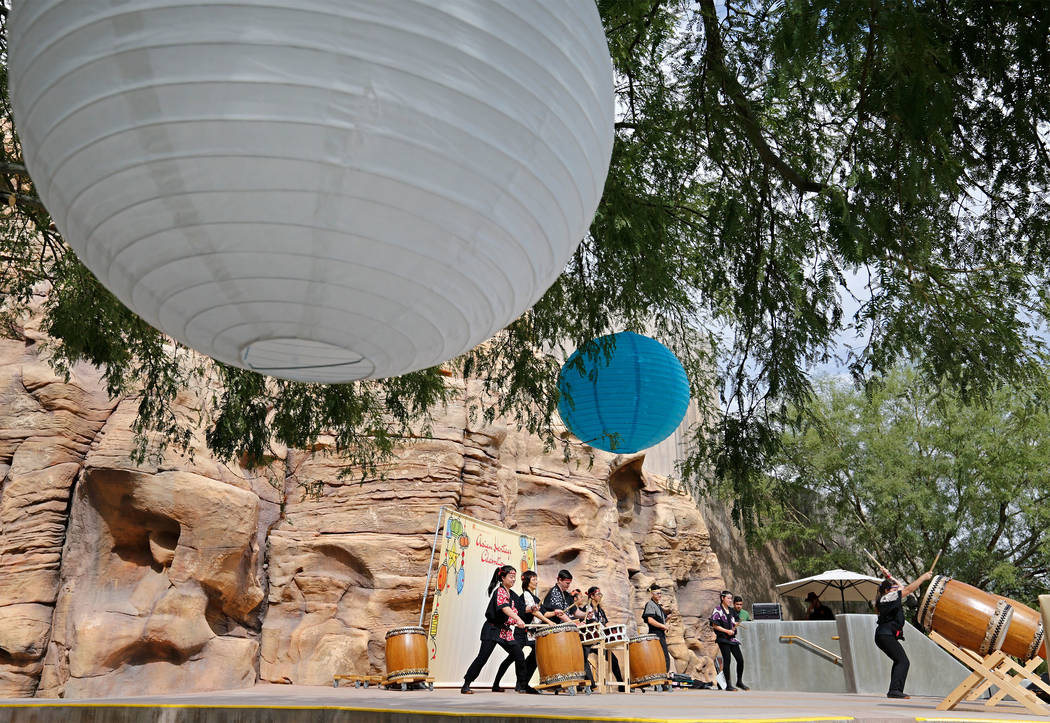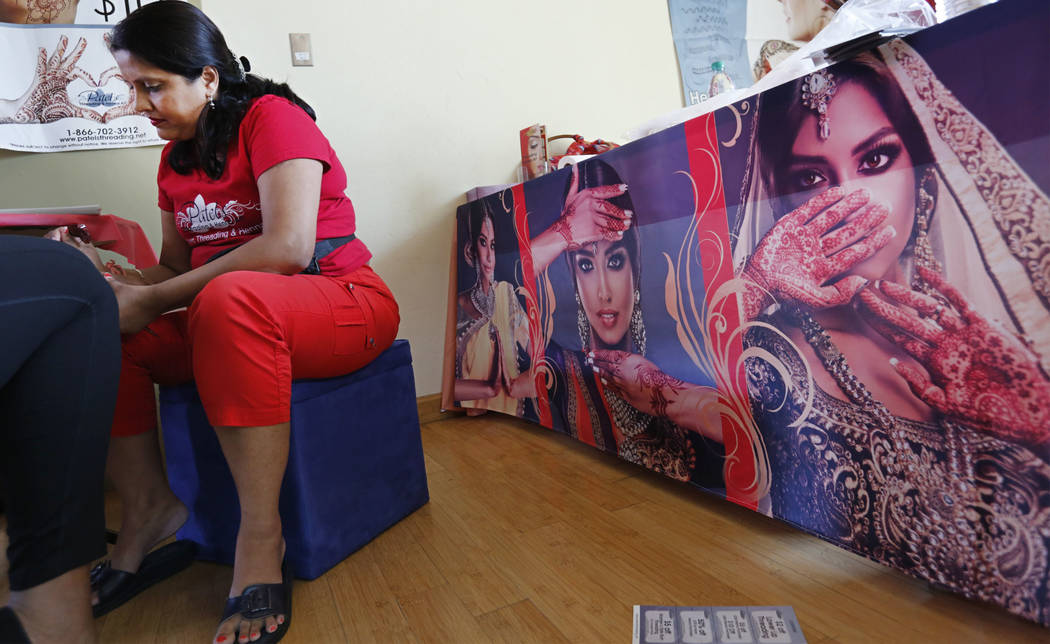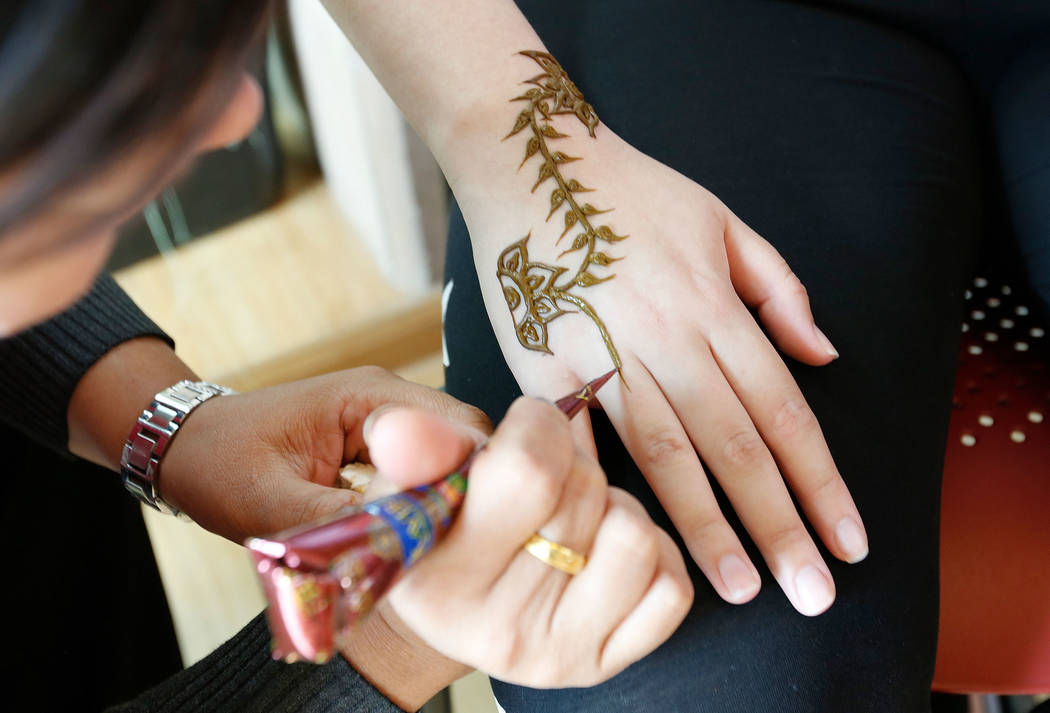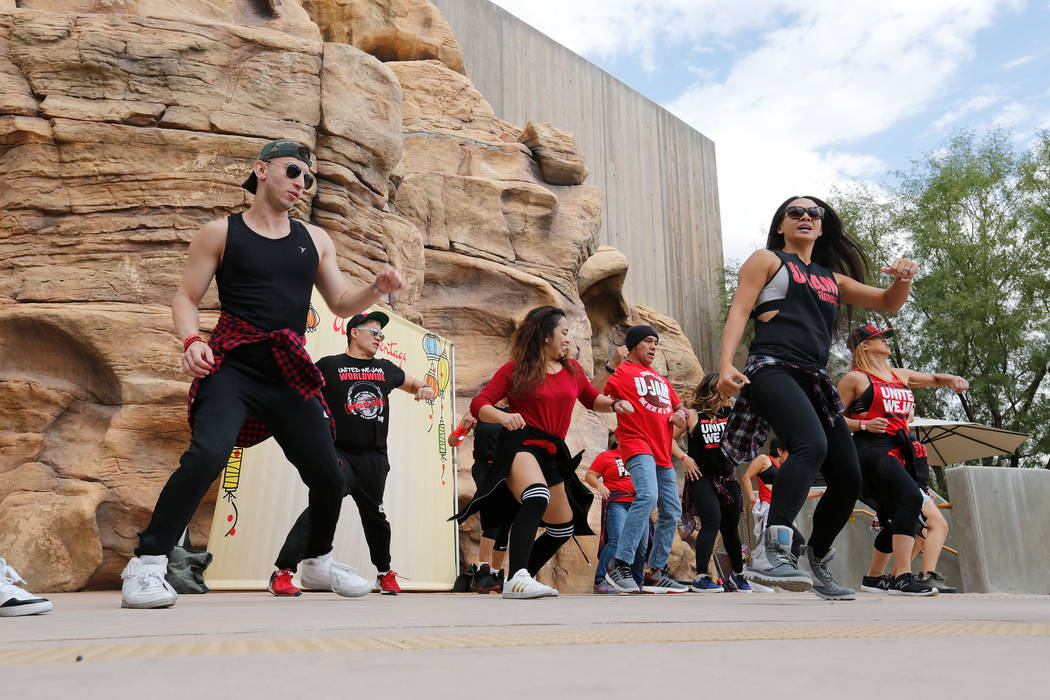 Children wearing red hachimaki headbands tied behind their heads scrambled over rock features Saturday afternoon at the Springs Preserve, pausing only to practice martial arts with little hands chopping the air.
The eighth annual Asian Heritage Celebration was in full swing by 2 p.m., as deep, syncopated beats of six taiko drums on the Springs amphitheater stage reverberated throughout the preserve's concrete and steel structures.
"Kazaguruma," the title of one song, means windmill, one drummer explained to the audience.
"Like a windmill, we like to take your energy and turn it into positive energy," said Jennifer Caballero, 33, who has been playing the drums for 15 years. "We always hope that our taiko-playing makes you feel good."
Las Vegas Kaminari Taiko, a troupe of drummers whose name appropriately translates to "thunder," paid tribute to the ancient Japanese style of drumming. One song combined the large, sweeping movements of the players with the leaping, choppy motions of one player's martial arts.
Mie Hammel, the Japanese woman who showcased her martial arts during the last song, has honed her martial arts skills since 1982 and has been playing taiko drums since 2011. Educating the community about Japanese culture is important to her, the 59-year-old said.
"A lot of Japanese-born (people), they don't know actual Japanese culture," Hammel said. "They know anime and music, but not the old, traditional culture."
Many audience members, many of whom sipped boba tea, held delicate, painted parasols and recorded the performances on their phones.
Around the corner, in a much quieter room, Elyse Petersen demonstrated how to prepare ceremonial matcha tea, which involves grinding young, dried matcha leaves into a fine, green powder and mixing them with water. The healthful components of the tea are preserved by grinding the leaves, rather than steeping them in water.
Petersen's company, Tealet, helps tea growers in India, China, Japan, Malawi and other countries sell directly to buyers. Petersen used ceremonial-grade matcha leaves imported from a grower in Shizuoka, Japan, in Saturday's demonstration.
"Ceremonial matcha has umami, the Japanese word for a sweet-savory flavor," Petersen said, gesturing with her hands, a green dusting of matcha residue on her fingertips. "It's got that buttery and savory flavor without adding sugar and milk."
Petersen said culinary-grade matcha, the kind of tea often found in grocery stores and in popular cafe drinks, tastes good only because of the added milk and sugar, which counteract the healthy effects of the ground tea leaves.
"It's funny how American tea lovers are actually helping maintain the 1,100-year-old heritage in Japan, which is dying," Petersen said of matcha's growing popularity in the U.S.
"The youth in Japan want to be like Americans, so they're drinking coffee, they're drinking sodas. They're leaving the tea," she said. "But now the young Americans are going to the tea. It's very cool."
Donna Brayman, 65, knelt barefoot as she watched the demonstration, her eyes fixed on the grinder, which was coated with forest-green matcha powder.
"I would go live in Japan if I spoke Japanese," the Seattle transplant said. Brayman spent four weeks in China in 2015 and was in Japan in May.
"After spending time in both those cultures … it makes a difference now drinking tea, even a quick cup," Brayman said. "You catch yourself stopping and going, 'No, this is an event.' Take five minutes, take a breath, drink the tea, smell the tea, enjoy the tea, and then go on with your day."
Rachel Espanola, 31, her husband, 33-year-old Sean Paul Espanola, and their three children spent the day getting their faces painted, observing tea ceremonies and learning different dances.
The Espanolas' daughter, 5-year-old Arwyn, had a sparkly unicorn painted on her left cheek and wore a red cloth headband. She wants to be a ninja, her dad explained, as she ran around the family's table and pretended to kick and hit her brothers.
"We are Asian. We're Filipino, so it was important to me to give the kids a taste of Asian culture and heritage," said Rachel Espanola. "As we go through and they see things that are similar to what we do at home, and then we find new stuff, it's really an all-inclusive learning experience."
Contact Kimber Laux at klaux@reviewjournal.com. Follow @lauxkimber on Twitter.