Las Vegas harpist represents Nevada at Kennedy Center concerts
September 20, 2012 - 1:04 am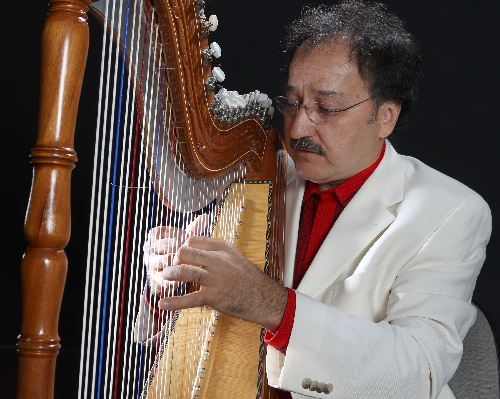 Cowboys play guitars. Cowboys who ride the range in the U.S., that is.
In Paraguay, however, cowboys play the harp. A distinctively Paraguayan harp.
Just ask Mariano Gonzalez.
The Las Vegas-based harpist – who grew up on a ranch in his native Paraguay – will represent Nevada next week in Washington, D.C., performing two concerts at the Kennedy Center and the Library of Congress as part of a series sponsored by the American Folklife Center.
The annual "Homegrown: Music of America" concerts showcase a wide variety of music – from bluegrass and gospel to traditions from around the world, according to Rebecca Snetselaar , the Folklife Program Associate in the Nevada Arts Council's Las Vegas office.
Folklife Center officials in Washington routinely contact the Nevada Arts Council for leads on Silver State musicians who represent "the diversity of the American experience," Snetselaar says.
"They figure they can find something different in Nevada," Snetselaar says. After all, "people think of us as a place where people come from all over the world" – some to visit, but others who "are working and pursuing their dreams here."
Gonzalez definitely qualifies as the latter.
A master of the Paraguayan folk harp and the folk music known as "guarania," Gonzalez plays other styles of music as well. He's aided in that pursuit by his own redesign of the Paraguayan harp, which allows chromatic adjustments, enabling him to expand his repertoire into jazz, pop and semiclassical music.
During a recent demonstration of his talents, Gonzalez cradles his Paraguayan harp ("the style, the skills, everything is different" from other folk harps, he notes) and caresses its nylon strings.
The tune that emerges, punctuated by an arpeggio here, a glissando there, would strike a chord with classic rock fans: It's a more fluid, lyrical rendition of Procol Harum's 1967 "A Whiter Shade of Pale."
At next week's concerts in Washington, D.C., Gonzalez will play the folk music of his homeland alongside three special guests: guitarist Dani Cortaza , singer Javier Di Francesco and dancer Iliana Belen Gauto .
It's the music Gonzalez, now 58, has been playing since the age of 5. That is, when he wasn't on horseback at the family ranch in Buena Vista, Paraguay.
Located about 200 miles away from the city, small-town Buena Vista provided Gonzalez plenty of room to ride.
But while "I come from a cowboy family" – and at one time rode race horses as a jockey – Gonzalez also comes from a musical family. A harp-playing musical family.
"Within the family there are 20 harpists," he notes, but some only play for fun. Others – like his father, uncle and a brother – are professional musicians.
Playing the harp "gave me the chance not to go into the field" and work, Gonzalez says. "But I have to practice, practice."
Which he did, whether serenading ranch hands coming in from the fields or studying at the Art and Cultural Center in Paraguay's capital, Asuncion .
Gonzalez's talents ultimately took him far from home – to Japan.
First performing at a Tokyo music festival as a member of a group called the Messengers of Paraguay, Gonzalez later worked for a Japan-based booking agency. (The harpist learned to speak English – and Chinese – during his 30 years in Japan, he says.)
But when his Japanese agency opened a Las Vegas branch, Gonzalez saw a chance to realize his dream – and come to the U.S., "especially Las Vegas."
During his first year in Las Vegas, Gonzalez met jazz pianist and arranger Bob Rosario, who made Gonzalez part of his jazz ensemble and helped the harpist find other outlets for his music, from the Winchester Cultural Center to casino showrooms.
PLAYING WITH TONY ORLANDO
And when veteran headliner Tony Orlando wanted a harp player in his backup band, Gonzalez was ready.
A decade later, Gonzalez still performs with Orlando – playing an electric harp, which creates "a huge sound" compared to his native Paraguayan instrument. (He's building a new electric harp to imitate guitar sound, he explains. "The young generation like a more louder sound.")
In addition to performing with Orlando, Gonzalez plays lounges, conventions, weddings and other gigs. He's been on the road for most of September, playing in Florida before next week's concerts in Washington.
Gonzalez previously played the Kennedy Center in 2002 and says he's excited about his return. (Tuesday's Kennedy Center concert will be streamed live at 3 p.m. Nevada time online at www.kennedy-center.org; an archived version of Gonzalez's performance will be posted at the Folklife Center's website, http://www.loc.gov/folklife/events/index.html.)
He's especially excited about representing Las Vegas – which remains, after a decade, "kind of a magic city." Except, perhaps, for the dry desert air that has triggered cracks in every one of his harps.
Otherwise, Las Vegas remains an ideal base for musicians from around the world, he says.
"If you are not a million-seller," Gonzalez says, "if you are coming from Las Vegas – wow, you are big star already. The Las Vegas name give you a lot of status. It's amazing, the name of Las Vegas around the world."
Contact reporter Carol Cling at ccling@reviewjournal.com or 702-383-0272.